Rajma masala is an authentic Punjabi dish which i have tasted many times in restaurants. Though i make Dal makhani at home , rajma masala is a rare one that i make at home. Recently during our trip to Vietnam, we were served jeera rice and rajma masala in the flight and my son Varun enjoyed it a lot. He asked me to make rajma masala at home one day. I totally forgot that and last week one day he pleaded me to make rajma masala for dinner after coming from school. But i didn't soak rajma previous night. Finally i bought  the canned red kidney beans and rajma masala for him.
Also check out my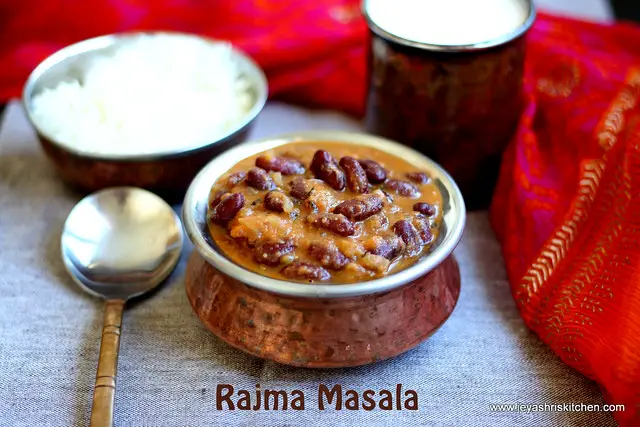 INGREDIENTS: (SERVES 3-4)
| | |
| --- | --- |
| RAJMA | RED KIDNEY BEANS (COOKED)* | 1 AND 1/2 CUP |
| ONION | 2 |
| BAY LEAF | 1 |
| TOMATO | 2 |
| GARAM MASALA | 1/4 TSP |
| CORIANDER POWDER | 1/2TSP |
| JEERA POWDER | 1/4 TSP |
| RED CHILLI POWDER | 1/2 TSP |
| OIL | 1 TBLSP |
| SALT | TO TASTE |
| KASOORI METHI | 1/4 TSP |
| MILK | CREAM | 1/4 CUP |
* I used 2 canned red kidney beans.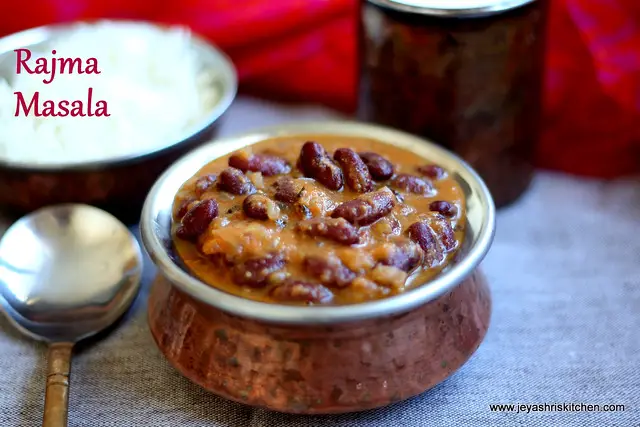 METHOD:
If using the dry rajma, soak it for 10 to 12 hours and cook till 6-7 whistles in a pressure cooker or till it becomes soft. Add salt and bay leaf while cooking. Discard the bay leaf later. Reserve the cooked water.
If using canned one, drain the excess water and wash it thoroughly.
Chop the onions very finely. Alternatively you can make the onion into a fine paste too.
In a pan add the oil and add the bay leaf ( since i used the canned rajma i have added bay leaf now) If using dry one, add bay leaf while cooking itself.
Throw in the onions and saute for few minutes in a low flame till it turns pink.
Add the garam masala powder at this stage and saute for few minutes. Adding garam masala at this stage will give a nice flavor to the curry.
Puree the tomatoes and add it to the onion garam masala mix.
Add the red chilli powder, coriander powder, jeera powder and coriander powder.
Mix well and saute well till the raw smell goes off and the gravy oozes out oil.
Add the red kidney beans to this.
If you cooked the rajma add the reserved water which u used for cooking else add 1 to 1 and 1/2 cup of water.
Add the kasoori methi. Check for salt.
Allow this boil for few minutes and add the milk.  I used full cream milk for a creamy texture. You can use cream or evaporated milk too.
Keep the flame low and cook it for 20 minutes . Stir in between.
Creamy and finger licking Rajma masala is ready to serve.
Serve with roti | jeera rice.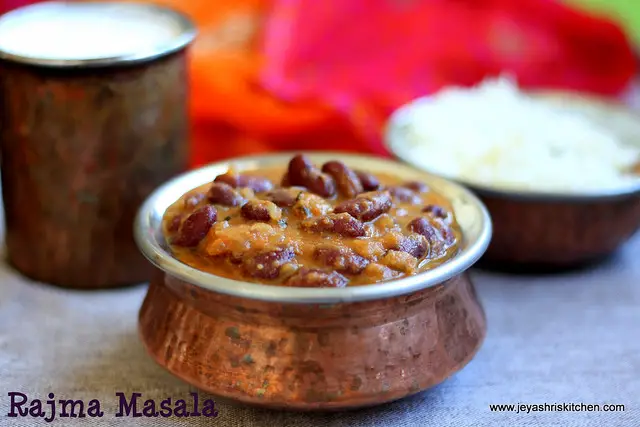 Note:
Ginger garlic paste can be added after adding onions.
Use the best variety of red kidney beans, else it will not get cooked.
Check out these recipes too: