Vengaya Vatha kuzhambu with Video
We are just back from a week trip to Vietnam. We had a good break but i badly missed cooking and our South Indian food too. Eating a week in restaurants will make me and my family too crave for home made vatha kuzahmbhu. Though my friends cooked for me when we were back home i made this Vengaya vathakuzhambhu long back and clicked the picture too. My mom makes the best vengaya vathakuzhambhu and we all are a big fan of that. Though during the initial days of my cooking i didn't get the exact taste, but now a days i make the same of my mom's vengaya vathakuzhambhu. So here comes the simple and tasty recipe of vengaya vathakuzhambhu.
I missed many posts of my fellow bloggers and will catch up soon as I am currently hooked up with helping kids to finish their holiday projects.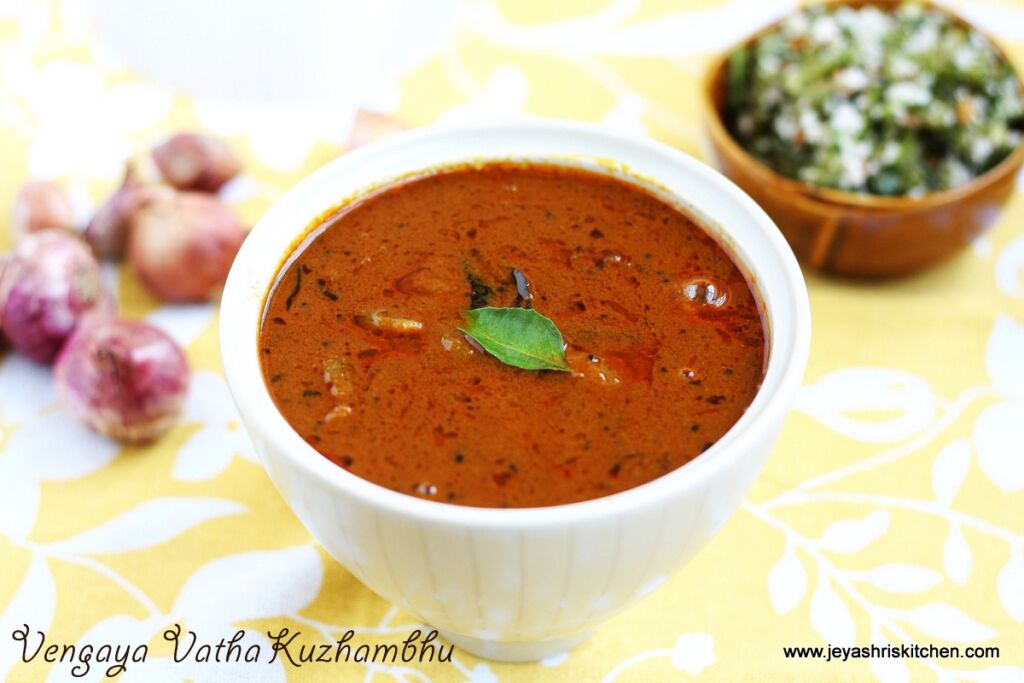 Vengaya Vatha kuzhambu
  Preparation Time : 15 mins | Cooking Time : 20-25 Mins |Serves: 5-7
     Small onion | Chinna vengayam   20 
     Sambar powder   3 tblsp
     Tamarind water  4 cups
     Sesame oil   2 tblsp + 2 tsp
     Mustard seeds  1/2 tsp
    Asafoetida  1/4 tsp
    Venthayam| Methi seeds  1/4 tsp
    Toor dal  1/4 tsp
    Turmeric powder  1/4 tsp
    Curry leaves  few
    Jaggery  1 tsp
                               Video of how to make Vengaya Vatha kuzhambu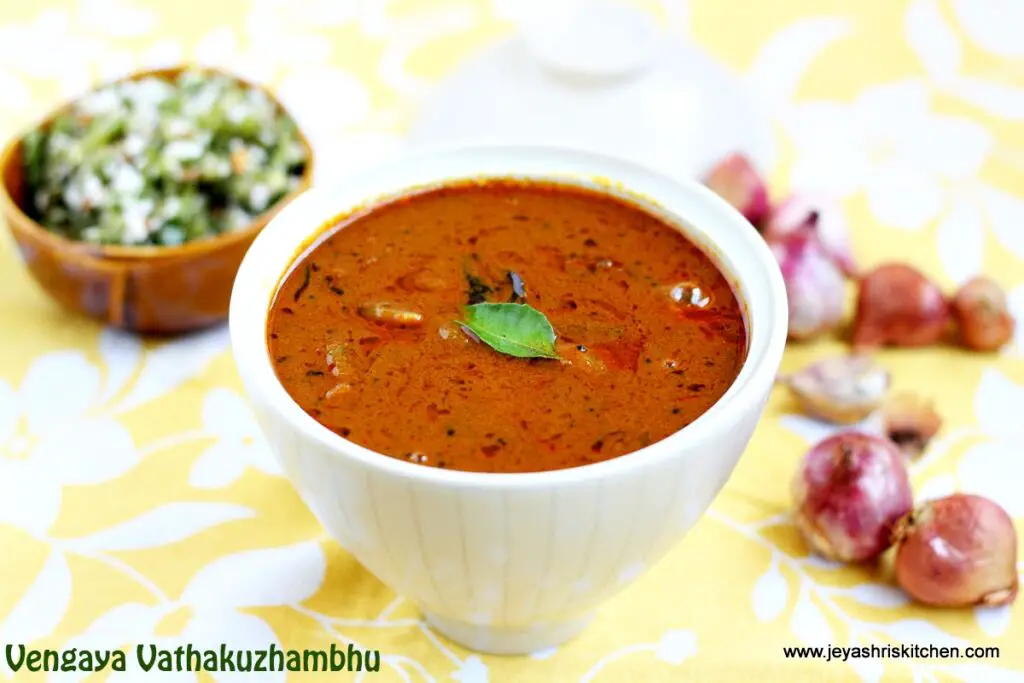 Method with step by step pictures:
Soak a  big lemon sized tamarind in hot water for 5minutes. Take extract out of this for cups.  If using Tamarind paste use 2 tblsp of it.

Peel the skin of the shallots and wash it and keep it aside. Do not peel the skin in advance. Just do it before making the vatha kuzhambhu.
In a pan add the sesame oil and throw in the mustard seeds , vendayam , toor dal and curry leaves.
When the dal turns golden brown add the shallots and fry them on a low flame till it turns brown. Do not burn it.

Now add the sambar powder to the oil and saute for few seconds.

Add the tamarind water.
Add salt, turmeric powder and asafoetida.

Let this boil in a medium low flame for 15-20 minutes or till it reaches the kuzhambhu consistency.
Add jaggery to this. This will balance the spiciness of the gravy.
Switch off the flame and 2 tsp of sesame oil on the top.

Serve with any curry or kootu. My family loves this vathakuzhambhu with Kootu.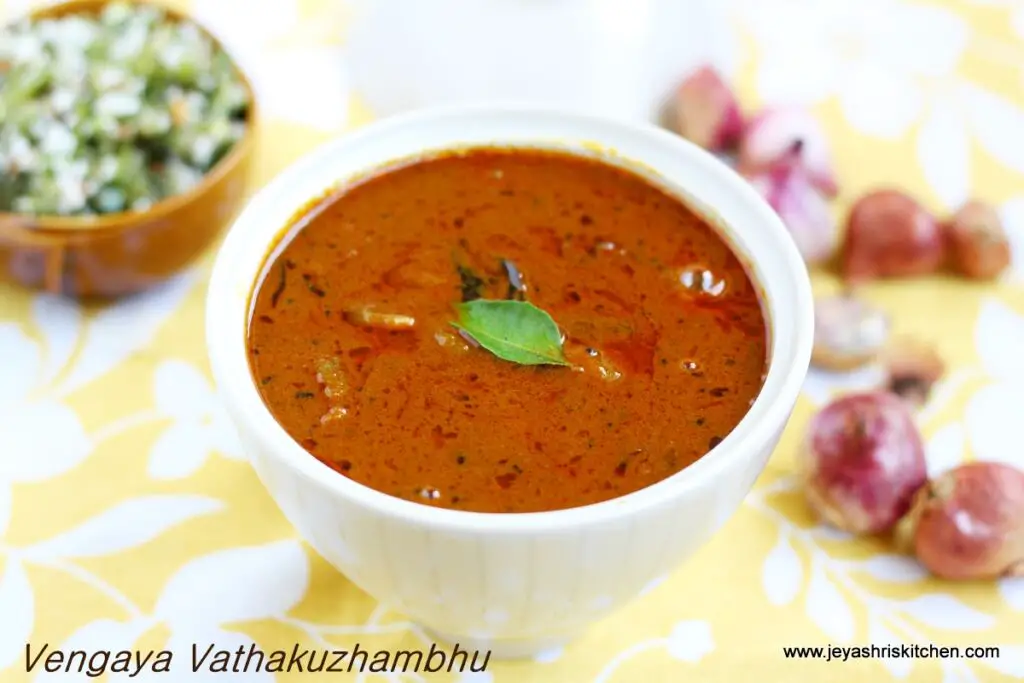 Notes:
Frying sambar powder in oil for few seconds will give a nice aroma. If you do not want you can skip it too.
You can replace shallots with sliced big onions. But taste will differ for sure.
This kuzhambhu willtaste awesome the next day. a simple roasted papad with vathakuzhambhu and rice is heaven.
Drumsticks can also be added instead of shallots, for making Vatha kuzhambu.