Rawa idli is a quicker and easier idli recipe made from Rawa or Sooji. This is a very easy recipe and can be tried by bachelors or act as a quick fix recipe for school lunch box as it does not require any fermentation or grinding. I have not been a great fan of Rava idli, until I tried making it last year when our relatives visited us. I wanted to break the monotony of the usual idli variety and tried making Rava idli from Raks. Both me and my guests we happy with the soft and spongy rawa idlis. We enjoyed it a lot. I decided to post this recipe when I made it once again recently. This measurement yields approximately 4-5 Rava idlis. Potato masala is a perfect accompaniment to rava idli along with different chutney varieites. Oats idlis and poha idlis  are also other tasty idli varieties.

Rava idli recipe
  Preparation Time : 10 mins | Cooking Time : 20 Mins |Serves: 5-6
     Rava | Sooji   1/2 cup
     Curd | Yogurt   1/4 cup
     Green chili  1
     Ginger  grated   1/2 tsp
     Eno fruit salt  1/2 tsp
     Mustard seeds   1/4 tsp
     Cashew nuts   5
     Channa dal  1/4 tsp
     Urad dal   1/4 tsp
     Oil    2 tsp
     Lemon juice  1/2 tsp
     Curry leaves  few
     Coriander leaves   few
     Salt  as needed
     Grated coconut | carrot   to garnish (optional)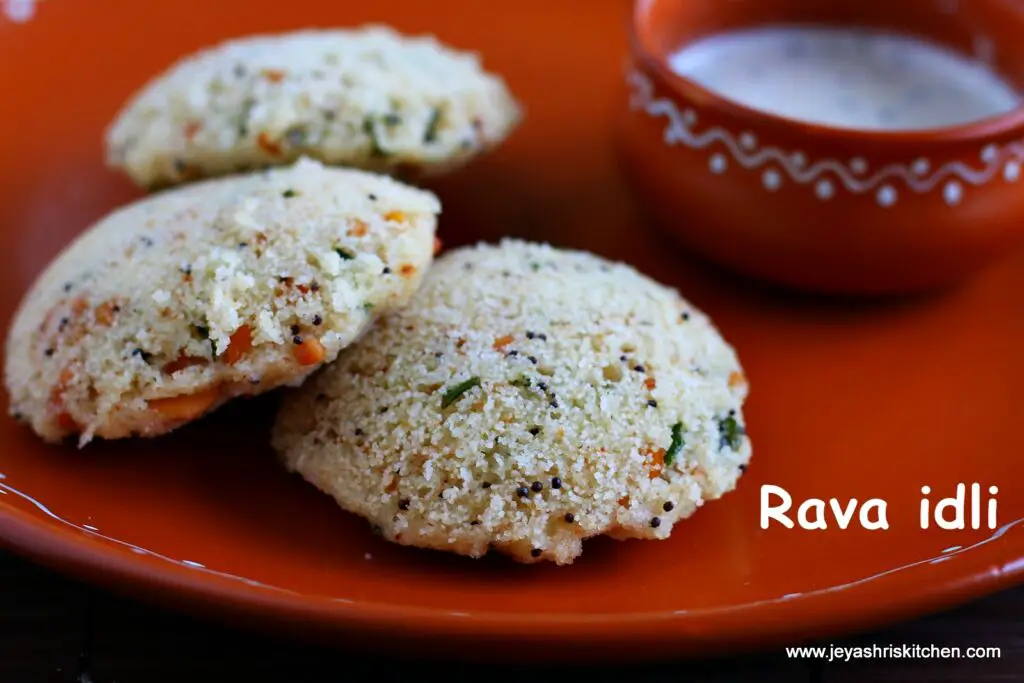 Method:
Cut the green chilies very finely and grate the ginger.
Heat a kadai and add the oil ,throw in the mustard seeds,channa dal,urad dhal,cashew nuts, green chilli ,curry leaves ,coriander leaves and ginger to it.

Fry till the dal turns golden brown.
Add the rava/sooji/semolina to this and saute for a minute.
Put off the flame.

Add salt, lemon juice to this.
Transfer this to a container and allow this to cool.
Add curd and water to this and mix well.

Add the eno fruit salt to this and and mix well, and add necessary water to get the idli batter consistency.

Transfer it immediately to the greased idli moulds.
Steam for 7-9 mins.

This is a picture of Eno salt bottle.
Enjoy with any chutney of your choice.
I served with coconut chutney.
Garnish the idli with coconut gratings.(optional)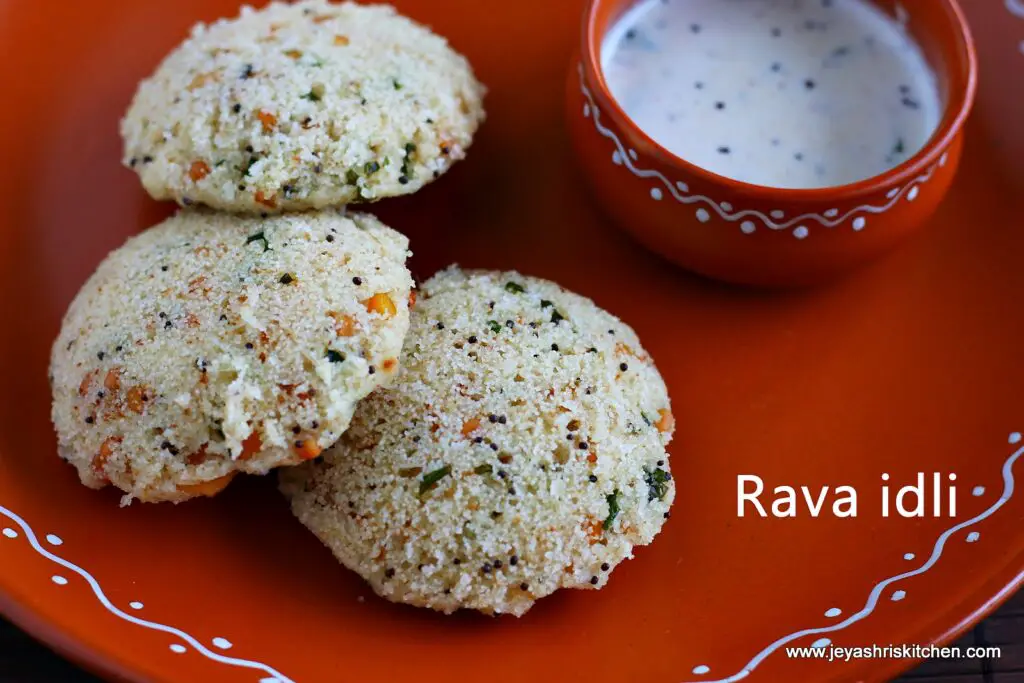 Note:
Don't omit the eno salt as this makes the idli very soft.
These idlis does not get dried and retains  its texture for few hours.