Arisi Upma is a very popular and traditional Tamil Brahmin recipe. It is made
using raw rice and lentil (toor dal). It is a very simple and flavourful one-pot meal,
generally made on fasting days. It makes its presence in my kitchen atleast once a
week for dinners as we all love arisi upma. In the olden days, people made arisi
upma in a brass vessel called as uruli. Even today, my mother and mother in law
continue to make arisi upma in this vessel. My mother, being a working woman moved
on to making arisi upma in a pressure cooker as it was easier and time saving. I
learnt to make this version from her and was totally amazed with the outcome. For a
better texture and flavor, I always add a handful of grated coconut to this arisi upma,
an expert advice given to me by my grandmother. Moving on to the recipe.
Coconut chutney and Kalyana Gotsu pairs well with Arisi upma.

Arisi upma recipe
Preparation Time : 15 mins | Cooking Time : 25 Mins |Serves: 3-4
Raw rice | Pacharisi 1 and 1/2 cup
Toor dal 3 tblsp
Cumin seeds | jeeragam 1 tsp
Pepper 1/2 tsp
Red chili 1
Curry leaves few
Cooking oil 1 tblsp
Coconut oil 1 tblp
Coconut 3 tblsp (optional)
Asafoetida 2 pinches
Mustard seeds 1/4 tsp
Salt as needed
Curry leaves few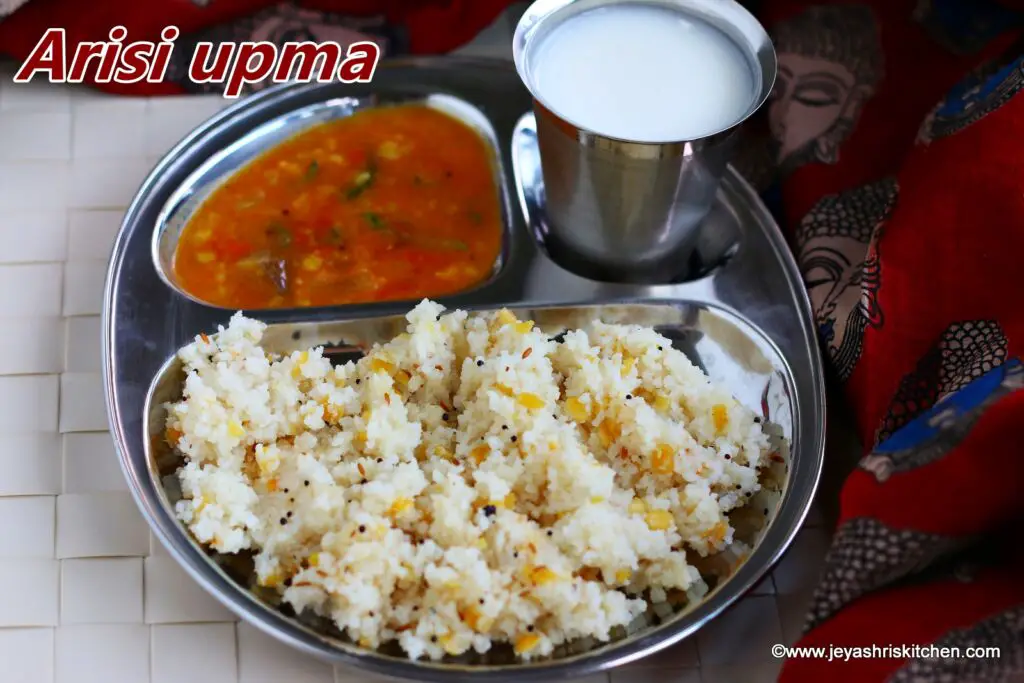 Method with step by step pictures.
Wash the rice and drain all the water.
Dry it in a cloth ,by spreading the rice in the cloth.
This procedure helps in breaking of the rice evenly without making it a powder.
When it is dry,transfer it to the mixie.
Just coarsely grind it in the mixie along with the toor dal,cumin seeds and pepper.

The consistency should be like that of arisi kurunnai.
This is called upma udasal. We can store this in the fridge for 2 weeks.
If keeping in the room temperature,ensure that the rice is completely dry.
Else fungus will be formed.
In a pressure cooker, add the cooking oil and coconut oil .
Add mustard seeds, asafoetida,curry leaves and redchilli to it.
Now add water to it and allow it to boil.
For one cup of the rice kurunnai,add 2 cups of water. The entire mixture of ground kurunai came to 2.25 cups. For 1 cup of that add 2 cups of water.
Add salt to it.
Allow this to boil nicely.

When it boils nicely add the rice kurunai to it.
When half of the upma is done,close the cooker with the lid. Stir well to avoid getting lumps.

Keep it in a low flame and cook for 10-12 mins .
In this time we may get one whistle from the cooker.

Serve with spicy Coconut thogaiyal or Kalyana gotsu.
My family loves this with simple butter milk.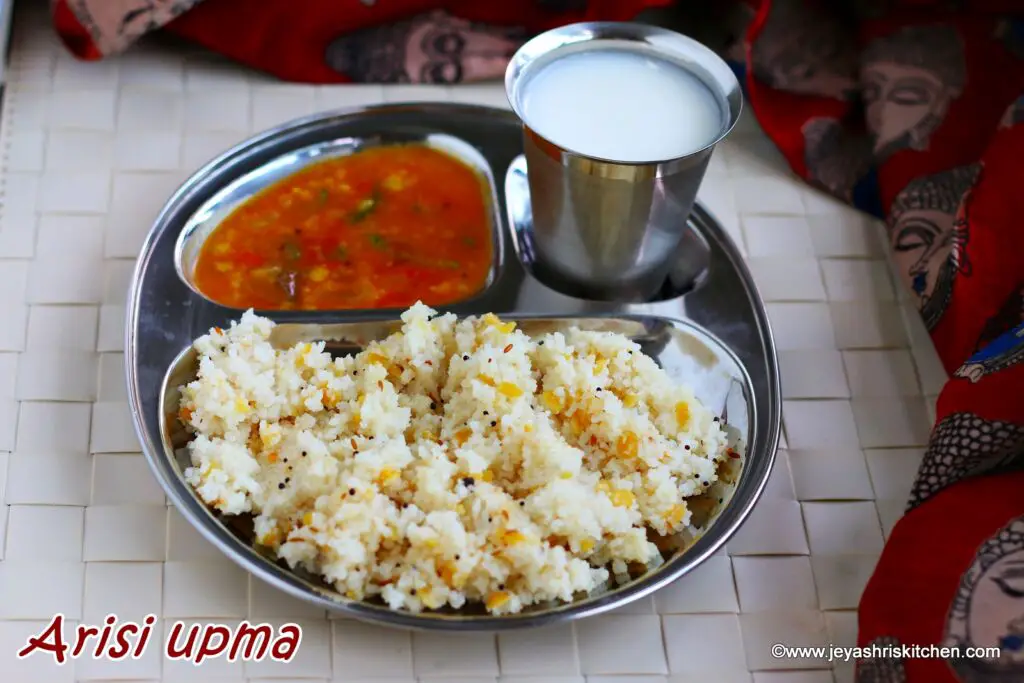 NOTE:
This recipe is usually done with raw rice,but if u dont get it,u can use parboiled rice too.(not the idli rice).
You can also replace arisi kurunai available in the store,so that u can skip the first 2 steps.
Arisi upma can be made using millets too. No need to pulse the millets.
If you want the upma bit mushy add 2.5 cups of water for 1 cup of the rice mixture.
If you have a ricemill, in the place u live,u can grind a sizable quantity and store the arisi upma odasal.