Updated with video
Dahi Vada | Dahi bhalla is a north Indian version of Thayir vadai. I have already posted the south indian 
Thayir Vadai
. This version though i have tasted many times, never tried on my own. I learnt this recipe from my co sister, during our casual talk , while having lunch together. It turned out super tasty and we all finished the entire bowl within no time. You can make vadas in advance and just serve them with curd and chutneys just before eating.
Ingredients

  Preparation Time
: 1 HOUR
 |
Cooking Time
: 20 Mins |
  Serves
: 2-3
     Urad dal  1/4 cup
    Yogurt|Curd  1 cup
    Green chilli         1 
    Ginger   A small piece
    Green chutney  As needed
    Sweet Chutney   As needed
   Chaat masala     1/4 tsp
   Red chilli powder   1/4 tsp
   Jeera powder         1/4 tsp
   Salt                As needed
   Coriander leaves   Few
   Sev                   For garnishing
   Oil                    For deep frying  
                 Video of how to make dahi vada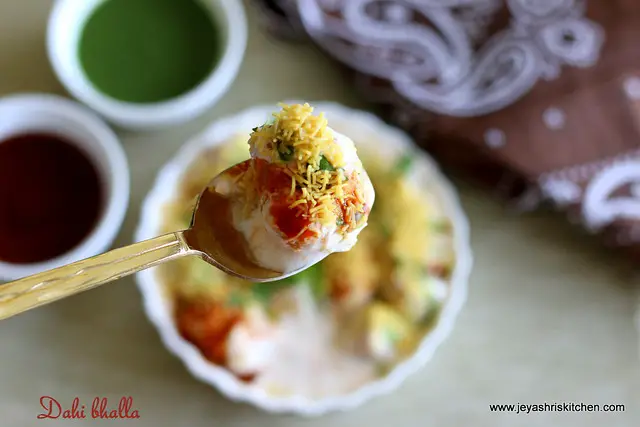 Method:
Soak the urad dal in water for 1 hour. Grind this into a smooth batter along with green chilli and ginger.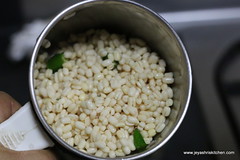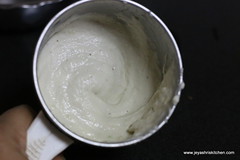 Transfer it to a bowl and add salt. Mix well. the batter is ready now. Heat oil in a pan for deep frying.
Make small bondas in oil and deep fry till golden brown. Drain excess oil in a kitchen towel.  As the vadas tend to blow up double in size after soaking in water, make small sized bondas. It yielded 13 small bhallas for me.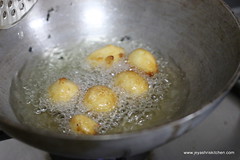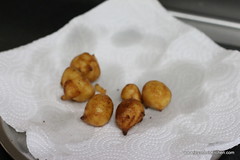 In a wide bowl put water and soak the vadas for minimum 30 mins and a maximum of 2-3 hours. If you are in a hurry soak for 30 minutes in warm water.
 This makes the vadas soft and it will absorb the yogurt mixture easily.
Meanwhile beat the curd and add the red chilli powder, chaat masala and jeera powder. Add salt to this. Keep the yogurt mixture chilled.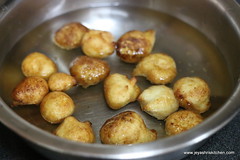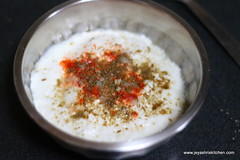 Mix well . Take out he vadas from water, gently squeeze the extra water and arrange them in a serving bowl.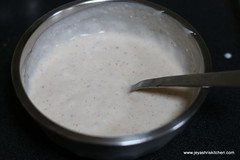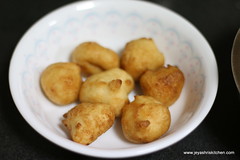 Pour the curd mixture to this and add the green chutney and red chutney. The amount of chutney is based on your own taste.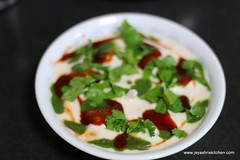 Add finely chopped coriander leaves and finally add sev. I just added a dash of jeera powder in the last just to enhance the flavour.
A mouthwatering dahi bhalla chaat is ready to serve.