Rava upma | Sooji Upma is an easy to make Indian breakfast recipe. But many of them always say they are not a big fan of upmas. But if you ask me i love upmas and rava upma is one among my favourite too. But it took me 6 years to post the recipe of rava upma in my jeyashri's kitchen. I make it once in a week but never thought of clicking this even once. 3 months back when hubby was keen in learning cooking basics, i taught him how to make rava upma. After few attempts he made it perfect. Then when we talking i casually told him this recipe has not been blogged till date and he was surprised. So from that day i was thinking to post here and finally i clicked this last week when i made. I am not satisfied with the pictures though, but trust me it is a perfect recipe. Beginners and bachelors can try this for sure. Check out my
rava kichidi recipe
and
rava dosa recipe
Due to very bad rains in chennai we lost contact with our family in chennai for the past 3 days. The water entered into the house and they moved to first floor. Thank god, finally we spoke to them yesterday and good to know they are safe. But still many parts of chennai are badly hit and lets all pray for them and for sure things will come back to normal soon.
Rava upma
Preparation Time : 10 mins | Cooking Time : 20 Mins |Serves: 3-4
Rava | sooji 1 cup
Water 2 – 2 and 1/2 cup
Oil 1 tblsp
Mustard seeds 1/4 tsp
Urad dal 1/4 tsp
Channa dal 1/4 tsp
Onion 1
Green chili 1
Cashew nuts few (optional)
Curry leaves few
Salt as needed
Ghee few drops (optional)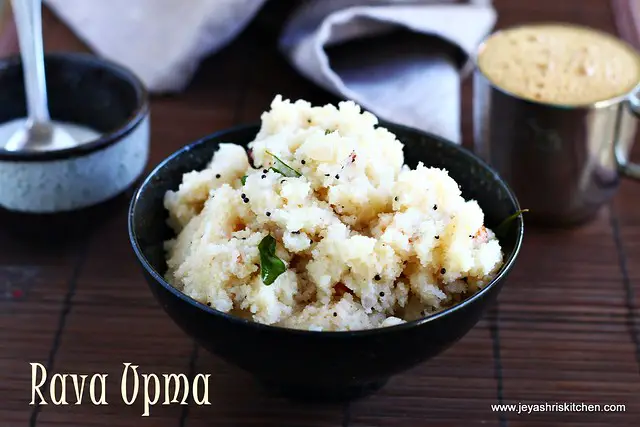 Method:
Dry roast the rava in a pan keeping it in a low flame. Be careful not to change the colour and at the same time ensure it is roasted properly. If not roasted well upma will not turn out fluffy.
Keep the roasted rava aside.

Chop the onions finely and slit the green chili.
In the same pan add oil and add in the mustard seeds, urad dal, channa dal, green chili,curry leaves and cashew nuts(if adding)
When the dals turn golden brown add the finely chopped onions.

When the onions turn pink add 2 cups of water to this. Add salt. Allow this to come to a rolling boil.
Meanwhile keep 1/2 cup of hot water ready by the side. Generally for rava upma it takes 2 cups of water for 1 cup of rava but it differs from brand to brand. Some rava will absorb more water.
So in the last if needed we can add this hot water.

Lower the flame now and add the roasted rava to this and mix well without any lumps. If you keep the flame high and add rava it will form lumps.

Once this is mixed well, you could make out whether it needs more water ot not. If you see sooji still not cooked add 1/4 cup of water, mix well and cover with a lid and keep it in low flame for 3 minutes.
Take out the lid and mix well and fluff it up with a fork.

Rava upma is ready to serve now.
I love to eat with pickle with a hot cup of tea or coffee aside. Even with sugar also it will be very tasty.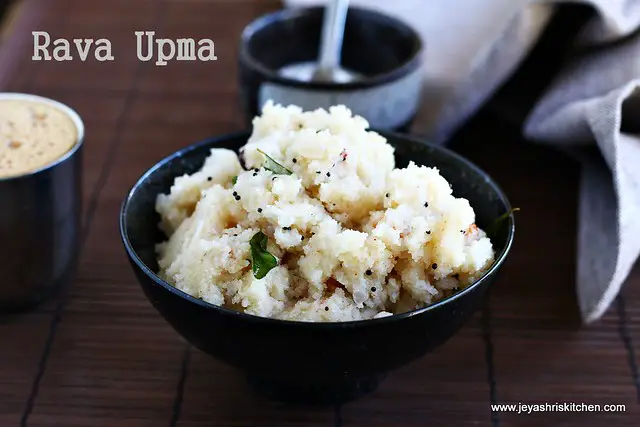 Notes:
Roast the rava well without getting it burnt.
You can add finely chopped or grated ginger while adding the onions.
After adding rava ensure the flame is very low, to avoid getting lumps.