Navaratri|Diwali Sweets
Sabudana ladoo| Sago ladoo,called as javarisi ladoo in tamil, i have heard about this many times from my friends, but this is the first time i tried it at home. I just experimented the measurements keeping in mind my
rava ladoo
and
besan ladoo.
It turned out so well and the recipe and the method is very easy too. You can try this quick sweet for Diwali or Navaratri too. Check out my other
diwali sweets
and
Navaratri recipes
too.
Sabudana Ladoo
  Preparation Time : 15 mins | Cooking Time : 10 Mins |Makes: 5 ladoos
    Sago | javarisi|sabudana   1/2 cup
    Sugar       2 tblsp
    Ghee   2 tbslp
    Cardamom powder   a pinch
    Cashew nuts   5 (optional)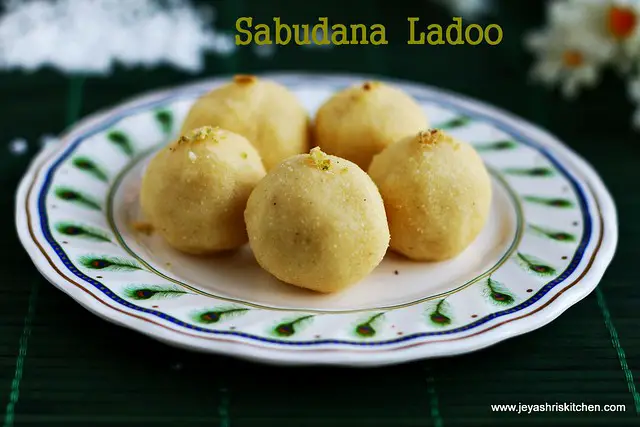 Method:
In a pan dry roast the sago till it change into a slight brown colour. Do not roast till brown .

When it is cool, grind this in a mixie into a fine powder.

Transfer it to a bowl. In the same mixie, add sugar and the cardamom powder and pulse it twice or till it becomes fine powder.
Transfer this to the same bowl.

Heat the ghee in a pan. If adding cashew nuts chop it finely and add it in the last when the ghee is very hot.
Slowly add the hot ghee to the flour and sugar mix.
The amount of ghee depends on  the texture of the flour.

Mix well. When it is warm enough to handle, take small portions and make ladoos of desired shape.
I sprinkled a pinch of Everest Milk masala on the top of each ladoo.

Sabudana ladoo| sago ladoo is ready for neivedhyam.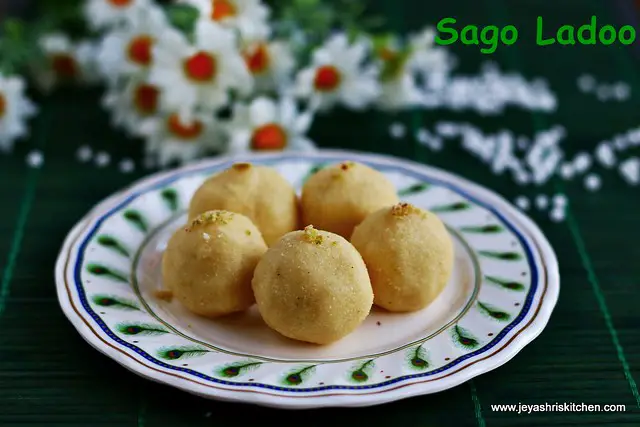 Notes:
Always powder the sago finely. Generally sago tends to powder nicely once they are roasted well.
If the flour is coarse, ladoos will not come out good also takes a lot of ghee while making.
Depends on the texture of the sago the quantity of ghee may slightly vary.
I added 2 tblsp of sugar and i felt it is slightly more. But if you are sweet lovers then it will be perfectly fine.
This ladoo stays good for 3-4 days in room temperature. Always handle with clean hands.
You can add finely grated fresh coconut while making the ladoo. Roast the coconut nicely and then add to the flour. If the coconut scrapings are bit big, pulse it once in a mixie and add.