Last year for diwali i have posted
NAN KHATAI
for diwali, it turned out very nice and also it was a super hit among my friends too. For diwali 2014, too i wanted to post a Indian style eggless cookies. I book marked this 2 years back from
Divine taste
blog , finally tried it and it turned out very nice. I just followed the recipe without any alterations. If you are interested in making cookies for diwali, try this easy and flavorful cookies. Best give away goodies for diwali too.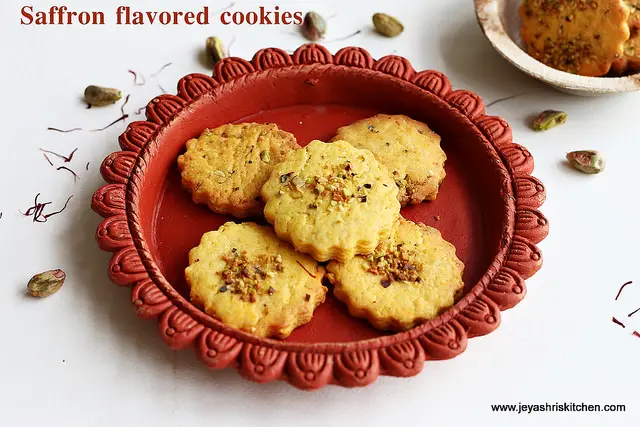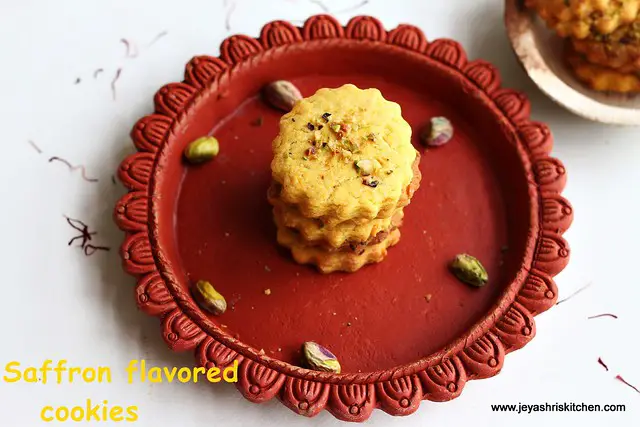 Method:
Soak the saffron in warm milk for 10 minutes and chop the pistachios into small.
Powder the sugar and add the powdered sugar and ghee in a bowl. Beat this with a spoon till it becomes creamy.
In a wide bowl add the flour and cardamom powder.
Add the creamed ghee and sugar and this mixture to the flour along with the soaked saffron. Make it into a soft dough. You can add few drops of milk to make the dough.
Take small portion of dough and roll into a thick circle.
Sprinkle few pistachios on this and press it gently with the rolling pin.
Cut it with a cookie cutter. Arrange them on a baking tray lined with parchment paper. Repeat this for the rest of the dough.
Bake this in a preheated oven at 160 degrees for 10to 12 minutes. These cookies were slightly soft when you take it out but will be crispy when it is completely cool.
I slightly over baked my first batch of cookies but did the second batch perfectly.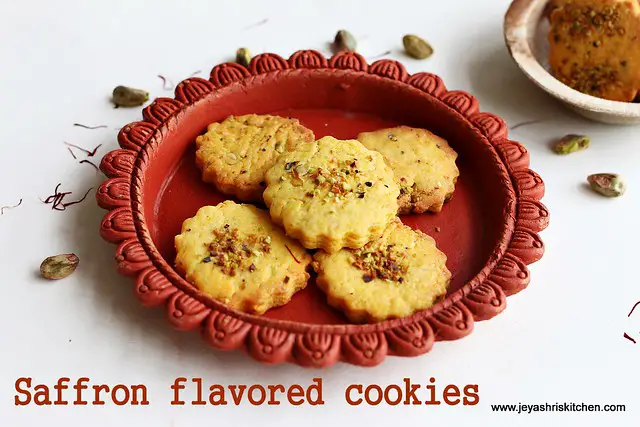 Notes:
Add good qualitly of saffron to get nice yellow colour.
Pistachios can be replaced with almonds or cashew nuts too.
The cookies were not too sweet but were perfect, if you want you can add extra 2 tblsp of sugar to make it little more sweeter.
You can add a pinch of nutmeg powder to enhance the taste.