Semiya Payasam, a popular South Indian kheer| payasam recipe made using milk, vermicelli and sugar. A simple recipe but tastes awesome and it is a must in our household whenever we have guests. Later when condensed milk started coming into the market, my mom used to make
semiya payasam using condensed milk
and it will take the  taste of the payasam to a different level. Even without the addition of the condensed milk the payasam is made by simmering the milk for a long time. In most of the South Indian weddings they serve Semiya payasam. Now a days they serve in disposable cups but during our childhood days, they used to serve in the banana leaf itself. We use our hands to eat the payasam and sometimes smear some fried appalam on it and eat too.
Also check out
Semiya Payasam recipe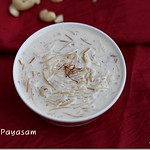 Recipe Cusine: Indian
Prep Time: 10 Minutes
Cook time: 40 Minutes
Serves: 5-6
Author: Jeyashri
Recipe Category: Dessert
Description: Semiya Payasam, a popular South Indian kheer| payasam recipe made using milk, vermicelli and sugar.
     Semiya | Vermicelli  1/4 cup
     Milk   5 cups 
     Ghee  1 tblsp
     Cashew nuts   10
    Condensed milk   1/2 cup  (optional)
    Sugar  1/4 cup ( add as per your taste)
    Venthayam| Methi seeds  1/4 tsp
    Cardamom powder  a pinch
    Saffron  a pinch (optional)
    
Method with step by step pictures :
In a heavy bottomed pan, add ghee and fry the cashews till golden brown and keep aside.
In the same pan, add the vermicelli and roast it till turns into a nice golden brown colour.
While sauting, stir it in between. Don't let it burnt.
Do not add more vermicelli as it will make the payasam too thick.
Now add the milk in the pan and boil it till the milk reduces to 3/4 th of the quantity.
Keep stirring in between.
If you are adding condensed milk add it and give a nice boil.
Switch off the flame.
Add sugar to the payasam.
Add elachi powder and mix well.
Roast the cashew nuts in ghee.
Add it to the payasam.
If adding saffron, soak it in 1 tbsp of warm milk and add it in the last.
Notes:
If you are adding condensed milk then reduce the quantity of sugar.
Don't cook vermicelli in water and add milk to that.
Don't boil the payasam after adding sugar to it.
If you want raisins you can add them to the payasam in the end by frying them in the ghee.