Thattai is a deep fried crispy South Indian snack, recipe with step by step pictures and video, made using rice flour as a main ingredient. We make this during Krishna Jayanthi and Diwali. I also make it during the school holidays as my kids love it a lot. I had not attempted making this for a long time. When I first tried it two months back, the outcome was very disappointing. However, my supreme love for
Thattais dissuaded me from giving up and I ended up asking my maternal aunt,who is an expert in making snacks for a fail-proof method of making crispy thattais.
I was super happy with the results and this made me confidently feel that I can make
good thattais. I have also tried a spicier version of the same Milagu Thattai recipe which we all loved.
If you want to try the Karnataka version of thattai do check out my Nippatu recipe.

Thattai recipe
Preparation Time : 30 mins | Cooking Time : 20 Mins |Makes: 23- 25 thattais
Rice Flour 4 cups ( i used a small cup which holds a liquid measure of 50 ml)
Urad dal flour 1/4 cup
Roasted gram flour 3/4 cup
Red chili powder 1-2 tsp
Sesame seeds 1 tbslp
Channa dal 2 tblsp
Butter 2 tblsp
Asafoetida 2 pinches
Salt as needed
Curry leaves few
Oil for deep frying
Video of thattai recipe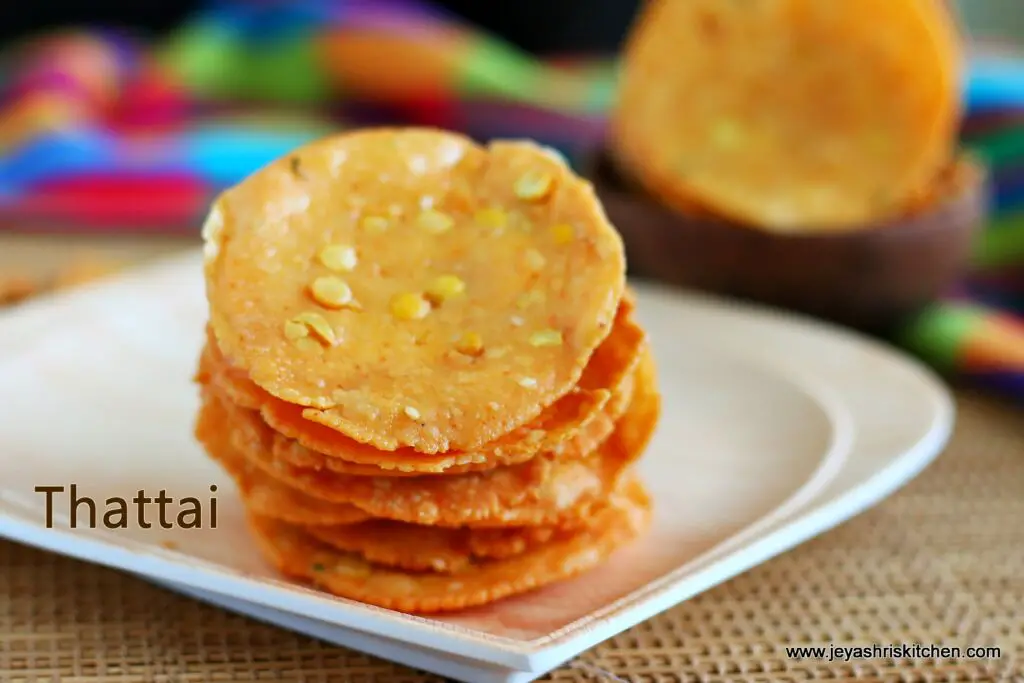 Method:
Sieve the rice flour, urad dal flour (roast and grind urad dal), roasted gram(chutney dal/dalia/pottukadalai) in a sieve for even mixing.

Soak the channa dal in water for 30 minutes. Drain the water and add to the flour.
If making urad dal flour at home, dry roast the urad dhal and powder it finely.
I used the urad dhal flour which i get here.
Mix the rice flour, urad dhal flour and the roasted gram flour together.
Add the curry leaves, salt, butter, red chilli powder sesame seeds.
Mix it well.

Knead it into a dough adding enough water.
The dough should be firm not watery.

Grease a zip lock cover with oil.
Take a lemon sized dough and place on the cover.

Place another greased cover on it and use a flat bottomed bowl.

Press it on the top with the bowl. This is to ensure even shapes. You can pat it with your fingers too.

Transfer it to a clean dry towel and keep it for 5-7 minutes.

Meanwhile heat the oil for frying.
Prick the thattai with fork and slowly drop them in the oil. Pricking help the thattai to avoid raising while frying.
When the oil is hot, keep the flame in medium.
Drop the thattai into oil .

Fry both sides, till the sizzling sound of the oil subsides.
Take it out and drain in a kitchen towel.

.
Store it in a air tight container.
Enjoy thattai with hot tea.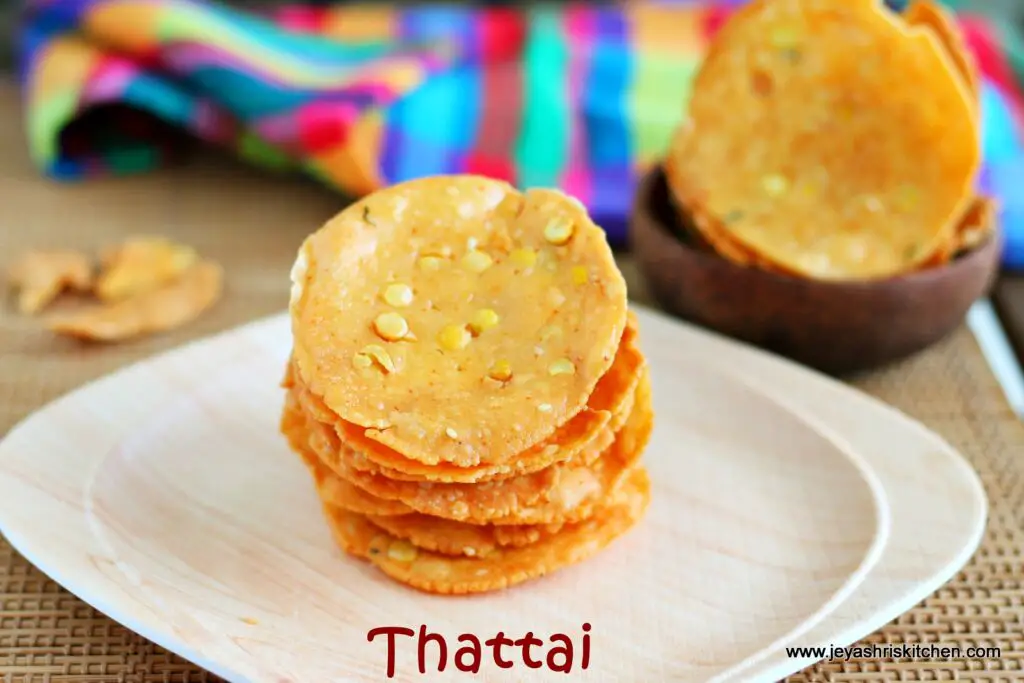 Note:
The kneaded dough can be kept in the fridge and u can take it in batches and make thattai
This is to avoid the thattai getting reddish colour before getting cooked.
You can soak and grind pepper and red chilli and add to the dough instead of adding red chilli powder.
Peanuts an also be added to the dough.
While drying them on the towel, do not dry for more time, else they will end up cracking on sides..
Ensure the thattais are thin, else it won't get cooked in the middle.