Shahi semiya badam kheer recipe
Semiya kheer and badam kheer is a common Indian desserts. I recently tasted this Shahi semiya badam kheer and was totally moved by its taste. Without a second thought planned to make this for New year 2016. It turned out very well. The texture of this payasam was thick and not like kheer, so I made it also like that. The year 2015 went amazingly well in all ways. Thank you so much to all my readers, my well-wishers, my family for your consistent support. This year 2015 was more special to me as my
first cook book
for the popular Vikatan Publications got published. Looking forward to this year of 2016 and I wish you all a very Happy New year let this year be the Year of Breakthroughs and bring an abundance of joy and prosperity.  See you all with interesting posts in the New year.  Follow
Jeyashri's kitchen on facebook
for recent updates.
Shahi semiya badam kheer
  Preparation Time : 15 mins | Cooking Time: 40 Mins |Serves: 4-5
    Milk  1 liter 
    Badam | almond   20
    Sugar    4-5 tbsp
    Semiya | Vermicelli   1/3 cup
    Saffron   2 pinches 
    Edible camphor   a very small drop (optional)
    Cashew nuts   few
    Ghee   2 tsp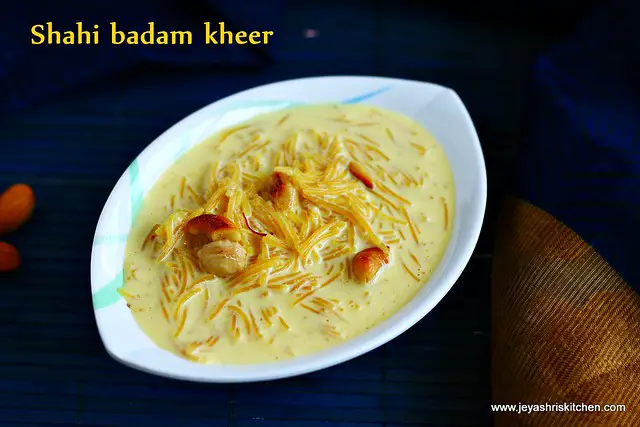 Method:
Roast the semiya in little ghee till golden brown. I used roasted semiya so i skipped this step.
Soak badam in hot water for 10 minutes and take out the skin.

In a pan add the roasted semiya and add the milk to this.
Keep this in a medium flame and continue to stir this to avoid it getting burnt.
Let this cook for 10- 15 minutes till the milk boils and starts reducing in quantity.

Grind the almonds with sugar into a fine paste, if needed add 1-2 tblsp of milk while grinding.
Simmer the flame to the lowest and  add the ground badam sugar mix to the pan.

Soak the saffron in 2 tblsp of hot milk for 3 minutes.
Add this to the pan and mix well.

Fry cashew nuts in ghee and add it to the kheer. Switch off the flame.

Add edible camphor at this stage and mix well.
Kheer is ready to serve. Serve hot or cold according to your preference.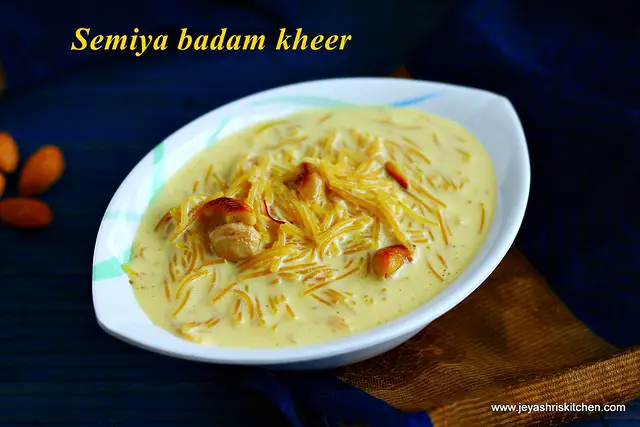 Notes:
After adding badam mixture keep the flame very low and switch it off in 3-4 minutes.
Else it will curdle.
Adding edible camphor is optional but highly recommended. Do not add more than a very small pinch.