Looking for a easy and healthy starter recipe. Then this soya chunks is a perfect recipe for you. This has soya chunks and potato as the main ingredient. I have given both the option of pan fried and deep fried method of soya chunks cutlet recipe. It was long time due to make this soya chunks cutlet and post it here. I have orally told about the method of making soya chunks recipe to few of my friends but never tried it on my own. Today when the kids are at home, i just tried it and they both loved it very much. I just wrapped it along with some veggies and added some mayonese and gave it to them for their evening snack. It got over in no time. Try this soya chunks cutlet at home and let me know how they turned out.
Check out my other popular Indian starter recipes:
Soya chunks cutlet
  Preparation Time : 10 mins | Cooking Time : 40 Mins |Yields: 12
     Soya chunks | Meal maker   1 cup
     Potato  1 big
     Milk   2 tblsp
     Ginger garlic paste  1 tsp
     Mint leaves  few
     Coriander leaves  few
    Red chili powder   3/4 tsp
    Cumin powder   1/2 tsp
    Garam masala   1/4 tsp
    Peanuts    1 tblsp ( optional)
    Salt  to taste
    Corn flour   3 tblsp
    Bread crumbs   1/2 cup  
    Oil    for deep frying*
If using pan fried method , use little oil just to toast them on the pan.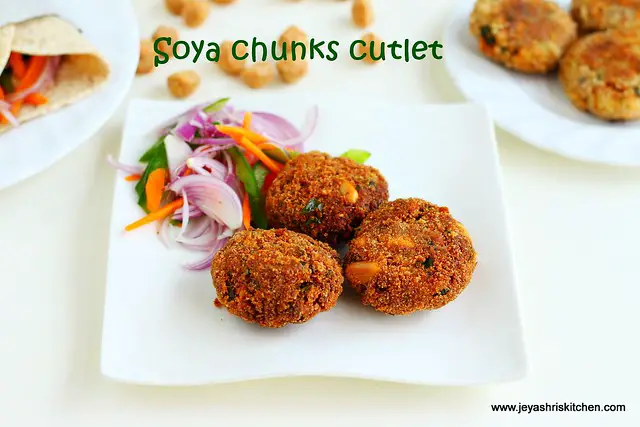 Method:
In a pan add 2 cups of water. Add the milk. When it starts boiling add the soya chunks to this.
Let this boil for 2 minutes. Switch off the flame.

Drain the water and squeeze out the extra water nicely from the soya chunks.  This is very important step.
If water is there then the cutlets will not hold shape. Use good pressure in your hands and squeeze out the extra water . Do it in batches.

Pulse the soya chunks in a mixie. Meanwhile boil the potatoes and take out the skin, mash it nicely and keep it aside.

In a wide bowl add the soya chunks, mashed potatoes and ginger garlic paste.
Add the red chili powder, garam masala, cumin powder, salt, peanuts(if adding, you can replace with cashews too) finely chopped coriander and mint leaves.

Mix well. Add the 2 tblsp of corn flour to this. Instead of corn flour you can add powder 2 tblsp of chutney dal (pottukadalai) and add to this.

Mix well. Take a big lemon sized portion of the mixture in hand. Flatten it into a patti.

In a bowl add 1 tblsp of corn flour and add water to this and make it a watery paste without any lumps.
Just dip the patti into the corn flour quickly and roll it into the bread crumbs nicely.
I just pulsed the bread crumbs in the mixie once.

Do it for the remaining mixture and arrange it in a plate.
You can cover it using a cling wrap and keep it inside the refrigerator and  fry it later too.

If not deep frying heat a dosa pan. Add few drops of oil and place the cutlets on the pan and cook on both sides till it turns nice golden brown.

I did only 3 in the pan and remaining i deep fried.
Heat oil for deep frying and once it is hot, bring down the flame to medium.
Drop 2-3 cutlets at a time. do not over crowd the pan.
Fry till they turn golden brown and take it out. Drain it in a kitchen towel.

Soya chunks cutlet are ready to serve.  Serve it with tomato ketchup or green chutney.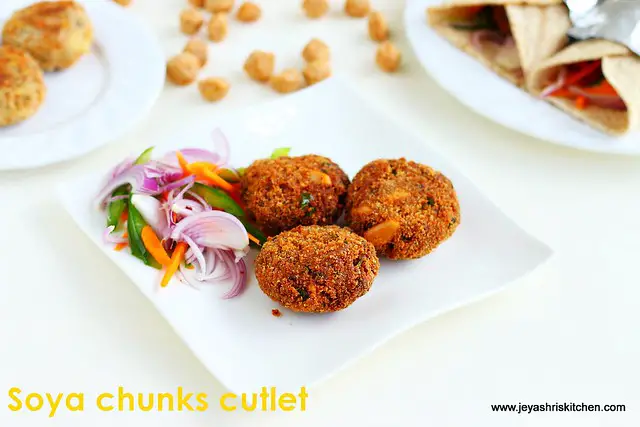 Notes:
Ensure that the water is nicely squeezed out from the soya chunks before grinding it.
You can add finely chopped palak leaves to the cutlet to make it more healthy.
Instead of adding corn flour to the soya mixture, you can add chutney dal powder (pottukadalai powder). This holds the cutlet very well.
Adding milk while the boiling the soya chunks takes out the smell of the soya chunks. So do not skip it.
Do not deep fry in a very high flame. Else inside of the cutlet will not get cooked.
Do not fry in a very low flame else it will become soggy.
Check other recipes using soya chunks from Jeyashri's kitchen