Soya chunks is a rare item in my kitchen. When i was cleaning my freezer today, found this soya chunks and  wanted to make soya chunks cutlet . As the bread crumbs was out of stock , i thought i will make a pepper fry . It turned out so yum and i just enjoyed with simple
garlic rasam.
I will post the soya chunks cutlet recipe next week. Check out my
soya chunks biryani. 
Soya chunks pepper fry
  Preparation Time : 10 mins | Cooking Time : 20 Mins |Serves: 2
   Soya chunks | meal maker      1 cup
   Pepper powder    1 tsp
   Milk   2 tblsp
   Red chili powder     1/2 tsp
   Red chili     1
   Fennel powder | fennel seeds    1/4 tsp
   Curry leaves    few
   Garlic pods   8-10
   Rice flour   2 tsp
   Mustard seeds   1/4 tsp
   Oil     1 tblsp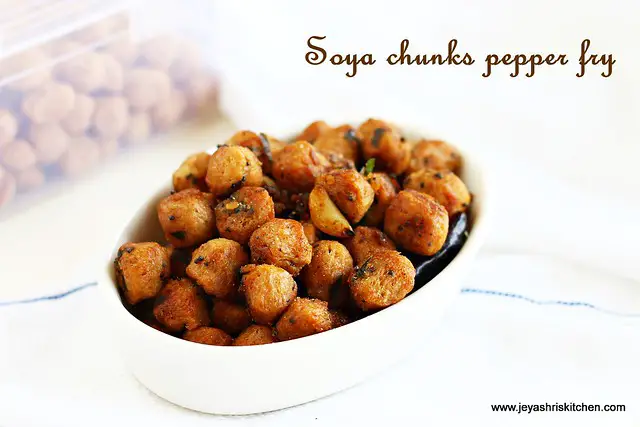 Method:
In a pan add 2 cups of water  . When it starts boiling add the soya chunks to this. Add 2 tblsp of milk to this. Adding milk is to get rid of the raw smell of the soya chunks.

Drain the water and when the chunks are warm, gently squeeze out the extra water. Transfer this in a wide bowl.
Add the pepper powder(i ground it freshly using a mortar and pestel), red chili powder, salt and finely chopped curry leaves.

Add the rice flour and fennel powder. If using fennel seeds crush this finely or coarsely. Mix this well and keep it aside for 10 minutes.

In a pan add oil and add the mustard seeds , red chili and garlic pods. Add the marinated soya chunks to this.
Cook this for 15 minutes stiring in between.
This wil become flavourful and emits a nice aroma and turns slightly crispy on the outer side.

Soya chunks pepper fry is ready to serve.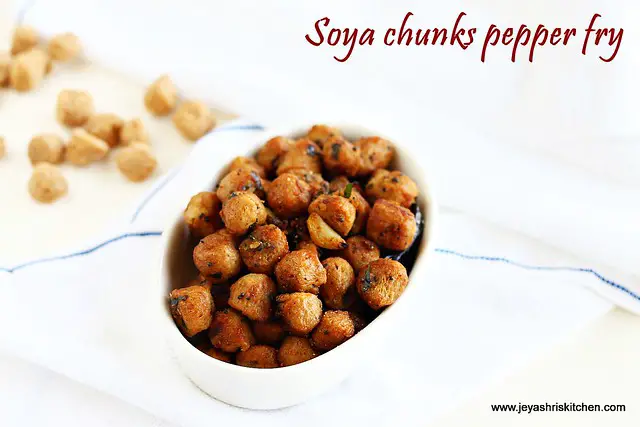 Notes:
Since the soya chunks will be bland, do not reduce the quantity of the spices. Even for spice lovers, you can add little more of pepper powder too.
Finley chopped onions can be added while adding the garlic.
Fennel powder can be replaced with jeera powder too.