We always make snake gourd curry in the same way we make
beans curry.
Also we make snake gourd kootu too. This pudalangai fry i learnt from a very good friend of mine, recently. The way she told me about the recipe, tempted me to try it immediately. Since i had small fresh snake gourd at home gave this this a try yesterday and clicked too. I was busy for the past 3 days and couldn't concentrate on blog much. I went for a trip to India to attend a wedding with my friends. A discussion about my recently published cookbook was arranged by Vikatan publications. It was Live Radio discussion with culinary expert Revathi Shanmugam. On the day before wedding, my husband's grandmother passed away and i couldn't attend the wedding. Since the radio program was planned before hand i have to attend it. It went well and i will soon the audio file with you all. These 3 days trip was full of mixed emotions, Started my work from today. Stay tuned for more recipes as festival are coming up from this week.
Pudalangai fry
  Preparation Time : 10 mins | Cooking Time : 25 Mins |Serves: 2
    Pudalangai | snake gourd      3  small
    Oil        1 tbslp
    Red chili powder    1/2 tsp
    Besan | kadalai maavu    1 tsp
    Corn flour   1/2 tsp
    Salt    to taste
    Mustard seeds   1/4 tsp
    Cumin seeds    1/8 tsp
    Curry leaves    few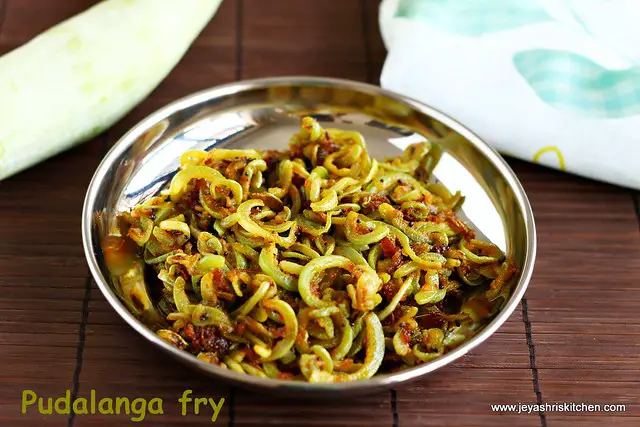 Method:
Wash the snake gourd and cut them and take out the seeds in the middle.

Slice the snake gourd. Heat the pan and add oil. Add the sliced snake gourd to this and cook it slightly shrinks and gets half cooked.

Transfer it to a bowl and add the red chili powder, besan flour, turmeric powder, corn flour and salt. Mix well. Keep it aside for 5 minutes.

In the same pan add 1 tsp of oil and add the mustard seeds and cumin seeds.
Once it splutters add the mixed half cooked snake gourd.

Keep the flame low and cook till it coks nicely and leaves out the oil.

Add curry leaves and switch off the flame. Pudalangai fry is ready to eat.
Serve this simple rasam , it will taste awesome. We had this with Garlic rasam.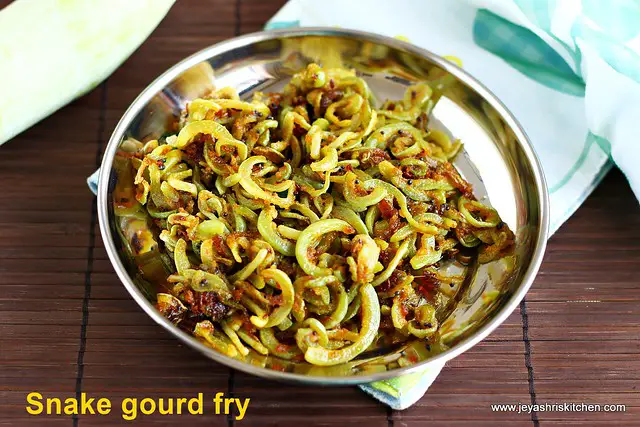 Notes:
Thinly slice the snake gourd, else it will take time to cook.
Do not add more corn flour than the quantity mentioned, else it will be sticky.
Always cook in low flame.