When i posted the recipe of
HOMEMADE SPROUTS
i wanted to post the recipe of this salad too as sprouts are available in my kitchen almost everyday. Since my hubby is preparing for the Singapore Marathon which is coming up this weekend i wanted to include more of salads, spinach and green veggies in the diet. So i made this salad two days back and the lovely wooden bowls which Raji bought for me from Bali complimented the clicks.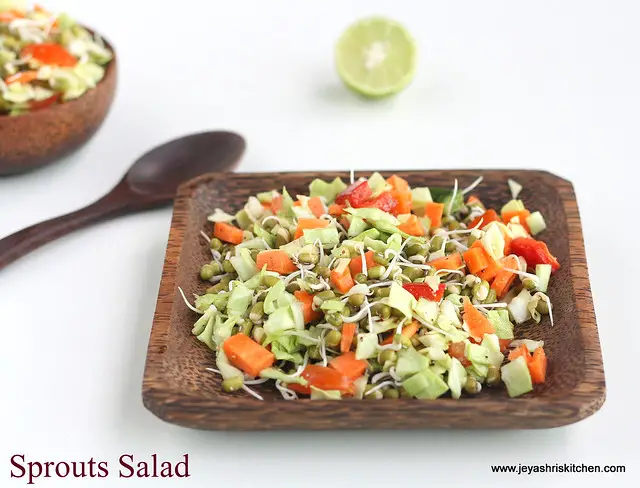 INGREDIENTS
| | |
| --- | --- |
| HOME MADE SPROUTS | 1 CUP |
| CARROTS | 1(CUBED) |
| CABBAGE | 1/2 CUP(FINELY CHOPPED) |
| CAPSICUM | 2 TBLSP( CUBED) |
| TOMATO | 1/2 (CUBED) |
| CHAAT MASALA | A PINCH(OPTIONAL) |
| SALT | TO TASTE |
| BLACK PEPPER POWDER | TO TASTE |
| LEMON JUICE | 2 TSP |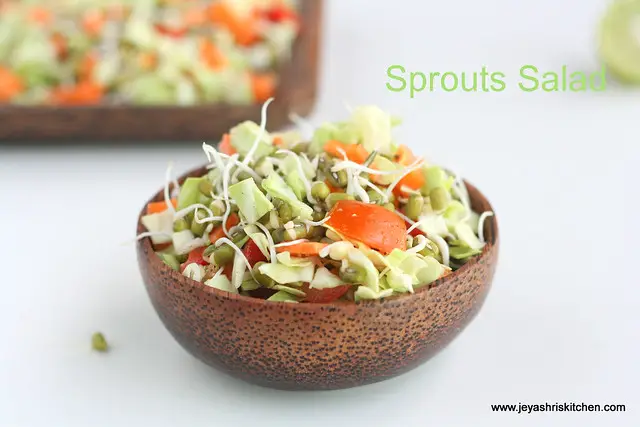 METHOD:
In a big wide bowl combine all the ingredients and toss well to get uniform mixing.
Serve immediately.
If you want to serve it later, do not add the salt , pepper and lemon juice. Just add them before you serve.
While adding tomatoes de seed them by scooping out the seeds with a spoon and cube it.
You can add chopped onions too.
Addition of veggies depends on you choice and the availability of the veggies too.
If you don't like the sprouts raw, you can steam it in a idli steamer for a minute and add to the salad. do not steam more than a minute.