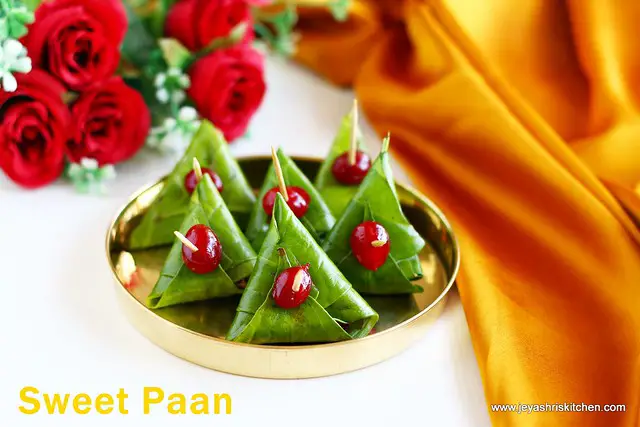 When i posted the recipe of
Paan juice
, i told i will post the recipe of sweet beeda too. I got the gulkand and cherries from India during my trip quick trip in February first week. Before this Chinese New year long weekend holiday here, i went to the Indian shop to buy veggies. Saw betel leaves over there and thought this will be the right time to buy this and make a post for meetha pan. Me and my hubby do not eat paan or any supari too. In our friends group all of them love paan. So we had a get together during the long weekend holidays and so i clicked this before going to the party and took it for them. Gulkand played a wonderful role in the taste of paan(as said by my friends). This
video
helped me in making the shape of the paan. Stay tuned for recipes using gulkand coming up in jeyashris kitchen.
Preparation Time : 15 mins | Cooking Time : Nil |Makes: 5
    Betel leaves | Paan Leaves     5
    Edible calcium | sunnambu     little
    Sweet Sanuf       as needed
    Gulkand       1-2 tsp
    Supari | paaku    1 tsp
    Jeera goli    little (optional)
   Cherry        few
   Jeeraga mithai    few
   Tuitty fruity    few  
   Cardamom powder      a pinch (optional)
   Tooth pick  
                                                 Video on how to fold beeda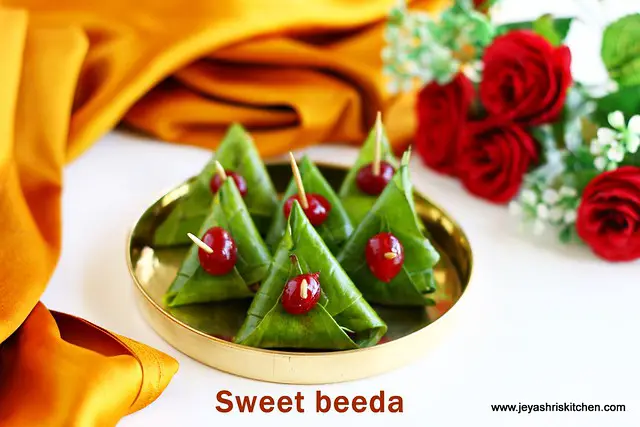 Method:
Always fresh betel leaves for making beeda.  Till you start making the beeda keep this inside a bowl of water.
Take one from the water and pat dry it. On the back side of the leaf, slightly spread the Sunnambu . This gives colour in your tongue after you chew the paan.
Do not add too much, just a little will do.
| | |
| --- | --- |
| | |
Cut the stem of the betel leaves as shown in the picture.
Start folding it from one end to make a cone. My hubby helped me out for this picture.
| | |
| --- | --- |
| | |
Once the cone is ready start filling it with the ingredients. Keep in mind not to over stuff the cone, else you will not be able to close it.
First start with supari | paaku. And then with other ingredients and lastly with gulkand.
| | |
| --- | --- |
| | |
Close the cone and keep a cherry in the middle and insert a tooth pick in the middle.
| | |
| --- | --- |
| | |
Repeat this for the rest of the betel leaves.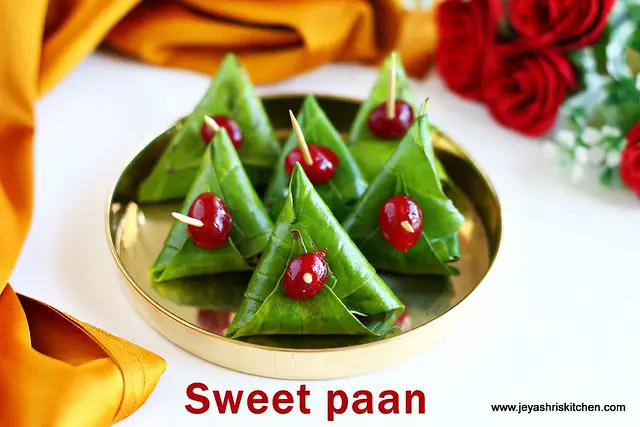 Notes:
You can add dry candied ginger too inside.
Desiccated coconut also can be added .
So many choices of mixed paan are availble in the market, you can stuff them inside.
Always ensure not to over stuff the paan ,else it will be difficult to close it.
Instead of making cone, you can just fold it and serve too.