MADE WITH CREAM STYLE CORN.
We all are very fond of soup and I make it very frequently. Though I have made sweet corn soup many times, I never attempted it with store-bought cream-style corn. When I saw the cream-style corn in the shop, without any second thought I bought that and tried making soup with that. It came out very well and trust me it tasted as well as we get in restaurants.
also, check out my
Here comes the recipe for a simple and healthy sweet corn soup.
Sweet corn vegetable soup recipe
  Preparation Time : 10 mins | Cooking Time : 25 Mins |Serves: 4-5
    Sweet corn (cream style)   200 gms
    Carrot    1
    Beans   5
    Corn kernels  1 handful
    Corn flour  1 tblsp
    Water   4 cups
    Salt  as needed
    Pepper powder   1/2 tsp
     
     
Method:
Chop the carrots and beans very finely.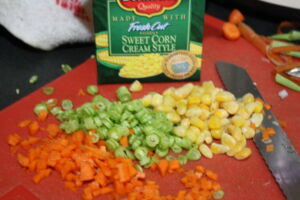 In a saucepan/kadai add the finely chopped carrots and beans.
Add the corn kernels and the cream-style corn in that.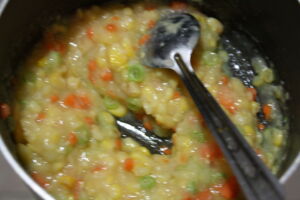 Now pour 4 cups of water into this.
Boil it nicely, till the vegetables become tender.
Since we cut the vegetables finely, it takes 5 minutes to get the veggies cooked.
Discard the froth which comes in the first boil.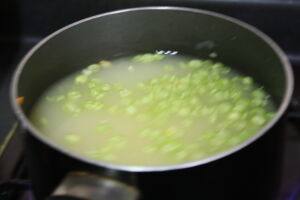 Mix the corn flour to water into a thick paste without any lumps.
Add it to the soup and give it a nice boil, stirring in between.
Add salt and pepper to this and serve hot.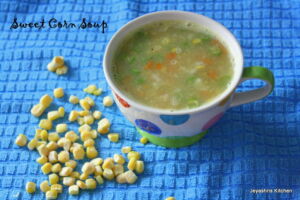 Variation:
If you are using frozen corn, instead of store-bought cream-style corn, just boil a cup of corn separately and take out 2 tbsp of corn from that and keep aside.
Grind the rest of the corn kernels and once the vegetables get cooked add the ground corn puree and the corn kernels to this and bring it to a nice boil.