Thayir vadai | Dahi Vada |Curd vadai recipe is made at most of the homes with leftover Vadais, but my mom always makes Thayir vadai with freshly made Vadais as we all love curd vadais. Today I am sharing the recipe of how to make South Indian style curd vadai. I couldn't make a very detailed step wise instructions as how to make vadais. Please follow my Medhu vadai recipe and just omit the onions in the recipe and follow the rest of the procedure. Check out my Rasa vadai and Sambar vadai recipe too. Also check the north indian style dahi bhalla too

Thayir vadai recipe
Preparation Time : 15 mins + 1 hour soaking time| Cooking Time : 45 Mins |Serves: 4
Ulundu vadai 4
Scrapped coconut 4 tblsp
Cashew nuts 6-7
Curd |yogurt 1/2 cup + little extra if needed
Milk 2 tblsp
Cumin seeds | jeera 1/4 tsp
Salt to taste
Oil 1 tsp
Mustard seeds 1/4 tsp
Carrot grated 2 tblsp
Boondi 2 tblsp (to garnish)
Coriander leaves few
Curry leaves few
Asafoetida 2 pinches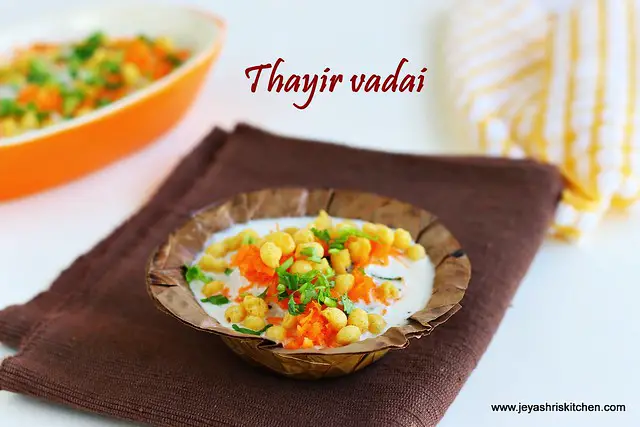 Method:
Check out my Ulundu vadai recipe for detailed instructions on how to make vada.
After making vadais ,drain the excess oil in a kitchen towel.
Boil 2 cups of water in a saucepan. When the water starts boiling, switch off the flame and pour the water into a wide bowl.
Immerse the vadais into the water.

Let the vadais get soaked for 10 minutes. The vadas will get double in size after getting immersed in the hot water.
Take out the vadas from water and gently squeeze out the excess water.
This process is to make the vadais more soft and to absorb the curd into it.

Soak the cashew in hot water for 10 minutes . Drain the water and grind the coconut, cashew, green chili and cumin seeds into a fine paste. Add little water or milk for grinding. You can use yogurt also for grinding.

Beat the rest of the yogurt with a hand beater and mix the ground coconut mixture to the yogurt. Add salt. Temper with mustard seeds,asafoetida and curry leaves.
Ensure the yogurt is not sour. If it is slightly sour, add 2 tblsp of full cream milk to this.
Ensure the curd mixture is chilled.

Place the soaked, squeezed vadas in a serving plate. Pour the yogurt mixture to this.

.
Add grated carrot and boondi to this. Serve immediately.

After adding the coconut mixture if you feel the consistency if thick, add few tblsp of beaten yogurt to this while serving.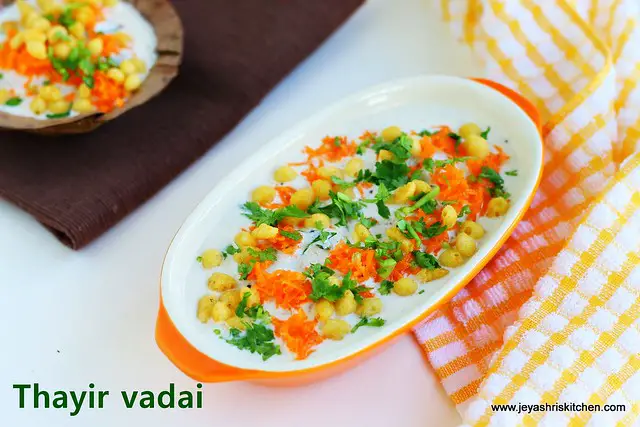 Notes:
After dipping the vadai in hot water, you can soak it in butter milk to infuse little extra curd to the vadais.
Never use too sour yogurt to make thayir vadais.
You can make this in advance say 3-4 hours before serving. Just before serving add some more seasoned yogurt and garnish with carrot,coriander leaves and boondi.