Thenkuzhal murukku recipe – Diwali murukku recipe with step-step pictures.
My son is a huge fan of this and we used to call this thenkuzhal as murruku. I made this for my uncle's family, who are in Malaysia when I visited them last week.
I always make this with rice flour and urad dhal flour, this time I used idiyappam flour instead of rice flour. It tasted very yummy. I learnt this recipe from my Mother in law. Check out my full collection of Diwali recipes.
INGREDIENTS: Makes – 18-20 murukku
| | |
| --- | --- |
| RICE FLOUR | IDIYAPPAM FLOUR | 1and 1/2 cup |
| URAD DHAL FLOUR | 1/4 cup |
| CUMIN SEEDS | 1 TSP |
| WHITE SESAME SEEDS | 1 TSP |
| SALT | AS NEEDED |
| BUTTER | 2 TBLSP |
| ASAFOETIDA | 1/4 TSP |
| OIL | FOR DEEP FRY |
| WATER | TO KNEAD THE DOUGH |
If you have the option of a rice mill nearby your place, grind 6 cups of raw rice or parboiled rice(not idli rice) and 1 cup of urad dal into a fine powder. No need to roast the ingredients. This flour can be stored for 6 months in the refrigerator.
METHOD:
Mix all the ingredients, except oil and water, nicely.

Take a portion of this and add water to it to make it dough.
The dough consistency should be a little loose than the chapati dough.

Fix the murukku presser using the mould shown in the picture.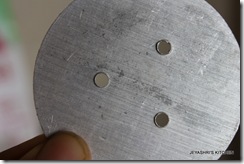 Fill the murukku presser with the dough and close it.
Heat a kadai with oil.
When it becomes hot, press the mould, and put small circles.
When it is done on one side, just flip it with a ladle.

When the oil stops bubbling and the sound stops, just take it out from the oil and transfer it to a kitchen towel.
Store it in an airtight container.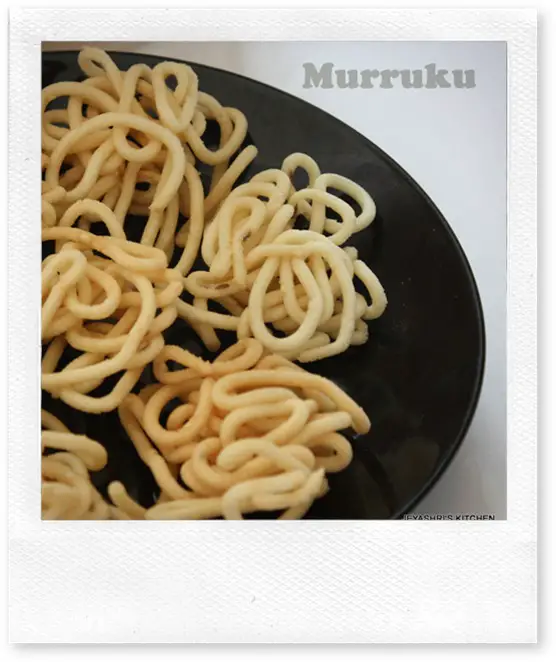 Enjoy murrukku with a cup of tea.
Note:
Adding butter will bring crispness to the murukku, alternatively, you can add 2 tbsps of hot oil to it while kneading the dough.
Don't add too much butter or oil, the murukku will go apart when u put in oil.
My mom always presses murukku in ladles and then transfers it to the oil.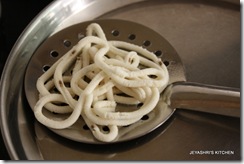 4.      If you have a rice mill in your place, grind raw rice along with urad dal and make murukku out of this.