I am a great fan of  all
paneer recipes
, especially this tikkas are my most favorite. Since i don't possess a Oven with grill, i wanted to try this tikka on the stove top, by using a non stick tawa. So many times i have made this, and it always came out very nicely.
Check out my
I used the panner cubes to make these tikkas.
INGREDIENTS:
| | |
| --- | --- |
| PANEER CUBES | 3/4 CUP |
| SOUR CREAM | 2 TBLSP |
| TANDOORI MASALA | 1/2 TSP |
| REDCHILLI POWDER | 1/2 TSP |
| CHAT MASALA | 1/4 TSP |
| CAPSICUM | 1/2 NO CUBED |
| ONION | 1 NO. CUBED |
| OIL | 1 TBLSP |
| KASOORI METHI | 1/4 TSP |
| SALT | AS NEEDED |

Method:
Take the paneer from the freezer and keep it outside till it comes to the room temperature.
Once it reaches the room temperature add the sour cream to it.
Add the red chilli powder, chat masala, tandoori masala and kasoori methi and salt to this .
Mix this very well. Take care the masalas should get evenly coated.
I used this cream,you can use hung yogurt too.
Allow this to marinate for 1 hour.
Keep it in the fridge.
After an hour, take it out  and heat a tawa.
Place the paneer pieces on the tawa by arranging it on the tawa.
Add a few drops of oil ,for each batch(if you want)
keep the flame very low.
When it is done on one side, carefully flip it on the other side, using a spoon.
Repeat this for all the other sides of the paneer cubes.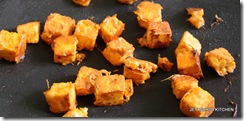 Heat a kadai, add a tblsp of oil and add keep the flame very high.
Add the cubed onions and capsicums to it and saute this in a high flame.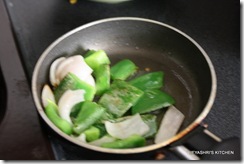 Take out from the flame  and when it is cool arrange them in skewers.
Enjoy with hot tea.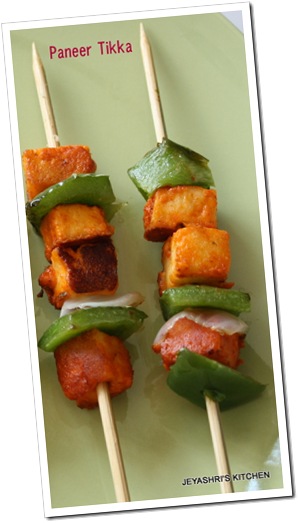 Note:
You can add curd instead of sour cream.
If using curd, hung the curd for 20 minutes in a cloth.
Don't add too much of cream/curd as this will make the tikka soggy .
Don't omit the tandoori masala, it gives out the real flavor of the tikka.