Thumbprint cookies, if i remember well, this is the first one i baked when i got my new oven 7 years back. The simple easy cookie me and my daughter baked again for the last working day of this year, before their school holidays. I used my puppy faced cookies for the base and made these thumbprint cookies. The eggless cookies turned out so beautiful and everyone in the class loved it very much. As the Christmas season is nearing, you can bake this easy eggless thumbprint cookies at home and enjoy the holidays. We are off for vacation to Chennai in a few days, so i will be scheduling few simple posts during my vacation. Check out my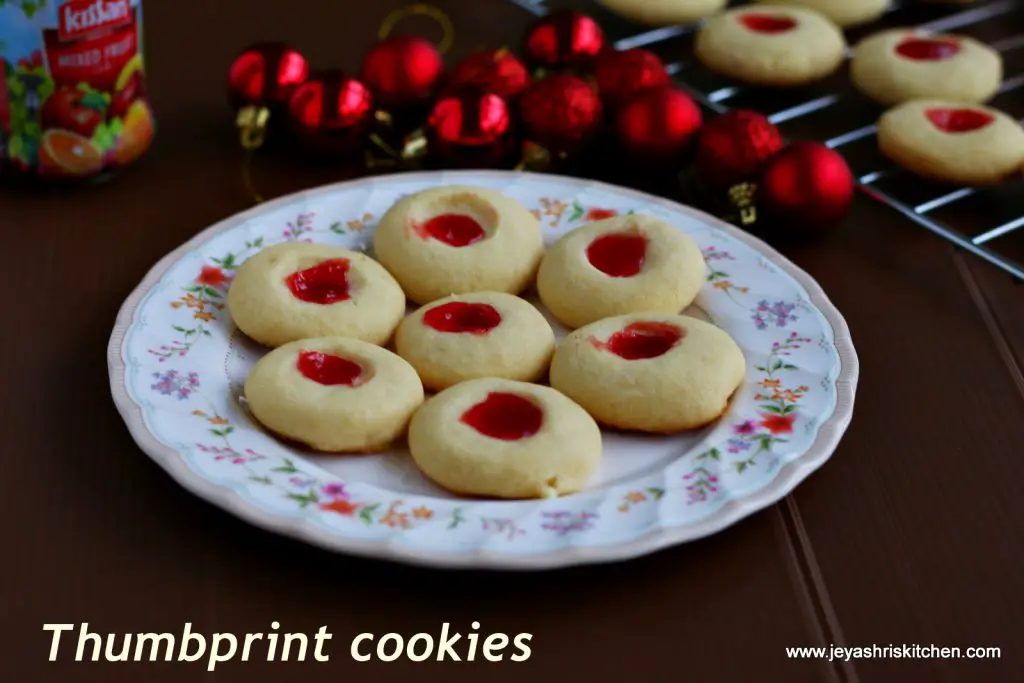 Thumbprint cookies
  Preparation Time : 20 mins | Baking Time : 10-12 Mins |Makes: 18-20 cookies
     All purpose flour | plain flour | maida   1 cup
     Butter    1/2 cup
     Vanilla essence   1/4 tsp
     Sugar  1/4 cup
     Jam   1- 2 tbslp approx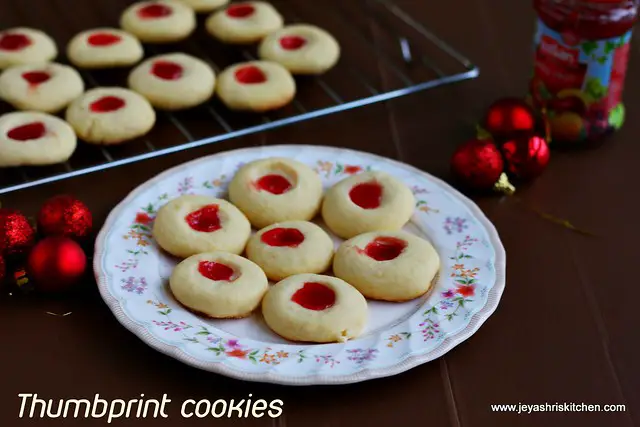 Method:
Soften the butter and powder the sugar. Add both together in a bowl and mix this nicely.
Add vanilla essence to this. 

Add the flour to this now and knead this into a pliable dough. If you feel that the dough is bit dry add 1-2 tblsp of milk to this and knead well without any cracks.

Make them into small lemon sized balls and slightly flatten it. 
Microwave the jam for 45 seconds and keep it ready. 
If you do not have a microwave you can keep the jam in a bowl of hot water.  
I used kissan fruit jam. You can any jam of your choice.

Make a dent in the center using your thumb and fill the dent with jam. Do not add too much jam, else it will over flow and spoil the appearance of the cookie when it is baked.
Alternatively you can use a cookie press to make shapes. 

Bake the cookies in an oven for 10- 12 minutes at 160 degree Celsius. 
Allow this to completely cool. The cookies won't change colour. 

Thumb print cookies are ready . Cool this completely in a wire rack and store the jam cookies in an airtight container.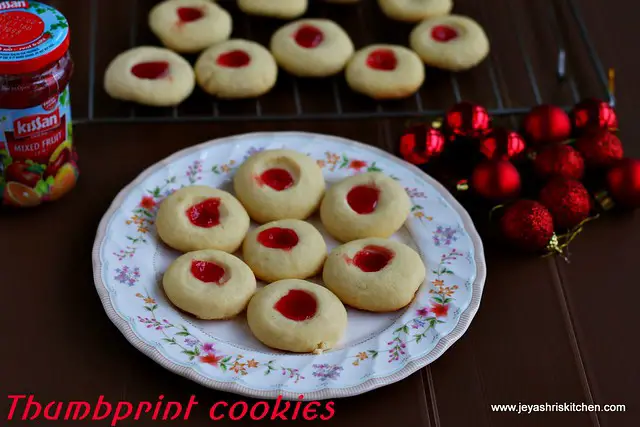 Notes:
If you feel the cookies bit soft when you take out from the oven, just allow that to cool completely and see, if it is still soft then bake for 2-3 minutes more.
Do not add more jam to the dent, else it will overflow and splash all over the cookies while baking and spoil the look of the cookies.
You can follow my eggless custard powder cookies recipe also to make this thumbprint cookies.
Instead of jam you can add nutella too.