Tomato puree i wanted to try our for a long time , last week when i saw  red tomatoes in the nearby local shop at cheaper price, i bought and made puree out of this. This is a very basic recipe and doesn't involve any preservatives. I stored in the refrigerator for 10 days and it stayed good.
Ingredients

  Preparation Time
:
15 mins
|
Cooking Time
: 10 Mins |
  Yields
 : 2 cups
    Ripe tomato   5-6 (big) Around 1 kg.
    Sugar     1 tsp
    Salt       1/2 tsp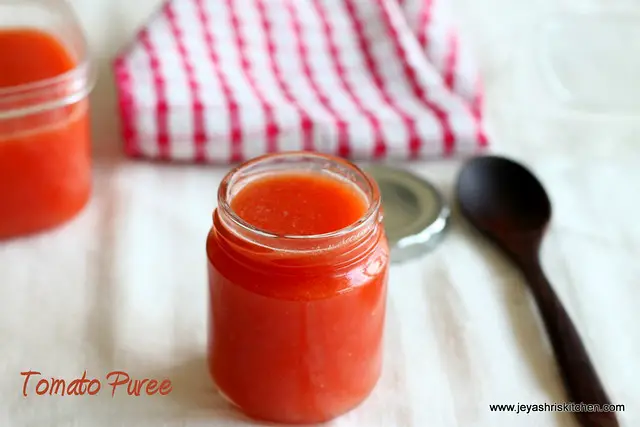 Method:
Wash the tomatoes and cut the center part and take out the black part.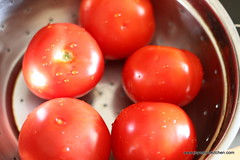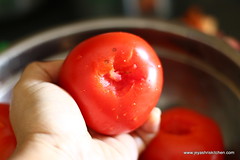 In a wide saucepan add tomatoes and add water so as the tomatoes can completely covered in water.
boil this till the skin of the tomatoes shrinks.
Once done, put on some ice cubes on this . This is to stop the tomatoes from cooking further.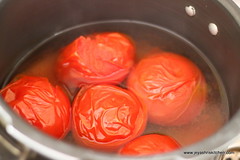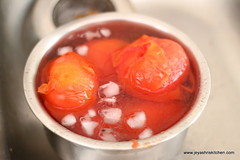 Take out the skin and allow this to cool completely.
Grind this in a mixie into  a fine paste.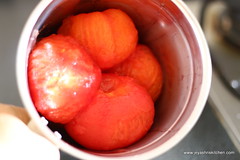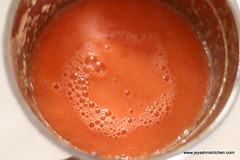 Filter the puree to get rid of the seeds.
Add sugar and salt to the filtered puree and transfer it to a clean dry container.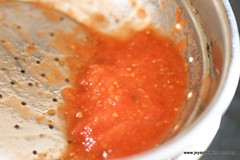 Always use clean spoon to take it out.
You can freeze the tomato puree in ice cube tray and use a cubes when required.
I used the puree in making