Mysore pak is a traditional sweet made in Tamil brahmin weddings. The Mysore pak served in weddings will be hard and loaded with ghee. The porous texture of the mysore pak is the highlight of the traditional mysore pak. The perfect one depends upon the ghee we use and of course the besan|kadalaimaavu too. I have already posted a super
easy Mysore pak recipe
 , similar to Sri Krishna sweets soft Mysore Pak, few years ago. That was a super hit sweet recipe, tried even by bachelors too. That Mysore Pak recipe involve less ghee and sugar. But still i wanted to try the traditional mysore pak recipe too. During this Navaratri, when i visited one of my friend's house, she served me super yummy lemon sevai, chutney and mysore pak too. The next day i messaged her and asked about the recipe of mysore pak. She told that her mother only made that and after few minutes, aunty called me and told me the recipe.Thank you so much aunty, for patiently clearing my doubts and elaborately explaining the recipe. Though it was loaded with sugar and ghee, the method was very easy only. So i tried it during last weekend and it turned out pretty well. My step wise pictures were not satisfactory, as i was bit tensed about the outcome. The Mysore pak were very nice and tasted the same as i had in her place. I used store bought ghee and besan. If you have access to rice mill, get your besan done at home by grinding channa dal in rice mill. Also make ghee at home or use the Aavin ghee if you get. This will give  perfect colour for the Mysore pak.
Traditional Mysore Pak
  Preparation Time : 15 mins | Cooking Time : 25 Mins |Yields: 10 big pieces
     Besan | Kadalai maavu     1/4 cup
     Ghee      3/4 cup( you can make it as 1/2 cup ghee + 1/4 cup oil)
     Sugar      3/4 cup   
     Yellow food colour    a pinch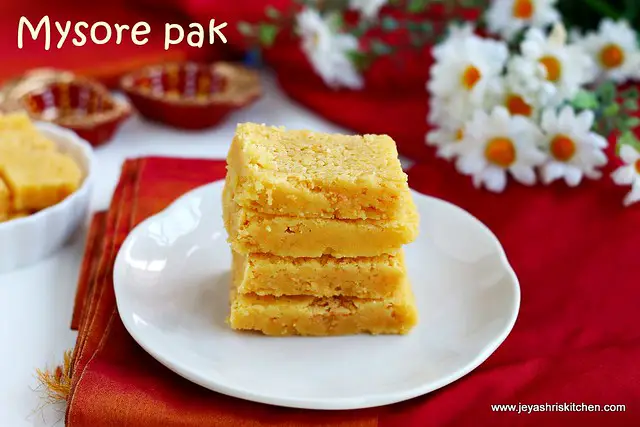 Method:
Grease a plate with ghee and keep it aside.
In a heavy bottomed pan add sugar and add 1/4 cup of water.
Dissolve the sugar. Originally aunty didn't tell me about the string consistency. But i kept till 1 string consistency. As per her adivse once the sugar dissolves nicely you can add the besan to the sugar syrup. If checking sugar syrup for one string consistency, check my detailed post.

Melt the ghee in a separate pan. I felt 1/2 cup of ghee is enough for the mysore pak. Also if you want you can mix 1/2 cup of melted ghee and 1/4 cup of refined oil too.
Refined oil will not give any smell to the mysore pak. It will taste nice.

Add the besan to the sugar syrup once the one string consistency is reached.  Do not worry if lumps are formed. It will get dissolved once you start cooking it.

You can add food colour if needed at this stage. Start stirring and keep the flame medium low.
Add ladle of hot ghee in between. You could see the froth coming up once you add the oil. Adding hot is must. Let the ghee be in the next burner which is switched on. Adding hot ghee makes the besan mixture cooks from the top.
Stir continuously.

Add hot ghee at regular intervals and cook till the mixture leaves the sides of the pan. This will be  ready soon, so please have a close watch. Once you feel it starts leaving sides and began to thicken, transfer this to a greased plate. Though you could spot some ghee in the plate, do not worry, it will get absorbed in 5 minutes.

With ghee coated knife, cut them into desired shape and keep it aside. After 5 minutes you can able to take it out and the mysore pak will be set. Just invert the plate into a newspaper or plate.  Mysore pak is ready.

 Mysore pak is ready. You can serve this hot also. The taste of hot mysore pak is awesome. If you haven't tasted it, try it now.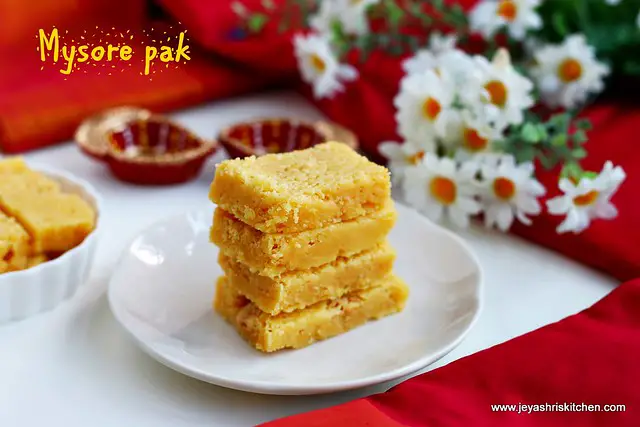 Notes:
This mysore pak stays good for a week to 10 days if stored in a dry container.
Always handle with clean dry hands.
Do not over cook the besan mixture. When it starts leaving the sides and the golden colour comes, spread this in a greased plate.
Sugar can be sprinkled to the mysore pak when it is warm. Traditionally in weddings it is served like that.