Sukku Milagu kuzhambu – Recipe With video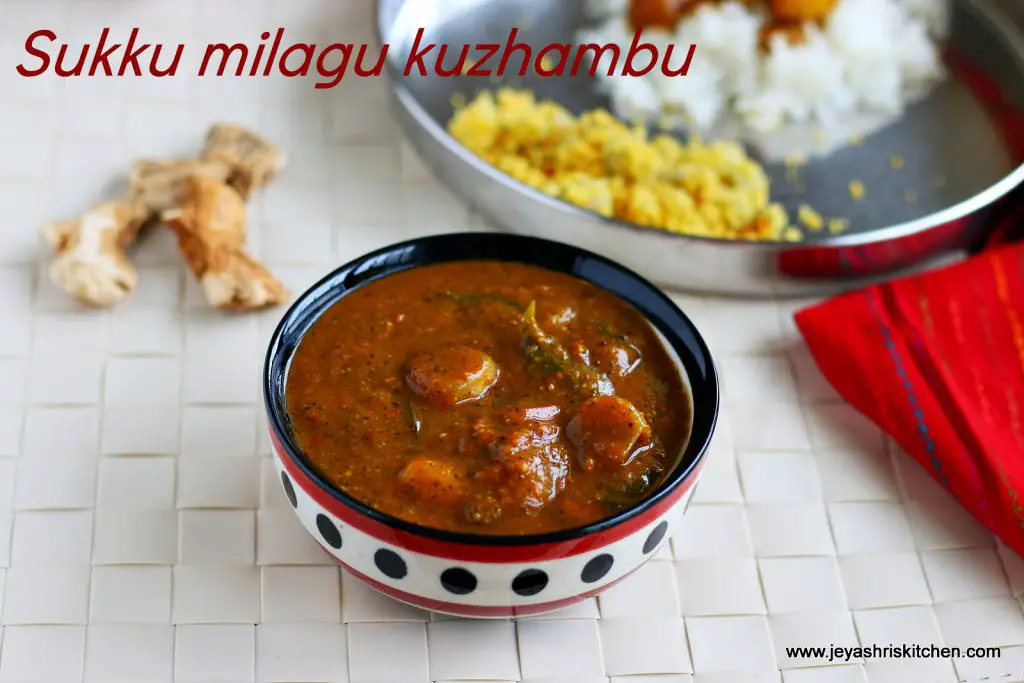 Sukku Milagu kuzhambu is a south Indian gravy, made with freshly roasted pepper, dry ginger(sukku) and few other Indian spices. We make Milagu kuzhambu but this is one is slightly different form that. Few days ago, while i was cleaning  my cupboard, found a collection of old cookbooks which i had bought few years back. While i was going through the few books, i saw this sukku milagu kuzhambu and tried this today at home. From the morning it was raining here badly and so i thought this would be perfect for the rainy weather. I made Vazhaithandu (banana stem) paruppu usili to pair with this sukku milagu kuzhambu.

Sukku Milagu kuzhambu
  Preparation Time : 15 mins | Cooking Time : 30 Mins |Serves: 6
     Shallots | Small onion     1 cup (20 approx.)
     Garlic    4-5 pods
     Tomato   1
     Sesame oil   5 tsp
     Mustard seeds    1/4 tsp
     Asafoetida   2 pinches
    Curry leaves few
    Tamarind   a small lemon sized
    Turmeric powder   1/4 tsp
    Salt  as needed
    Jaggery   1 tsp
To roast and grind  
   Black pepper   1 tblsp
   Urad dal   2 tsp
   Channa dal   2 tsp
   Sukku | dry ginger*    a small piece
   Venthayam | methi seeds|fenugreek  1/2 tsp 
   Red chili   2
   Cumin seeds | jeeragam   1 tblsp
   Oil   2 tsp  
  *If using dry ginger powder add  1 tsp   
                                        Video of how to make sukku milagu kuzhambu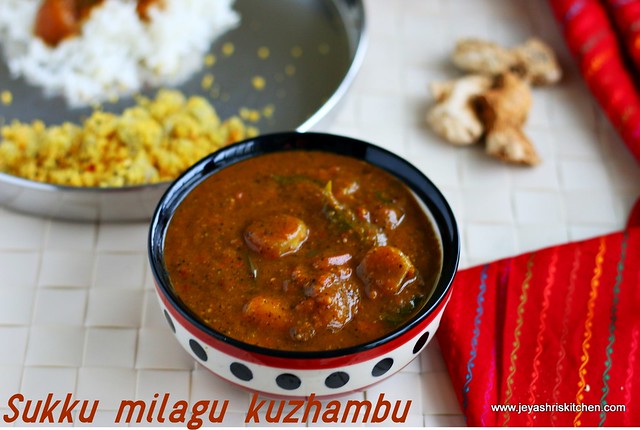 Method:
In a pan add oil and add black pepper, urad dal, channa dal, sukku, venthayam one by one and roast in a low flame, till the dal turns golden brown colour.
Switch off the flame and add the cumin seeds. Let this get roasted in this heat. If using dry ginger powder add that now.

Allow this to cool completely and grind this into a fine paste. Add little water while grinding.
Keep this aside.

In the pan add 4 tsp of sesame oil and mustard seeds, asafoetida and curry leaves.
When it splutters add the peeled shallots and garlic. Cook this in a low flame till the onion turns pink.

Add 1 chopped tomatoes to this and cook till mushy.

Make 1 and 1/2 cup of tamarind extract from the small lemon sized tamarind.
Add the tamarind extract to the pan. Add turmeric powder and salt.
Now add the ground paste to this and mix well without any lumps.

Let this boil in a low flame till the gravy thickens and the raw smell of the tamarind goes off.
Add 1 tsp of jaggery to this and mix well.
Lastly add 1 tsp of sesame oil and switch off the flame.

Sukku milagu kuzhambu is ready to serve.
We had with vazhaithandu paruppu usili and hot rice.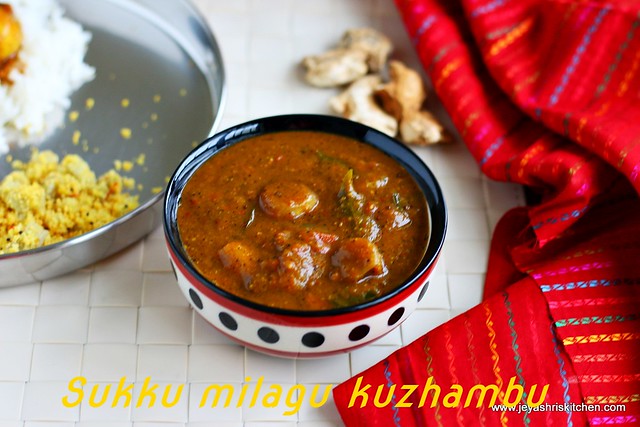 Notes:
Do not add dry ginger more than the quantity mentioned.
If you do not get sukku or dry ginger powder use fresh ginger.
Jaggery neutralizes the  spiciness of the gravy. So do not skip it.
You can add kandan thippili also to this while roasting the ingredients.