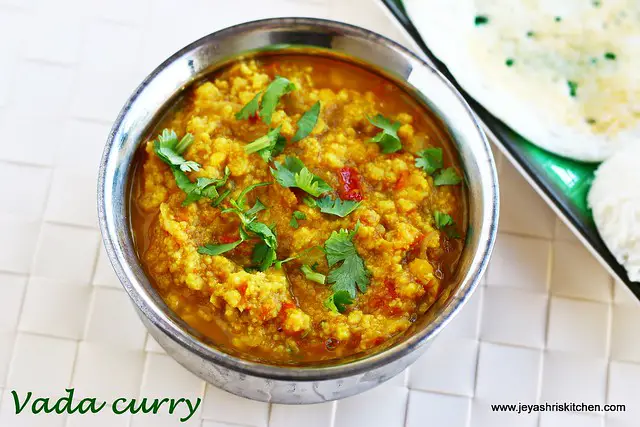 Vada curry, is a long time due for me to post it here. I got many requests for this and finally when a ardent reader reminded this again, i thought i will post this soon. I got introduced to this by my friend after moving to Singapore. Though i have seen in restaurant menus Set dosa Vada curry, i don't have any clue as how it will taste or look too. When my friend one day gave this to me i somehow liked it but felt it will be nice with rotis instead of idli|dosa. Vada curry is a Chettinadu ( a small town in Tamil nadu ) delicacy genrally made for breakfast. I called my friend and she clearly explained the recipe over phone. Thanks to her, vada curry turned out awesome and my mom who is now with me enjoyed the vada curry very much. Try out this at home and enjoy your breakfast.
Vada curry(steamed version)
  Preparation Time : 10 mins+ 2 hours | Cooking Time : 25 Mins |Serves: 3-4
     Chana dal|Kadalai paruppu   3/4 cup
     Greec chili      1
     Fennel seeds    1/2 tsp
     Onion        2
     Tomato      1
     Garlic pods   2
     Red chili powder   1/2 tsp
     Coriander powder   1 tsp
     Turmeric powder    1/4 tsp
     Salt      As needed
     Curry leaves     few
     Bay leaf    1
     Cinnamon    1 small stick
     Kalpaasi     a small piece (optional)
     Coriander leaves    few      

Method:
Soak the channa dal for 2 hours. Drain the water and grind this in a mixer coarsely along with fennel seeds and little salt.

Steam this mixture in a idli steamer for 15 minutes or till the mixture becomes firm and cooked. Alternatively you can deep fry this in oil too. If frying in oil add little pinch of dough in oil and fry them. So that it will be easy when putting in the gravy.
Once steamed roughly make this into small pieces.

Slice the onions into long and tomato into fine pieces.
In a pan add oil and add in the peeled whole garlic pod, green chili and curry leaves. Add in the bay leaf, cinnamon and kal paasi too. I forgot to add bay leaf and cinnamon.
Add in the sliced onions and saute till they turn translucent.

Add in the tomatoes and add the red chili powder, coriander powder , turmeric powder and salt.

Cook this mixture till mushy. Add little water and cover this and cook for 5 minutes in a low flame.
Add in the steamed dal and add 2 cups of water.. Mash with a back of a ladle.

Cover this and cook in a medium flame for 10 minutes. By now the gravy must be thickened and will start emitting a nice aroma.

If needed add little water , usually it will be a semi solid gravy.
Garnish with coriander leaves.
Vada curry is ready to serve.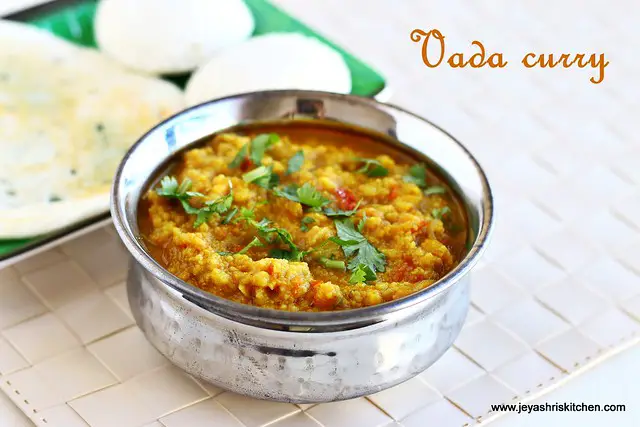 Notes:
Fennel seeds can also be tempered while adding the garlic pods.
Instead of using only channa dal you can add 1/2 cup of channa dal and 1/4 cup of moong dal or toor dal too.
Thick coconut milk can be added in the last to enhance the flavour.
Left over masala vadai can be used to make this vada curry.