Brinjal rice |
Vangi bath
is a good treat for brinjal lovers like me. My mom used to pack this Vangi bath for my lunch box and my friends will finish it off in no time. After marriage,i hardly made this very few times,since my hubby doesn't prefer brinjals. This time when my neighbor gave me a pack of brinjals ,i decided to make rice of of that and shared the rice with them also. Check out my
gutti vengaya koora
and
pan fried eggplant recipe
too.
Vangi bath recipe
Preparation Time : 15 mins | Cooking Time : 25 Mins |Serves: 1 cup
For the powder
Coriander seeds 3 tblsp
Red chili 8
Channa dal 2 tblsp
Sesame seeds 1 tblsp
Cinnamon stick a small piece (optional)
Kopparai | dry coconut 2 tblsp


For the rice
Raw rice | basmati rice 1 cup
Eggplant (Small ) 4-5
Onion 1 (optional)
Oil 1 tblsp
Vangi bath powder (recipe given below) 2-3 tblsp
Mustard seeds 1/4 tsp
Urad dal 1 tsp
Peanuts 1 tblsp (optional)
Curry leaves few
Salt as needed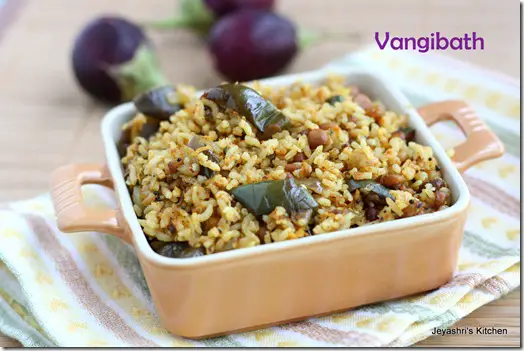 Method:
Dry roast all the ingredients, under the head "for the powder" and allow it to cool.

When done, make it to a fine powder and store it in a container.

Now the vangi bath powder is ready.
Cook the rice with 1 and half cup of water and allow it to cool completely.
The grains should be separate.
Cut the brinjals into small cubes.(i used the long purple colour brinjal)
Cut the onions lengthwise.
Heat a kadai and add the oil. Temper with mustard seeds,urad dhal.
Add onions and saute them for till golden brown.
Add the brinjals and add salt and turmeric powder.

Cook in medium flame till the brinjals become tender.
Don't add water.
Add the vangi bath powder and gently mix with the brinjal mixture.

Roast the peanuts in oil just before mixing the rice. Add curry leaves.

Mix gently with the rice.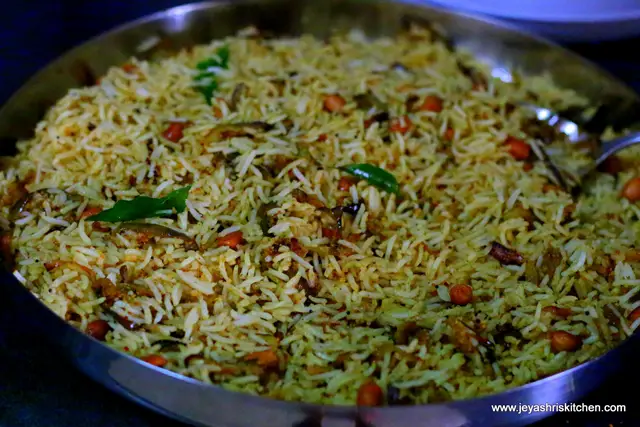 Transfer to a serving bowl and enjoy with any raita of your choice.