Hakka  noodles is a  must one in kids lunch box at least weekly once or sometimes i make this for dinner too. Previously i used to make with plain hakka noodles available in supermarkets, but after trying this veg noodles with Spaghetti i am hooked to this and now a days i making this hakka noodles with spaghetti only. Try this hakka noodles using spaghetti by following the simple recipe which i am sharing today.
INGREDIENTS SERVES 2-3
| | |
| --- | --- |
| SPAGHETTI | A SMALL BUNCH |
| ONION | 1 |
| GARLIC | 4-5 PODS |
| GREEN CHILLI | 1-2 |
| SOY SAUCE | 1 TSP |
| TOMATO KETCHUP | 1/2 TSP |
| SUGAR | 1/4 TSP |
| CARROT | 1/2 |
| CABBAGE (SHREDDED) | 3-4 TBLSP |
| CAPSICUM | 1/4 |
| OLIVE OIL |  SUNFLOWER OIL | 1-2 TBLSP |
| SALT | AS NEEDED |
| WHITE PEPPER | TO TASTE(OPTIONAL) |
| SPRING ONIONS | FEW (TO GARNISH) |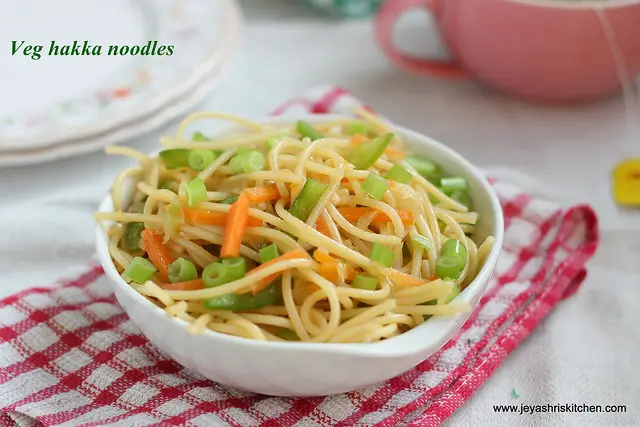 METHOD:
Cook the spaghetti by adding 7-8 cups of water in a large pan. Add salt and few drops of oil while cooking. Once done drain the excess water and wash the spaghetti in cold water. Immerse this cooked spaghetti in normal cold water till you make the vegetable mix. This will keep this pasta moisture and avoid drying.
Chop the garlic and onion very finely.
Slit the green chilli.
Finley cut the carrots into thin and capsicum too lengthwise.
In a pan, add oil and when it is hot add the slit green chilli. Switch off the flame and after 2 minutes take out the green chilli and discard this.The green chilli flavor will get infused in the oil.
Now heat the pan and add the sugar and when it starts slight brown add the garlic and chopped onions. Saute for a few minutes on a high flame by constantly stirring it without burning.
Now add the veggies (carrot and cabbage) and saute for few minutes. Let this be crunchy. Add soya sauce and tomato ketchup. Add little salt as the sauce has salt in it.
Now add the capsicum and saute for few seconds and drain the water from the cooked spaghetti and add this to the veggie mix.
Mix this evenly to get the veggie spice mix to get blend with the spaghetti.
Add white pepper to this if you want before mixing.
Garnish with spring onions.             NOTE:
I added 2 green chilli and found it bit spicy.
I didn't add tomato ketchup while making this but i added the next time and it gave a nice flavor.