Lasagna is similar to pizza but made with lasagna sheets. We first tasted veg lasagna during our Europe trip in France border. Then i tried it at home during few months back and posted in Jeyashri's kitchen Instagram too. After that Varsha's friends who are all in Instagram asked me to make lasagna for them. So after their board exams got over i called all of them home and made lasagna for them. So finally i decided to make lasagna for Jeyashri's kitchen and posted the step wise recipe here. Make this at home and let me know how it turned out. I wanted to cottage cheese lasagna too, will post  the Indian version of Paneer lasagna soon.
Veg lasagna
  Preparation Time : 15 mins | Baking Time : 40 Mins |Serves: 6
     Mixed Vegetables*    1 cup
     Pasta sauce (tomato)  1 cup
     White sauce                1 cup
     Grated cheese    250 gms
     Lasagna sheets  9
     Olive oil   1 tblsp
     Red chili flakes  as needed (optional)
     Salt  very little for the veggies.
     Olives   few
     Butter   little for greasing the baking tray
* I used broccoli, bell peppers, carrot, and olives. You can use sweet corn, spinach,eggplant and green peas too.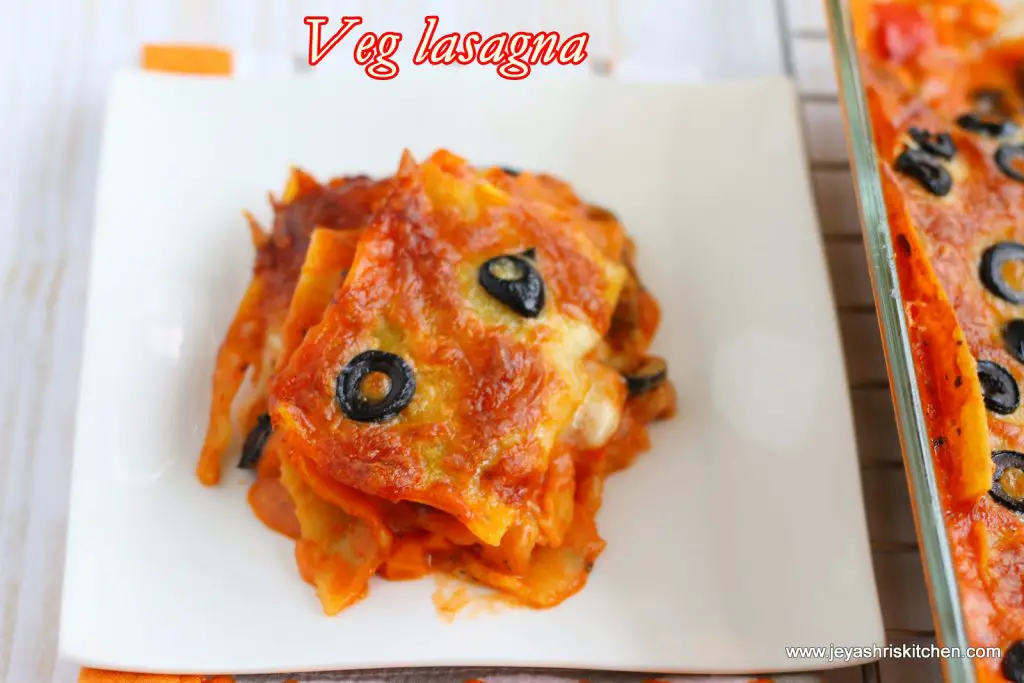 Method:
Chop the capsicum into small cubes. Chop the carrots into small and make small florets with broccoli.
In a pan add oil and saute the the capsicum for 2-3 minutes.
Add the broccoli and carrots. Saute for few minutes.

Add the tomato pasta sauce and white sauce to this.
Mix well.

Let this cook for 5 minutes. Switch off the flame.
Cook the lasagna sheets as per the package instructions.
I couldn't find any instruction in my package, so i boiled them in hot water for 5 minutes. Add few drops of oil and little salt while cooking it.
Drain the water and take it out from and keep it separate, else it will stick to each other.

Grease a baking dish with butter.
I used glass baking tray.
Let's start layering.
First add little veggies sauce mix to cover the bottom of the baking dish.
Spread the lasagna sheets on the top to cover the tray. Cut the sheets to fit the tray.
Spread some grated cheese.


Lastly add some sheets and grated cheese.
Place some olives on the top. Alternatively you can add cherry tomato too.
Bake this for 40 minutes in a pre heated oven at 160 degrees.

Once it is done, cut it with a pizza cutter and serve it hot.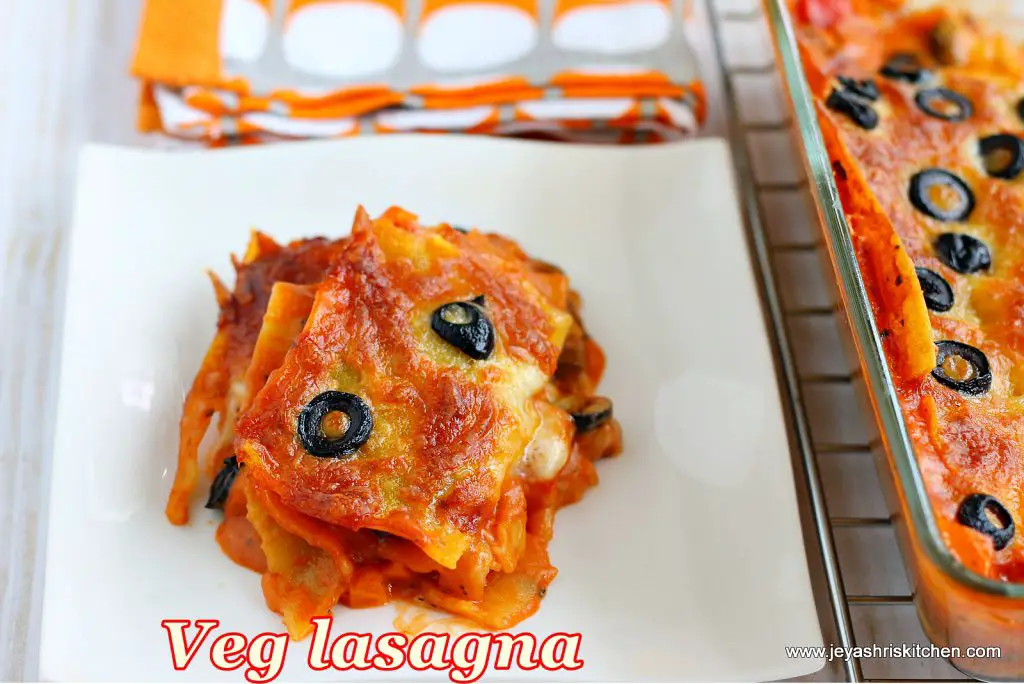 Notes:
You can use store bought pizza sauce too.
You can add finely chopped spinach or baby spinach to the veggies.
Veg lasagna is usually served as a main course as it is quite filling.