This
vegetable hakka noodles
is very easy to make and also kids like this very much. A nice variation to the usual Instant maggi noodles. I have made this by adding more veggies. You can reduce the veggies if you want. Veg hakka noodles is always a popular one among kids. If you have plain noodles at home, you can make easy restaurant style noodles for kids at home. I used Chings noodles for this recipe. Spaghetti can also be used. 
Also check out my
Veg hakka noodles recipe
  Preparation Time : 15 mins | Cooking Time :20 Mins |Serves: 2
     Plain noodles  150 gms
     Mixed veggies*  1/2 cup
     Tomato Sauce  3/4 tblsp
     Chilli sauce  3/4 tblsp
     Oil  2 tblsp + 1 tsp
     Garlic  5 cloves
     Spring onion**  few 
     Soya sauce  1 tblsp
     Salt as needed
    *I added carrot, capsicum and cabbage.
**Spring onions can be replaced with normal onions. Use one big onion for this recipe.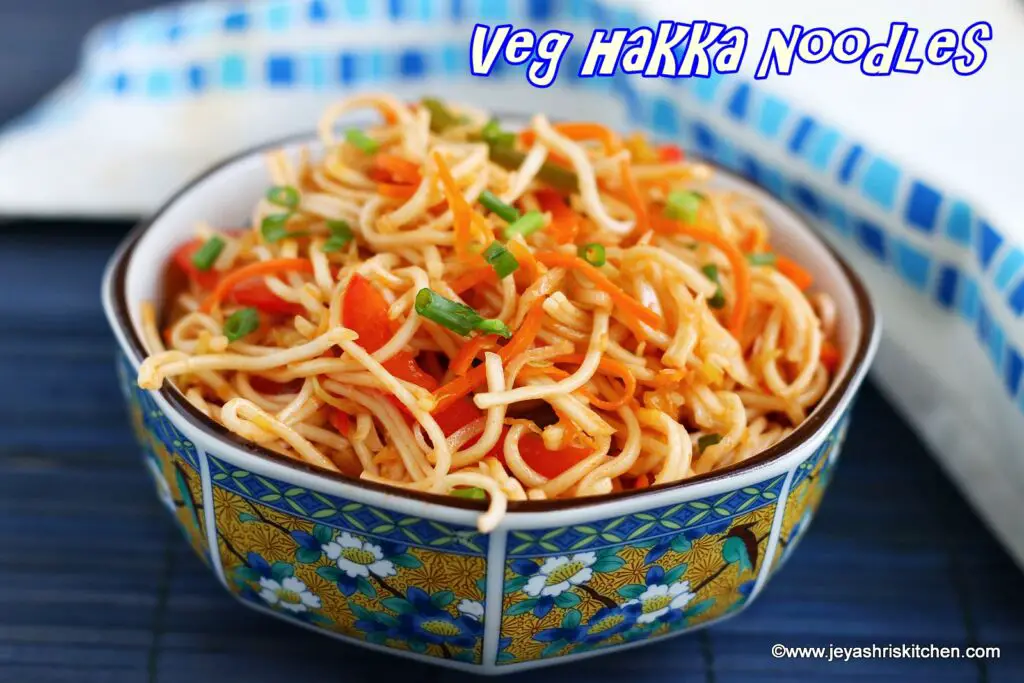 Method with step wise pictures:
Thinly slice the veggies.
Finely chop the garlic and spring onion whites.
In a heavy bottomed  pan add water and allow this to boil nicely.
Add the noodles to this.
Cook for 3-4 minutes. Do not over cook.
Drain excess water and pour cold water and add a tsp of oil to it and toss well to avoid the noodle sticking to each other.

In a pan add the oil, and add the garlic and spring onion whites.
Let this cook for few minutes till the onion becomes translucent.

Add chopped veggies and cook on high flame.

Add the tomato sauce, chili sauce and soya sauce. Add a bit of salt too. Do not add more as the sauces will have salt too.
Mix well.

Add the cooked noodles to this.
Mix well evenly.
Add spring onion greens on the top for garnishing.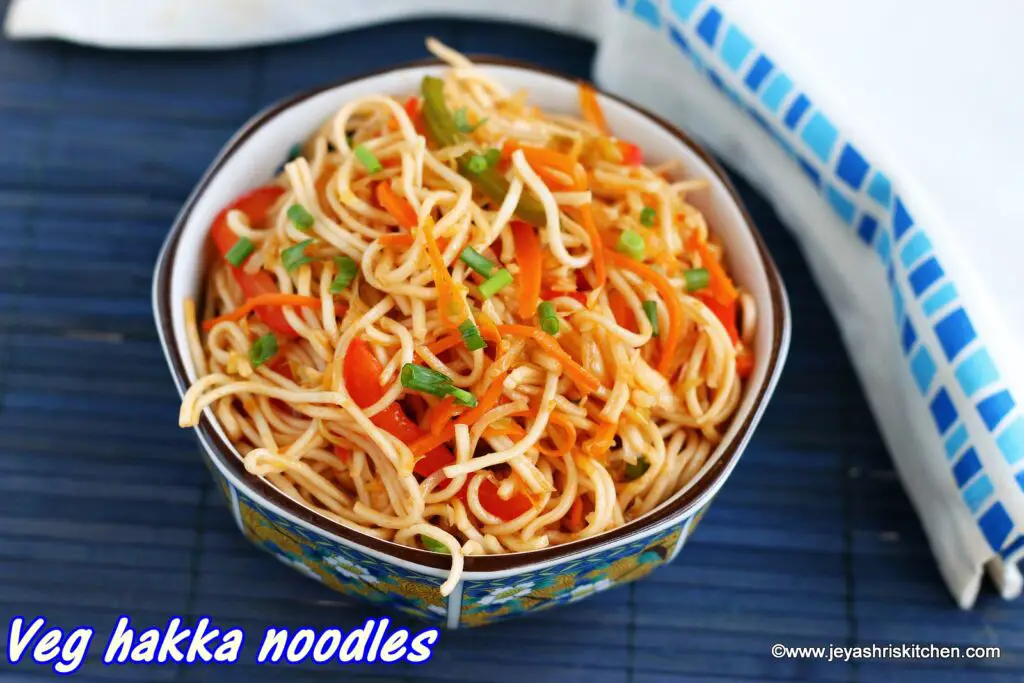 Notes:
You can add 2 green chilis while adding garlic, if you want the noodles spicy.
Freshly ground pepper powder can also be added to the veg hakka noodles.