Soups are generally loved by everyone at home.
Tomato soup
is a simple one and my kids will have this without any complaints. Especially during rainy time or cold weather, nothing beats the combo of a hot soup with toasted garlic bread. Here is my version of cream of
tomato soup recipe.
The bread croutons i used for serving is store bought, but you can make the
bread croutons at home.
Check out my
Tomato soup recipe
Preparation Time : 15 mins | Cooking Time : 25 Mins |Serves: 3-4
Tomato 4
Garlic 6-7 pods
Bay leaf 2
Ginger a small piece
Yellow moong dal 1 tblsp
Salt as needed
Black pepper to taste
Sugar 1 tsp
Butter 2 tsp
Full cream milk 1/2 cup or fresh cream 2 tblsp



Method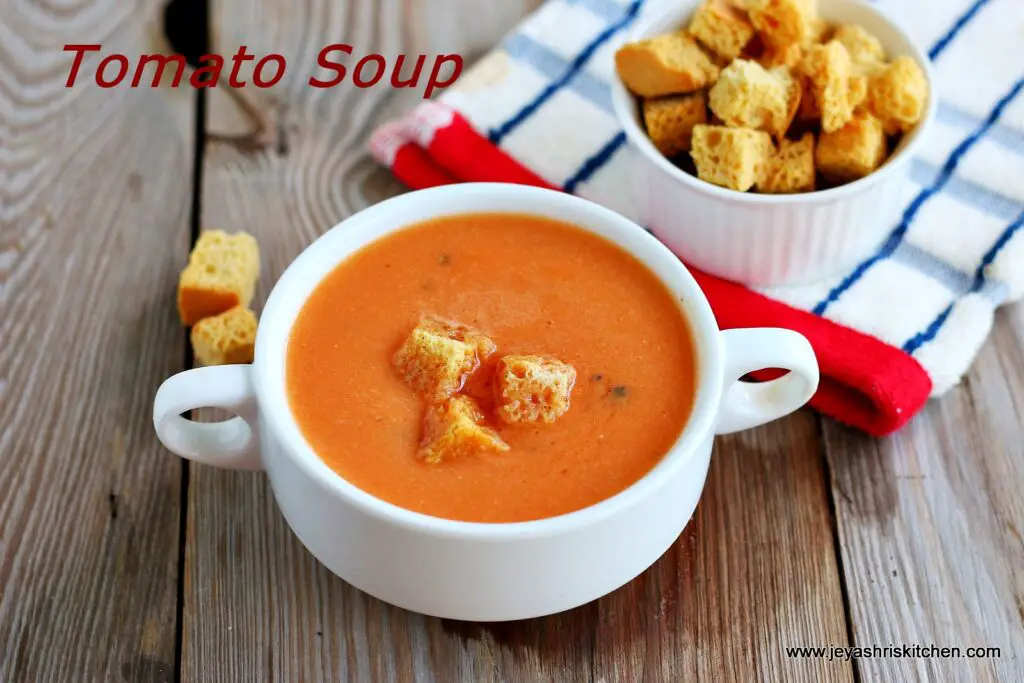 Wash and put the tomatoes in a broad vessel along with garlic, moong dal ,ginger and bay leaf.
Pressure cook it till 2 – 3 whistles.

Take out the skin from the tomato. Discard the ginger and bay leaf. Keep the excess water in a separate bowl. Blend all the others into a smooth paste.

Strain the ground mixture and discard the tomato seeds. Add little water to adjust the consistency (if needed)

In a pan add butter and pour the blended ingredients and bring it to boil and add a teaspoon of sugar, salt and pepper.

Allow this to boil.
Switch off the flame and add milk (room temperature) or fresh cream.
Mix well and serve hot.

Tomato soup is ready to serve. You can add some bread croutons to this and serve.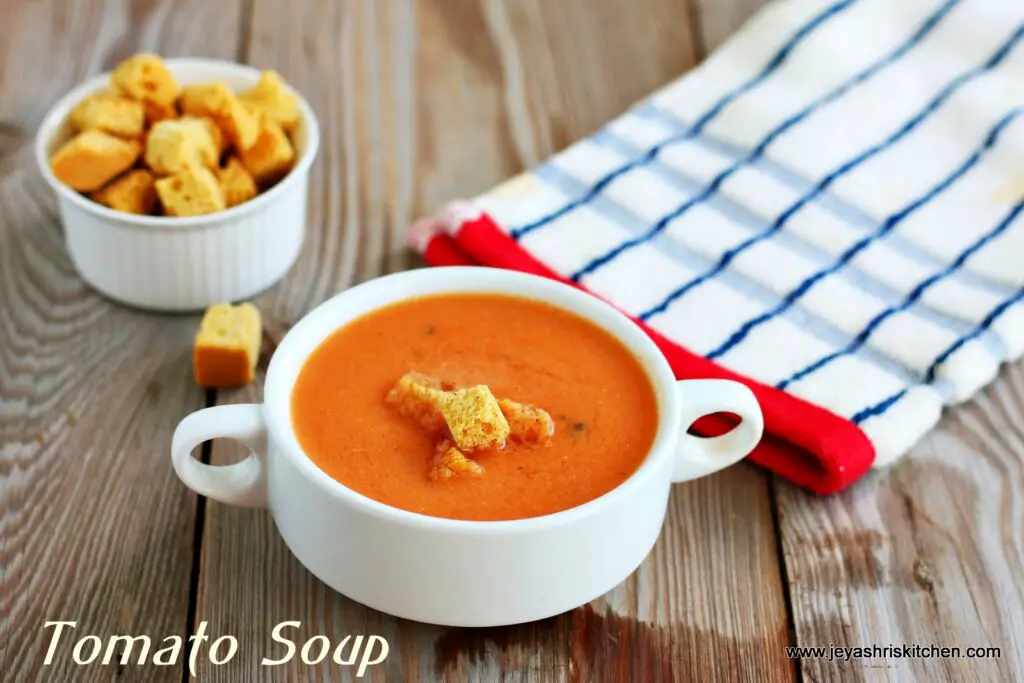 Notes:
Adding moong dal and milk it gives a creamy texture. If not adding moong dal we can add a tsp of corn flour mixed with water to make the soup thick.
You can add a piece of beetroot while cooking and discard this after it is cooked. This gives nice colour to the soup.
Use nice red ripe tomatoes for the soup.