Vegetarian fried bee hoon | Mee hoon
is a Popular Singapore | Malaysian local food made with rice noodles. It is similar to the veg hakka noodles we make using the Indo chinese method. This fried mee hoon | bee hoon | fried noodles is widely available in all food courts in Singapore and Malaysia. They mostly serve the non veg version of the bee hoon, but many stalls have the vegetarian fried bee hoon too. Though i am not a big fan of this bee hoon, Varsha and Suresh who always love to explore new cuisine likes this bee hoon a lot. I learnt this recipe from my Malaysian Tamil friend Rubini, who patiently explained me the recipe, even in her busy schedule with the little kid. Thank you so much for the recipe. My family enjoyed the noodles and i have already made this twice on popular demand. Check out the
Teh tarik
another local tea recipe.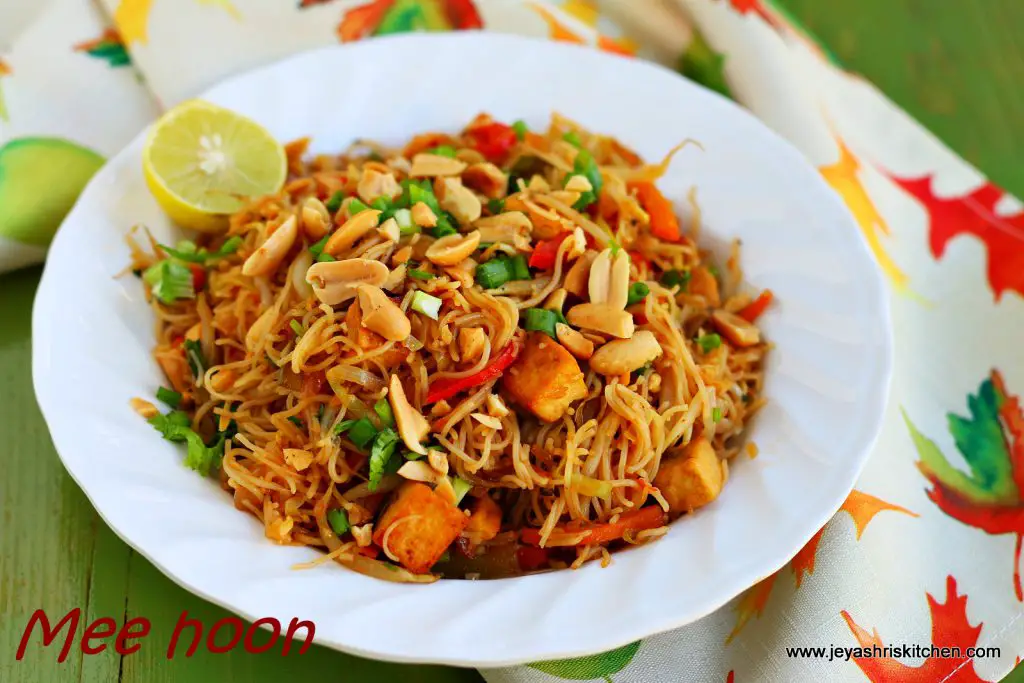 Vegetarian fried bee hoon
  Preparation Time : 15 mins | Cooking Time : 25 Mins |Serves: 5-6
    Rice noodles   1*
    Mixed veggies  1 cup
    Tofu   1/2 cup
    Bean sprouts   1 hand ful (skip if you don't get)
    Dark soya sauce   1 tsp
    Light soya sauce  1 tsp
    Refined oil   1 tblsp + 3 tsp 
    Sesame oil  1 tblsp
    Onion  1
    Ginger  2 tsp (grated)
    Garlic   2 tsp (chopped finely)
    Green chili  1
    Chili sauce  4 tsp
    Pepper  1/2 tsp (optional)
    Spring onion   few (to garnish)
    Coriander leaves   few (to garnish)
    Peanuts   few (to garnish)
    Salt  as needed
*Once the noodles is cooked it gave a volume of 3 cups. I used the brown rice noodles from fair price. You can use the concord rice sevai or any other brand rice sevai too. The dry sevai 2 big handful will give a nice volume to serve 4-5 people.
**Vegetables i used are carrot, capsicum and cabbage. You can use mushroom and broccoli too.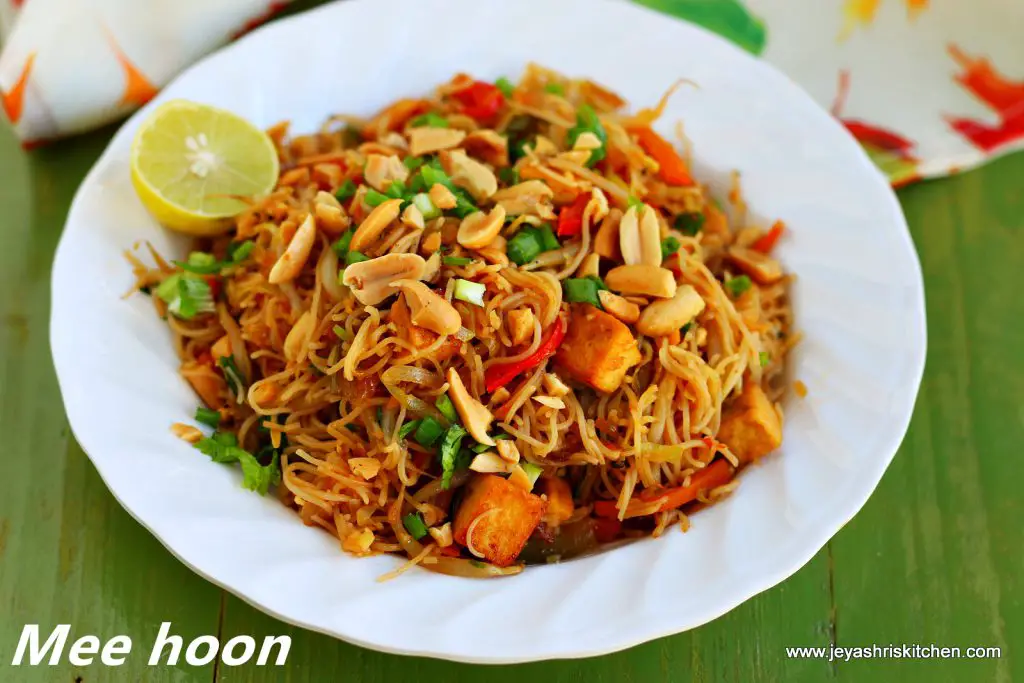 Method:
I used the Brown rice noodles from fairprice Singapore. You can use millet noodles too.
Soak the noodles in hot water for 15 minutes. If using any Indian bran sevai, just a minute in hot water will do. Read the package and follow accordingly. Do not over cook, else the bee hoon will be soggy.

Drain the water completely and keep it in a colander.
Cut the tofu into cubes.
In a pan add 2-3 tsp of oil and saute the tofu till it turns golden brown.
Keep it aside.

Chop the onions finely and slit the green chili.
Add 1 tblsp of oil in the pan and add ginger, garlic and green chili.
Saute for few minutes. Add the onions.
Add little salt. Saute till translucent.
Add the veggies. Cut the veggies into thin long slices.
Saute them for a minute.

Add the dark soya sauce, light soya sauce and chili sauce. I used the Heinz brand chili sauce.
If you want bit more spicy you can add little more chili sauce.
Mix well.

Add the bean sprouts. Wash it nicely and add. If you do not get this at your place just skip.
Mix well. Add the cooked noodles.

Add 1 tblsp of sesame oil to this.
Mix it well using 2 forks. Mix evenly and gently. Do not mash the noodles.
Add pepper powder to this.
Once it is mixed well,garnish with spring onion leaves, coriander leaves and roasted peanuts. You can coarsely pound the peanuts and add.

Serve with a lemon wedge.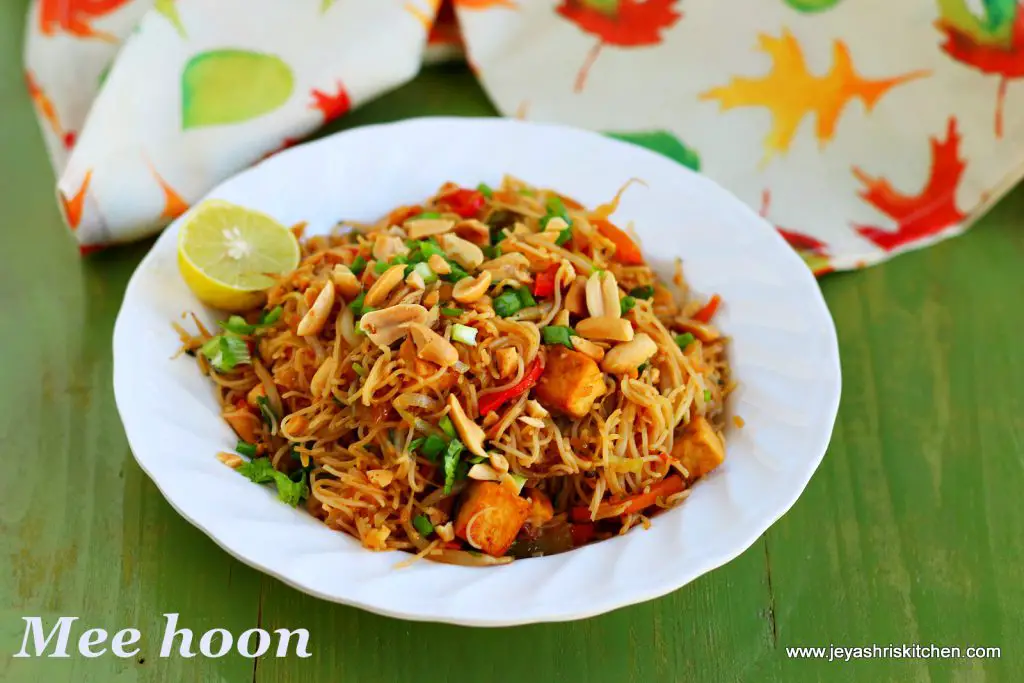 Notes:
Bok choy green is usually added to this bee hoon noodles. If you want you can add along with the vegetables.
You can deep fry the tofu and add too.