Vendakkai thoran, is a simple curry from the Kerala cuisine. Thoran is included in Onam sadya Menu.  We make
Vendakkai curry
regularly at home but thoran is made  with the addition of coconut and onions. I have tried this during my initial days of blogging from
Bharathy's
space. Last weekend i tried this after a very long time and everyone liked it very much. So i wanted to make a post on how to make vendakkai thoran. Ladies finger | vendakkai is loved by everyone at home so they love to eat this in any form. Check out my other ladies finger recipes
Vendakkai Thoran recipe
  Preparation Time : 15 mins | Cooking Time : 25 Mins |Serves: 3-4
    Ladies finger | vendakkai   3 cups (thinly sliced)
    Coconut oil   1 -2 tblsp
    Onion   1
    Red chili powder  3/4 tsp
    Coconut  2-3 tblsp
    Small onion | shallot  2
    Mustard seeds   1/4 tsp
    Urad dal   1/2 tsp
    Salt  as needed
    Curry leaves   few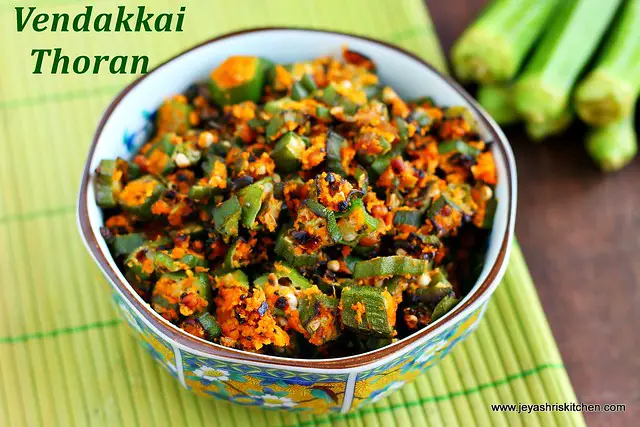 Method:
Wash the ladies finger and wipe it well.
Thinly slice the ladies finger and keep it aside.
Finely chop the onion.
In a pan add oil and add the mustard seeds and urad dal.
Once the dal becomes golden brown add the onions.
Saute till it becomes translucent.

Add the thinly sliced ladies finger to this.
Mix well.

Cook this for 20 minutes in a low flame or till the slimy texture of the ladies finger goes off.
Add salt when the ladies finger is half done.
Grind the coconut, small onion and red chili powder into a mixie. No need to add water while grinding.

You can add a pod of garlic too while grinding.
Instead of red chili powder red chilis can be used.
When the ladies finger is completely cooked and no slimy texture is found add the ground coconut paste to this.

Mix well and cook this for 5 more minutes in a medium low flame.
Garnish with curry leaves.

Vendakkai thoran is ready to serve. You can have this with plain rice and sambar or rasam or any other south Indian gravy.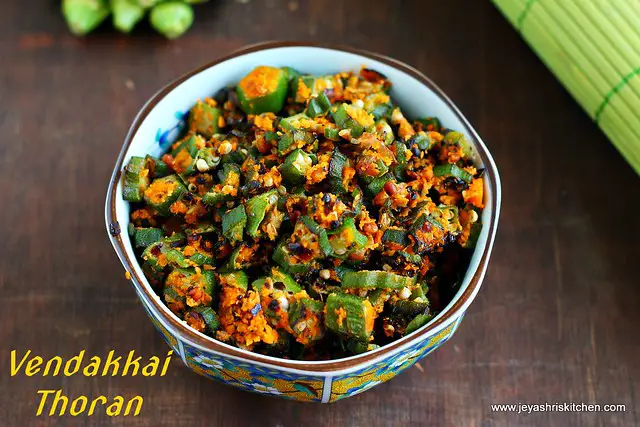 Disclaimer: This is not the authentic way of making Kerala Thoran.
Notes:
You can omit the red chili or red chili powder and add only green chilies.
Slice few green chilies and add while tempering the mustard seeds.
Adding garlic while grinding gives a nice flavour to the vendakkai thoran.
You can make the same with beetroot also.