It has been my long time plan to bake this eggless almond cookies. I have tasted this very recently and planned to make this the next week itself. The recipe i have bookmarked from Manjula's Kitchen long back. We all loved this flavorful buttery cookies. Do try this Whole wheat almond cookies at home and enjoy your weekend.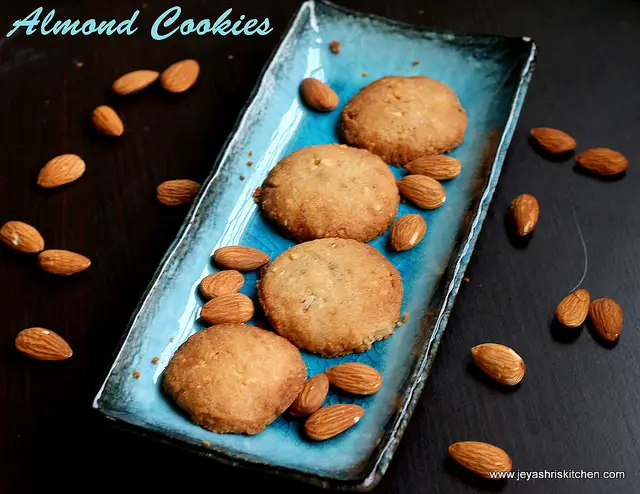 Whole wheat almond cookies
  Preparation Time
:
10 mins
|
Cooking Time
: 20 Mins |
 Yields
: 18-20 cookies
     Whole wheat flour 1 cup
      Sugar  1/2 cup
      Almonds sliced  1/4 cup
      Unsalted butter   1/2 cup
     Cardamom Powder  1/4 tsp
      Salt   1/4 tsp
      Milk      2 tblsp (to knead the dough)
      

Method:
In a wide bowl add the whole wheat flour , sugar ,salt and cardamom powder.
Slice the almonds. I just pulsed it in a mixer.
Keep the butter in room temperature.
Add this to the whole wheat flour mixture. add the sliced almonds too.
Knead it into a smooth dough. the dough should be soft. Add 1-2 tblsp of milk for kneading the dough.
Make it into desired shapes of 1 inch thickness.
Preheat the oven for 5  minutes at 170 degrees.
Bake it for 12-15 minutes in the same temperature.
The cookies gets baked soon. so keep an eye after 10 minutes.
When done cool it on the wire rack and once it is completely cool, transfer to a air tight container.
Though the cookies appear to be chewy when hot, once it becomes cool it will be crispy.
Notes:
I felt the cookies are bit on the sweeter side and you can lessen 1 or 2 tblsp .
Almonds can be replaced with cashew nuts or pistachios.