Puliyodarai is our family's favorite and i have posted 2 varieties of puliyodarai here already. Check out Pulikaichal and Iyengar kovil style puliyodarai. I always wanted to try this andhra pulihora , as one of my friend makes it so awesome. Recently we are invited to her place for lunch and while she was discussing me about the food, i told her i want a simple andhra meals . Since she is a very good friend of mine, i took the privilege of telling her to keep the pulihora compulsory in the menu. I have noted down the recipe from her long back and it was in my hand written book too.
Yesterday, i finished my cooking so fast and i thought i will make little puliyodarai too. It just too 10 minutes for me to make this instant andhra pulihora. If you have cooked rice in hand , this will be ready in a jiffy. Perfect one to take this for lunch box too.
Ingredients
Preparation Time
: 10
mins
|
Cooking Time
: 10 mins |
Yields
:1 Cup
Cooked rice 1 Cup
Tamarind Paste* 1 and 1/2 Tblsp
Sesame oil 1 tblsp
Green chilli 1-2
Red Chilli 1-2
Mustard seeds- 1/4 tsp
Urad dal 1/4 tsp
Channa dal 1/4 tsp
Peanuts 1 tblsp
Cashew nuts few (optional)
Salt As needed
Grated Ginger 2 tsp
Turmeric powder 1/4 tsp
Asafoetida 2 pinches
Curry leaves Few

* I used tamarind paste but you can soak little tamarind in hot water and take 1 and 1/2 tblsp of thick extract.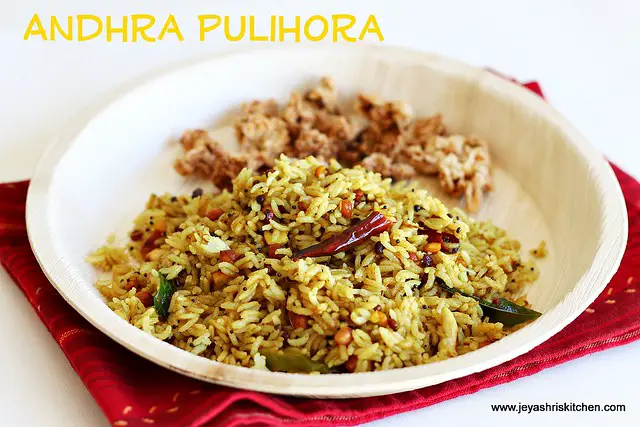 Method:
In a pan add oil and add the mustard seeds, asafoetida, curry leaves, ginger, broken red chilli and slit green chilli.
When the mustard crackles add the tamarind paste | extract. Add salt and turmeric powder.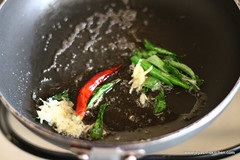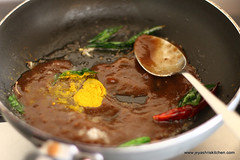 Let this get cooked and the raw smell of the tamarind goes off. Cook for 5 minutes.
Keep the flame low while cooking else it will get burnt.
I always like the dals and peanuts to be crunchy and so i add just before serving. If it is ok with you you can add while tempering the mustard seeds.
Add the cooked rice to this. Mix well.
In a small pan add little oil and add the channa dal, urad dal and peanuts . I added 1 red chilli too.
Roast them on a medium flame. Be careful not to get it burnt.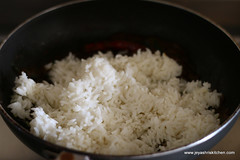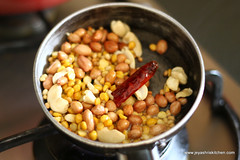 Add the roasted dal and nuts to the rice. Mix well gently and evenly.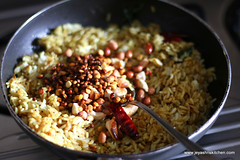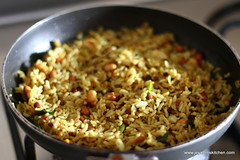 Andhra puliyodarai is ready to serve. Serve with Vadam