No onion no garlic recipes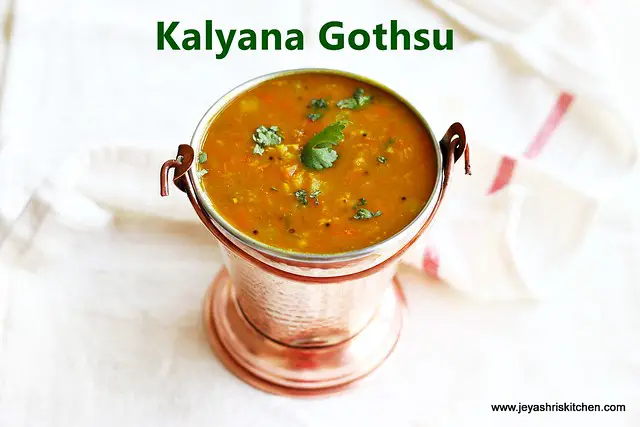 Kalyana gothsu is a excellent side dish made for idli | dosa|pongal. Last june when we went attended wedding in India, i was so addicted to the gotsu they serve in the wedding. Though i have tasted this many times in weddings, never attempted to try at home. I was bit curious about the recipe and with the help of a mami, i could able to guess the ingredients and attempted at home. It tasted very similar to the Kalyana gotsu. I have clicked it long back but waiting to get published in Kungumam thozi. This recipe was published in the supplement too.
Ingredients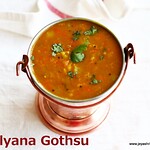 Preparation Time
:
15 mins
|
Cooking Time
: 25 mins |
  Serves
: 3-4
    Veggies* 1/2 cup
    Tomato  1/2
    Moong dal     1/4 cup
    Channa dal     2 tbslp
    Tamarind extract   1 cup
    Sambar powder    3/4 tsp
    Salt    to taste
    Green chilli   1
    Asafoetida   a pinch
    Jaggery    1/2 tsp
    Green chilli  1
    Oil   1 tsp
    Mustard seeds     1/4 tsp
    Curry leaves | coriander leaves   few
  * I used turnip, brinjal and potato
Method:
Soak the dal for 30 minutes. Chop the turnip , brinjal and tomato very finely. Slit the green chilli. Soak small lemon sized tamarind in hot water and extract 1 cup of tamarind water.

In a pressure cooker add oil and throw in the mustard seeds and add the slit green chilli. Add in the tomatoes and cook for 2 minutes.

Add the veggies and saute for a while.

Add the tamarind water,sambar powder, salt, asafoetida and turmeric powder. Add the soaked dal to this and pressure cook till 3 whistles.

Mix this well and add the jaggery . the jaggery will get melted in the heat.

Garnish with curry leaves or coriander leaves. A perfect side dish for pongal and idli.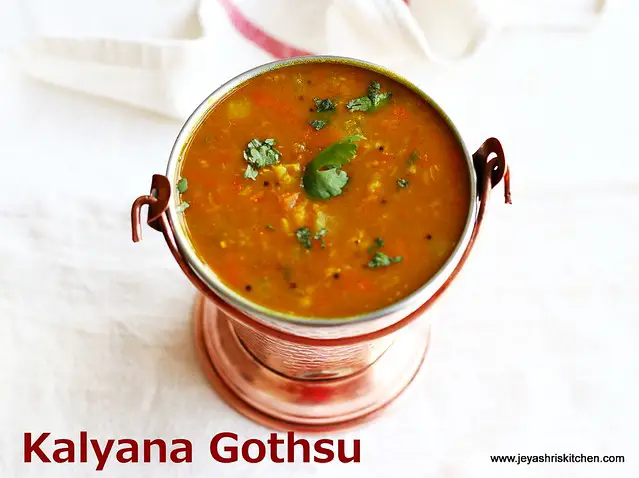 Notes:
You can add any veggie of your choice. But traditionally turnip, brinjal is added.
You can add carrots and potato too.
If you like onion you can add while adding the mustard seeds.