Recipe of bisi bela bath with video
Bisi bela bath – a delicious meal comprising of rice, lentils and vegetables. Bisi bela
bath or Sambar rice is a very popular, traditional South Indian, one pot meal from
the Karnataka cuisine. Infact, it is a signature dish of the MTR chain of restaurants.
Everybody in my family loves it a lot. I made this last week for the Singapore
food blogger's potluck party and we all enjoyed it.
I learnt this recipe from my mother about ten years back. After several attempts, I
am not satisfied with the outcome. Cooking Bisi bela bath takes time and we need
patience to get the right consistency. An authentic Karnataka style Bisi Bela Bath
includes a few more spices like cinnamon and star anise. Since, I am not
particularly fond of these spices in the Sambar rice I have customized it to my liking.
Usually, dry coconut or kopra is added to enhance the flavor of this dish. However,
it can also be made using fresh coconut. Also check out,
Bisibelabath recipe
  Preparation Time : 15 mins | Cooking Time : 40 Mins |Serves: 4-5
     Mixed Vegetables*    2 cups
     Rice   3/4 cup
     Toor dal  1/3 cup
     Sambar powder   1 and 1/2 tsp
    Turmeric powder   1/2 tsp
    Salt as needed
    Small onions | shallots  1/2 cup
    Tamarind extract from a small lemon sized tamarind    2 cups
    Oil    2 tblsp + 3 tsp  
    Ghee  1 tbsp
    Cashew nuts  few
    Peanuts   few (optional)
    Curry leaves few
    Asafoetida  2 pinches 
    Mustard  seeds  1/2 tsp
 To roast and grind
  Dhaniya | Coriander seeds   2 tblsp
  Channa dal   2 tblsp
  Red chili  5-6
  Kopra or fresh coconut   1/4 cup
  Tomato   1    
    *I used chow chow, carrot, beans and green peas. You can use finely chopped cabbage, radish, turnip and potatoes too.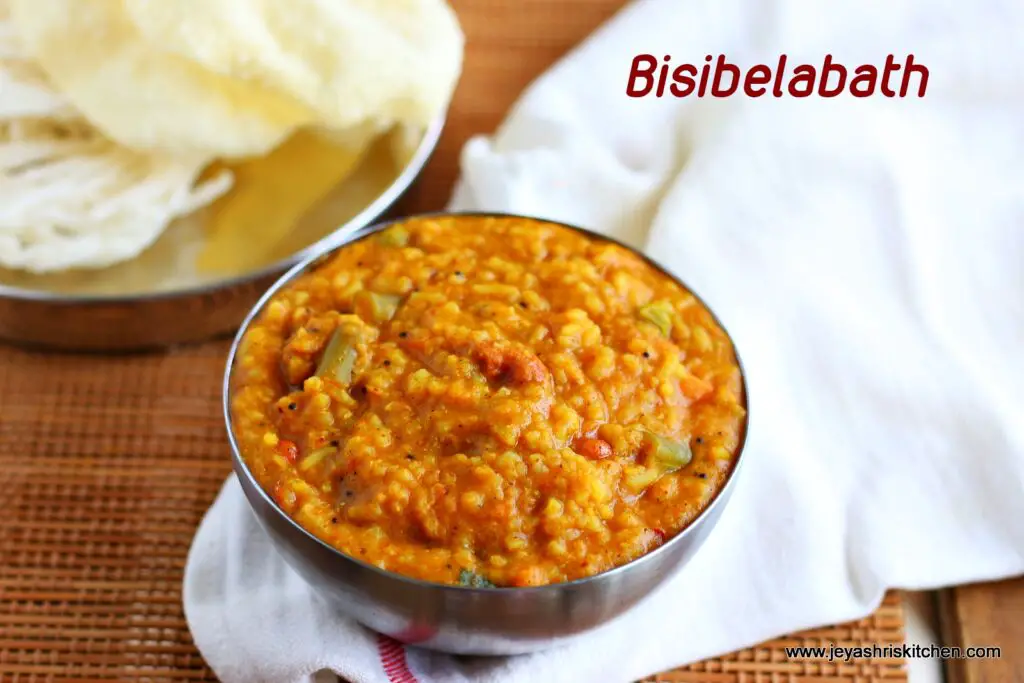 Method:
In a pan add 1/2 tsp of oil and add the dhaniya, channa dal and red chili. Roast till golden brown.
Switch off the flame and add the kopra and tomato.
Let this be in the heat for a while.

Grind this into a fine paste. You can add water while grinding.

In a pressure cooker cook the rice and toor dal using 4 cups of water for 6-7 whisltes.
Mash this with a ladle and keep aside.

In a pressure cooker add 2 tblsp of oil (cooking oil + sesame oil) and add mustard seeds.
Once it splutters add in the small onions. You can use finely chopped big onion too.

Once the onions turn pink add the veggies. Mix well and saute for 2 minutes.
Keep the tamarind extract ready. Add the tamarind water to this.

Add in the sambar powder, asafoetida, salt and turmeric powder.
Let this boil for 2 minutes.

Add in the ground paste and the mashed rice and toor dal mixture.
Mix well without any lumps and add 1/2 cup of water and 3 tsp of sesame oil and cover the cooker.
Pressure cook till 1 whistle and keep in low flame for 10 minutes.
Add ghee in a small pan and add the cashew nuts and peanuts(if adding).
Cook till golden brown and add to the bisibelabath. Mix well.

Add curry leaves and serve hot with appalam | vadam | raita.
I love bisibelabath with avakkai pickle.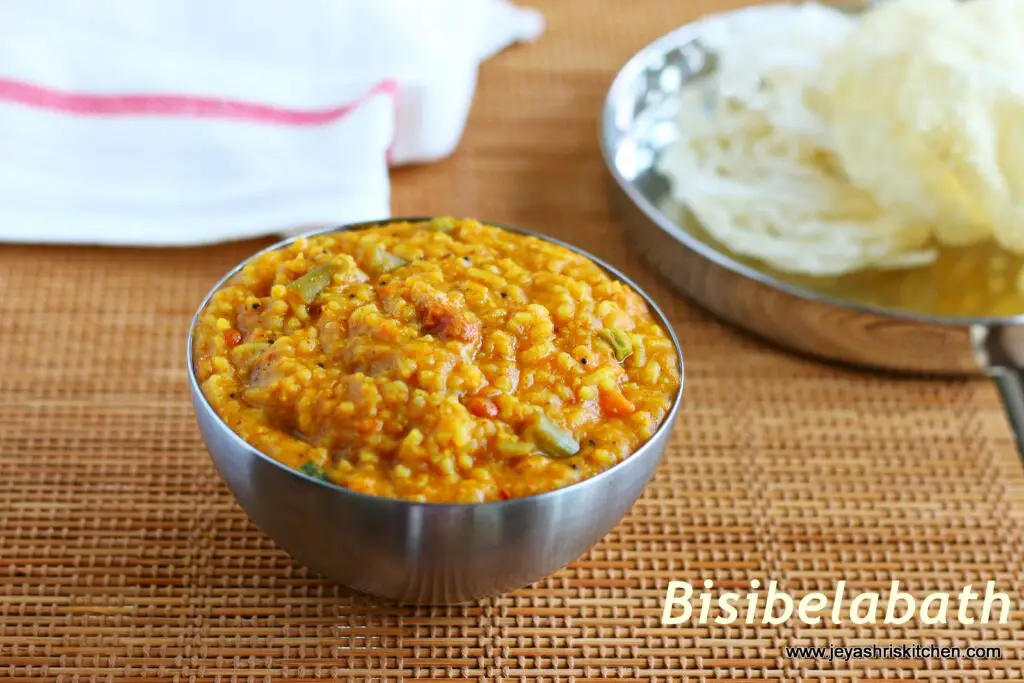 Note:
You can any veggie of your choice.Generally we can add cabbage, turnip,potato.
If you do not want to add cashew nuts add only hot ghee tin the last.
If you want the cinnamon flavour in the bisibelabath, you can add a small piece of cinnamon stick while roasting.