BABY CORN COOKED IN RICH TOMATO GRAVY.
Recipe updated with video
Last week when we all went to a North Indian restaurant  for lunch we ordered a Baby Corn Masala which we have never tried before in that place. We all liked it very much and we went for veggies shopping and my daughter picked the cute baby corns in the vegetable section and asked me to make a masala with that.
I tried to recreate the same taste but i almost it was like that(my daughter said) and we had a great dinner with rotis and a salad.
Check out my
Baby Corn masala
  Preparation Time : 15 mins | Cooking Time : 35 Mins |Serves: 5-6
     Baby corn    2 packets (15 approx.)
     Onion   2 + 1
     Capsicum   1/2
     Tomato  2
     Garlic  4 cloves
     Cashew nut  6-7
     Red chili powder  1-2 tsp
     Coriander powder  1 tsp
     Cumin powder   1 tsp
     Garam masala  1/2 tsp (optional)
     Kasoori methi  1 tsp
     Tomato ketchup  1 tsp
     Oil   1 tblsp
     Milk   1/2 cup
     Salt  as needed
                                      Video on how to make baby corn masala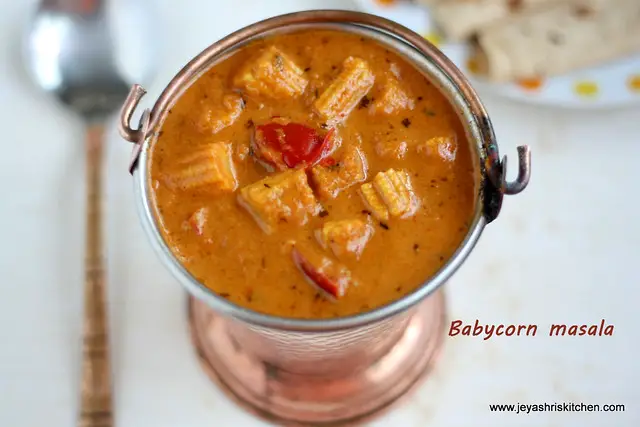 Method:
Wash the Baby corn and cut them into big pieces. Pressure cook this by adding little salt and keep it aside.
In a pan add 2 tsp of oil.
Roughly chop the 1 onion and capsicum saute them in a pan till it turns into a nice brown colour.
Roughly chop the other 2 onions and peel the skin of garlic.
Add 2 tsp oil in a pan and add the onions and garlic. Cook till golden brown.

Switch off the flame and add the cashew nuts, tomatoes(roughly chop), red chili powder, coriander powder, kasoori methi, tomato ketchup and garam masala (if adding).
Mix well.

Allow these to completely cool. Add all these into a mixie jar and grind it into a smooth paste.

Add oil in a pan and add the ground masala. Saute for 2-3 minutes in a low flame.

Add in the cooked baby corn. Add little water to adjust the consistency.

Cook for 2-3 minutes.
Add milk to this. If adding fresh cream add 1/4 cup of fresh cream.

Now add the capsicum and onions to this.
Put off the flame.

Serve it hot with Roti/ Naan.
It tasted even so yum with Peas pulao also.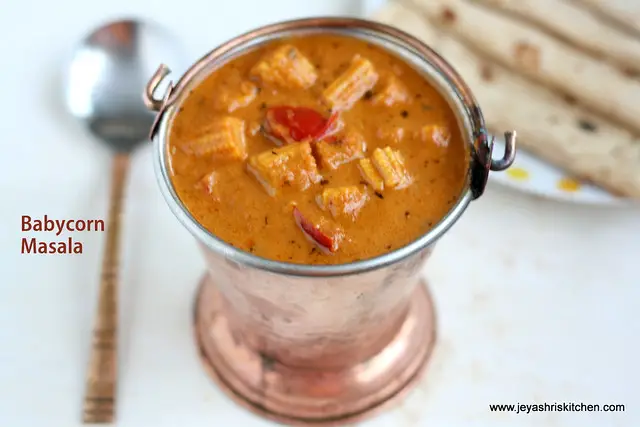 Tomatoes can be replaced by 1/2 cup of store bought tomato puree.
Fresh cream can be replaced by milk.
Instead of baby corn you can add paneer and make it panee masala.
Any colour of the capsicum can be added.