Badam milkshake is a simple summer coolent and will a perfect drink for both small and teenager kids after they come back from school. I have already posted 
Badam Milk recipe
. This recipe of badam milkshake, i gave for Kungumam Thozi and got featured in June 16-30 edition. I have already posted about that in
jeyashri's kitchen facebook page. 
Badam milkshake
  Preparation Time : 20 mins | Cooking Time :  Nil  |Serves: 2
     Badam| almonds        10
     Milk     1 and 1/2 cup
     Vanila ice cream    1 scoop
     Sugar     2 tsp
     Saffron    3-4 strands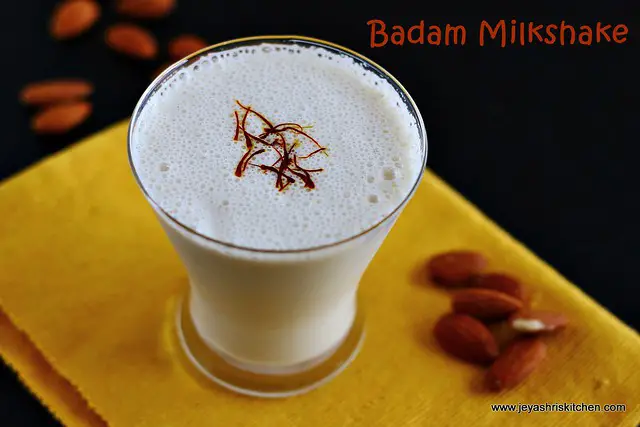 Method:
Soak the badam in hot water for 15 minutes and take out the skin.
In a mixer, blend badam and sugar and grind this into a fine paste.
Then add the ice cream and milk and whip till frothy.

Badam milkshake is ready to serve. You can keep it in the refrigerator and serve later too.
Serve with few saffron strands on the top. This is optional. You can garnish with chopped badam too.
Notes:
Instead of badam you can replace with cashewnuts too.
Always add compeletly cooled milk. Else it will curdle.