Sweet lassi is the one i always love to have anytime. Though i love lassi, i make the salt lassi | neermor, as they are very good for health. My daughter loves all types of lassi. As the kids have holidays, i am making some juice or lassi for them . Today she asked for sweet lassi and i am a mood to click the pictures too. As i have already posted
sweet lassi,
i thought i will make kesar lassi . The kesar lassi was awesome and she loved it a lot. She infact patiently waited for me to click the pictures.
Kesar sweet lassi
  Preparation Time : 15 mins | Cooking Time : Nil|Serves: 2
     Yogurt | curd         1 cup
     Milk     1/4 cup
     Saffron      7-8 strands
     Pistachio      for garnishing
     Sugar           3 tsp
     Cardamom powder   a pinch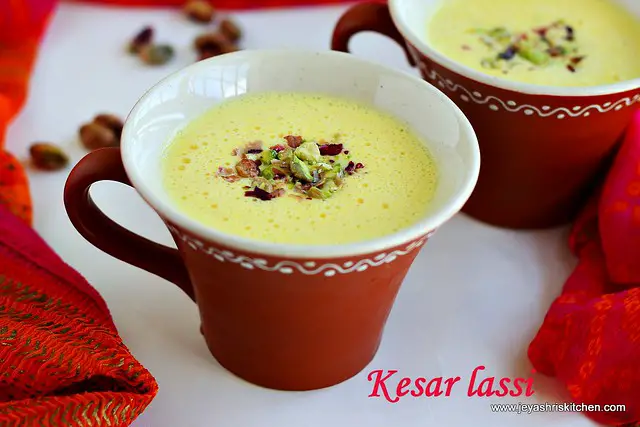 Method:
Heat a pan for and put the saffron in it and leave it for 30 seconds.
Switch off the flame and add 1 tbsp of milk to it.
Let the saffron get soaked in warm milk for 15 minutes.

In a mixie add the yogurt, milk, saffron soaked milk, sugar and cardamon powder. Whip it down in a mixie till it becomes frothy.

Kesar lassi is ready to serve.
While serving garnish with chopped pistas or badam.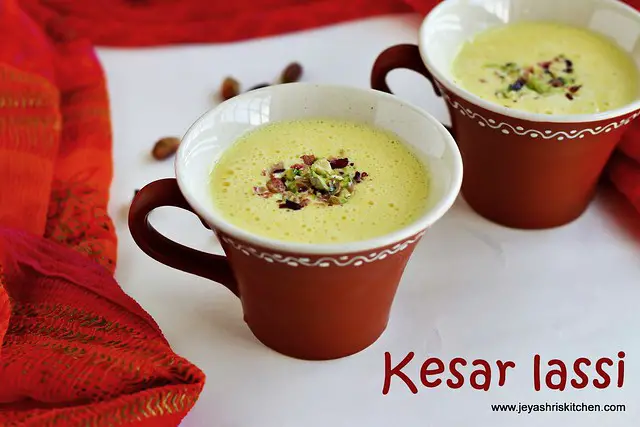 Notes:
If adding boiled milk to the lassi, allow it to cool completely
You can soak few badam and take out the skin and grind it along, to make a richer version of lassi.
You can add some cream | malai to this while making.