This post is from my daughter Varsha, who wants to mess up write post for my Jeyashri's kitchen on weekends, as she is having Summer vacation. As we are going for holidays, i have already scheduled posts for the month of June and told her to stop with one post. But she is so enthusiastic and wanted to do few more popscile posts. She has posted her maiden post for me last year, an eggless double chocolate cake. Over to Varsha.
Heyyy! I'm back. I wanted to post a recipe for Mother's day itself but I was busy with my exams so I
couldn't do so. Since its summer now I thought of posting a popsicle recipe. It's getting really hot in
Singapore these days. So I thought of having a series known as SUNNY SUNDAY POPSICLES, where a popsicle recipe will be posted by me on Sundays for the next few weeks. I chose this recipe for the first week because it's very easy to make. It's time to beat the heat with my COCONUT LEMONADE POPSICLES.
Coconut lemonade popsicle
Preparation Time : 15 mins +freezing time 7 hours | Cooking Time : Nil|Serves: 4
Tender coconut water | ilaneer 1 and 1/2 cup
Sugar 3-4 tsp
Lemon juice 1 tsp
Coconut bits 2 tblsp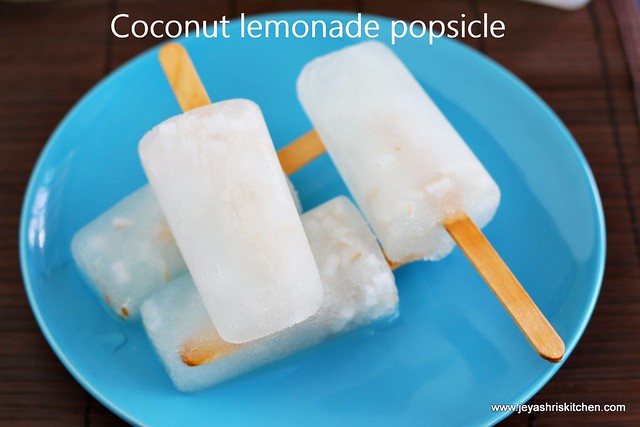 Method:
Take out the water from the coconut. Pour it in a bowl. Add the lemon juice to this.
Add the sugar. Mix well.

Chop the tender coconut into small bits. Transfer the bits to the coconut lemonade mix.

Pour this in popsicle moulds and cover it. Freeze it overnight or freeze for 6 hours.
Once done, run this moulds into water and gently take it out from the mould.
Enjoy them cold.

You can even enjoy the coconut lemonade as a drink itself without freezing them into popsicles.