Thenga manga pattani sundal recipe with full video and step by step pictures.
Beach style Pattani Sundal  | Thengai maanga pattani sundal, recipe with step by step pictures and video. Whenever I think of Marina beach , Milagai bajji comes to my mind first and next will be this Thengai Mangai pattani sundal. I don't need to give explanations for this more, as most of us are big fan of these beachside junk food. I skipped the addition of onions in this recipe as we are making this for Navaratri, but if you making this as a snack for kids feel free to add onions.
On the beach they use the white peas, but you can use green peas or even peanuts too.On the beach they add lots of manga, onion, and carrots, and less sundal but I have added more sundal in my version.
Also check out my
Beach style pattani sundal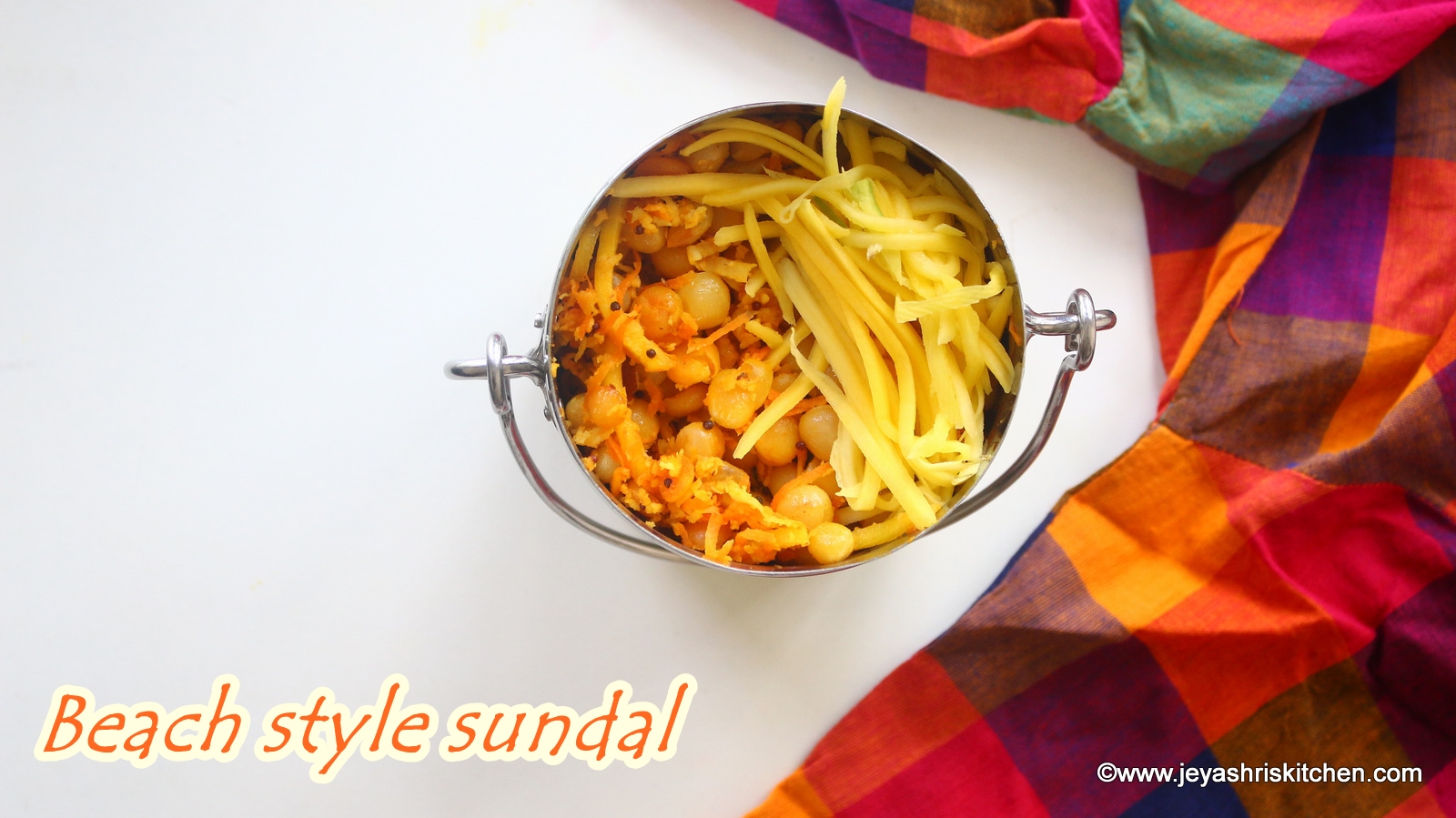 Recipe Cusine: Indian
Prep Time: 10 Minutes + 8 hrs
Cook time: 25 Minutes  Serves: 3-4
Author: Jeyashri             Recipe Category: Lunch | Dinner | snack
Description: Beach style Pattani Sundal | Thengai maanga pattani sundal, recipe with step by step pictures and video.
White peas 1 cup
Oil  3 tsp
     Mustard seeds  1/4 tsp
    Asafoetida 2 pinches
    Red chilli powder  1 tsp
    Turmeric powder 1/4 tsp
    Salt  as needed
    Carrot  2 tblsp (grated)
    Raw mango  1/4 cup (thinly sliced)
    Coconut  2 tblsp
   Curry leaves  few
Method with step-by-step pictures :
Soak the white peas for 8 hours, preferably overnight.
Pressure cook the peas for 3-4 whistles by adding salt and a pinch of asafoetida to this.
Drain the water.

In a pan, add oil and temper with mustard seeds, and asafoetida.
When it splutters, add the cooked peas.
Add red chili powder, turmeric powder, and salt.

Add the grated carrot, raw mango, and coconut.
Mix well.
Add curry leaves.

Mix everything well. Switch off the flame. I love to add some grated mango on the top too while serving.
Updated picture: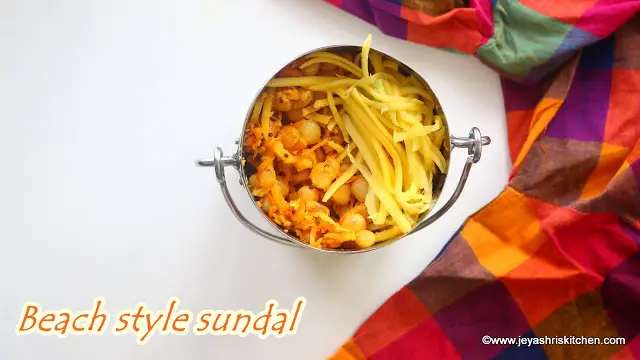 Note:
If adding onions, just chop them finely and add them raw while adding the manga and carrots.
You can add chaat masala if you want.