I wanted to blog about this karuvepillai powder | curry leaves powder recipe for a long time but some how was busy during this diwali time and now after all the oily food, i wanted to settle down with some normal soothing food for the tummy and this so i thought of posting this curry leaves powder. This can be made and stored in  an airtight container and this helps in preventing hair loss and early greying of hair. Even this is given for newly delivered mothers as the urad dal in this powder will strengthen the pelvis and the curry leaves as such gives a medicinal effect and will be best for lactating mothers.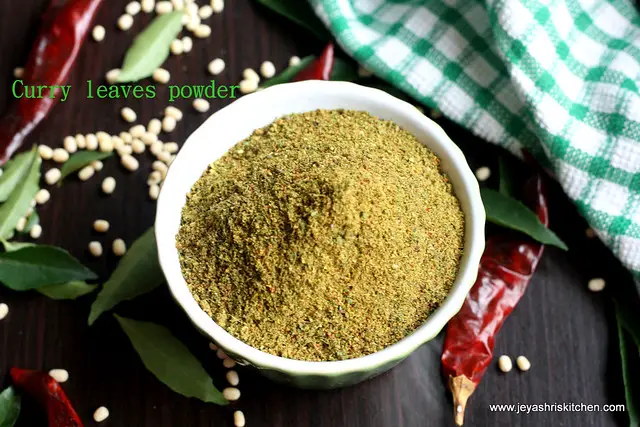 Curry leaves powder when mixed rice smeared with ghee or sesame oil will taste awesome . a simple roasted papad will be a great accompaniment to this.
Check out my
KARUVEPILLAI KUZHAMBHU
,
KARUVEPILLAI THOKKU
too.
PREPARATION TIME: 5 MINUTES . COOKING TIME: 10 MINUTES. MAKES : 3/4 CUP
INGREDIENTS:
| | |
| --- | --- |
| CURRY LEAVES |KARUVEPILLAI | 1 CUP (Tightly packed) |
| URAD DAL | 1/4 CUP |
| RED CHILI | 7-8 |
| TAMARIND | A SMALL LEMON SIZED |
| SALT | AS NEEDED |
| ASAFOETIDA | 1/4 TSP |
| OIL | 1/2 TSP |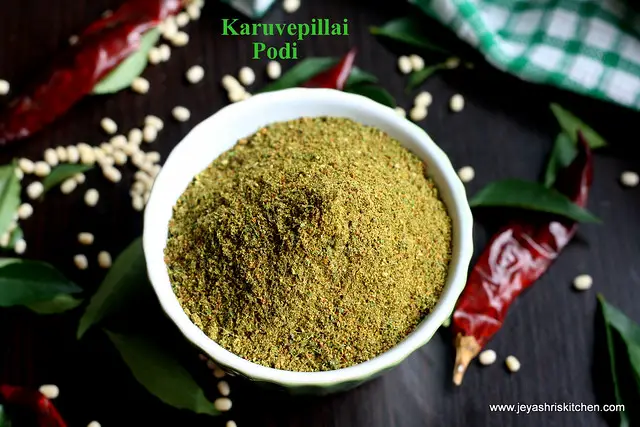 METHOD:
Wash the curry leaves and pat dry them using a kitchen towel.
Spread this for some time.
In a pan add the urad dal and red chilli till golden brown and keep it aside.
In the same pan add oil and add the tamarind and asafoetida saute for 2-3 minutes in a low flame.
Keep it aside. Now add the curry leaves and saute for a minute. The curry leaves will slightly shrink. Add salt to this and switch off the flame.
when cool, grind this into a fine powder in a mixer. ensure that the mixie is dry.
If you want to add garlic you can crush 1 or 2 garlic and roast this while roasting dals and grind it along.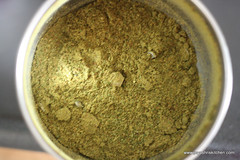 If you want this a coarse powder, grind the dal into fine powder and lastly add the curry leaves and just pulse it once or twice.
I remember my mother in law adding half portion of urad dal and half portion of channa dal to this.
Store this in an airtight container and always handle this with a  clean ,dry spoon.
This can be kept in room temperature for 15 days.