Few days back one of my friend made this karuveppilai thokku and when she visited me on the same day she packed me some karuvepillai thokku and it tasted awesome with plain rice and with
Curd Rice
too. Also this thokku goes well with dosa and chapathi too. It is perfect long travel too. As usual i noted down the recipe from and tried it on the very next day and it turned out like the same thokku which she has given me. So lets us learn today how to make karuveppilai Thokku.
Check out my
curry leaves chutney
too.
INGREDIENTS: [ YIELDS 1 AND 1/2 CUP]
| | |
| --- | --- |
| CURRY LEAVES | 2 CUPS (LOOSELY PACKED) |
| CHANNA DAL | 4 TSP |
| CORIANDER SEEDS | 4 TSP |
| RED CHILLI | 8-9 |
| ASAFOETIDA | 1/4 TSP |
| SALT | AS NEEDED |
| TURMERIC POWDER | 1/4 TSP |
| TAMARIND EXTRACT | 3/4  CUP |
| JAGGERY | A SMALL PIECE |
| SESAME OIL | 1/4 CUP |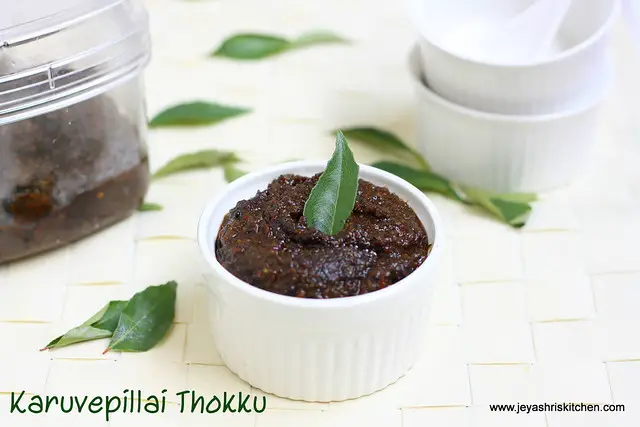 METHOD:
Wash the curry leaves and pat dry them.
In a pan,add channa dal, coriander seeds , red chilli and the curry leaves and roast this till the dal turns brown. roast in a medium low flame without burning it.
Switch off the flame and add asafoetida and salt.
allow this to cool. Make this into fine powder in a mixer.
Take thick extract of tamarind water by soaking a small gooseberry size tamarind in hot water.
In a pan add oil and add the tamarind water and add the ground curry leaves powder to this.
Add salt,tamarind water and jaggery.
Keep the flame low and let this comes to a thokku consistency.(semi thick)
Stir it in between.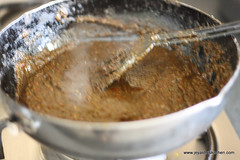 This can be stored in the refrigerator for 10 days. always use clean spoon dry spoon.
this tastes well with rotis too.