No onion no garlic recipes
Curry leaves pulao is a simple pulao, which i tasted very recently during my flight journey. First i thought it was some plain basmati rice garnished with some coriander leaves. But when i had the first bite, i could taste the curry leaves flavour. Each and every bite was aromatic and i enjoyed with a gravy and a semi dry veggie masala. After that i wanted to recreate this same pulao at home and finally made this last week with the same combo. The recipe of this pulao is very simple. You can try this for kids lunch box too. Check out my other pulao recipes too.
Curry leaves pulao
  Preparation Time : 5 mins | Cooking Time : 20 Mins |Serves: 2-3
     Basmati rice     1/2 cup
     Curry leaves  few
     Cloves    1
     Cardamom   1
     Bay leaf   1
     Cinnamon   1 small stick
     Salt   as needed
     Cashew nuts    few (optional)
     Oil | ghee   2 tsp
     Lemon  juice   few drops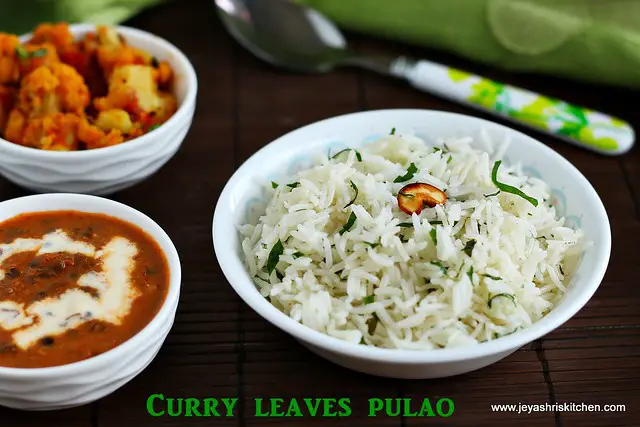 Method:
Cook the basmati rice by adding the cloves, cardamom, bay leaf ,cinnamon , salt and 1 tsp of oil and few drops of lemon juice. Refer my post on how to cook basmati rice. 
Once it is cooked, discard the whole spices and spread the rice in a plate.
Chop the curry leaves finely.

In a small pan add oil and little ghee and add the curry leaves and cashew nuts to it. Add this  to the rice.

Mix this well. Alternatively you can add the cooked rice to the pan and saute it for a minute or 2 in a low flame.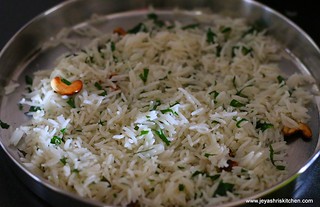 Serve with any gravy of your choice. In the flight they served with a Dal makhani and a cauliflower semi dry masala. So i too made the same and served.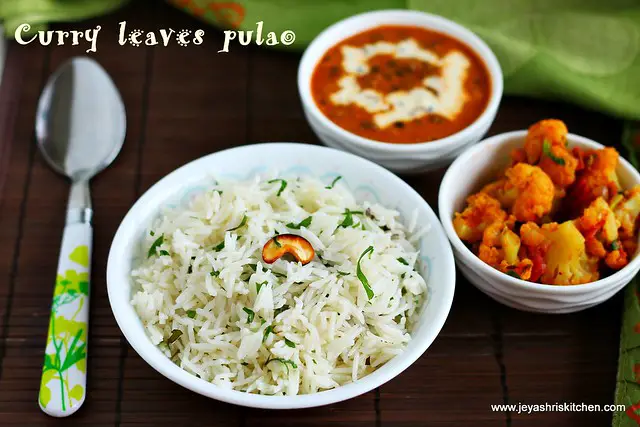 Notes:
If needed you can add green chili while cooking or while tempering the curry leaves in oil.
Adding whole spices while cooking will enhance the flavour. So do not skip that.