INDIAN COOKING BASICS
How to cook a perfect basmati rice for pulao and biryani is a repeated query i get from readers. I wanted to make on cooking of basmati rice for a long time and finally made it today. After coming to singapore, i started using basmati rice frequently. I started exploring so many brands and finally was comfortable using Lalquila and India Gate basmati rice. Even Kohinoor also i tried once and i am happy with the results. I am not here to promote any brands ,since it is the common question asked by readers, i thought i will mention it in the post.
Check out these recipes using basmati rice:
Scroll down to read the tips given below.
How to cook Basmati rice
  Preparation Time
:
20 mins
|
Cooking Time
: 15 Mins |
  Serves
: 3-4
     Basmati Rice    1 cup
     Oil      1/2 tsp
     Salt   as needed
     Lemon  juice  1/2 tsp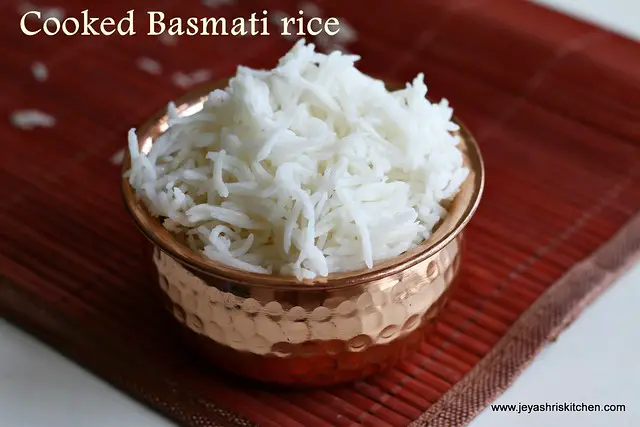 Method:
Wash the rice 2-3 times and add soak it in 1 and 1/4 cup of water for 20 minutes. After 20 minutes keep the water aside and put the rice in strainer and keep it open for 5 minutes. This step is to get he moisture get rid off from the rice to make it perfect grains.
Alternatively you can saute the rice in a pan for 5 minutes in a low flame.
Add this rice to a vessel and add the soaked water, salt ,lemon juice and oil.
Cover it with a lid and pressure cook for 3 whistles. Switch off the flame and allow the steam the subside.
Once done, open the cooker and fluff the rice gently with fork. Be very careful not to make it mushy. For making pulao | fried rice spread this in a plate and allow it to cool. You can add 1/2 tsp of oil while spreading.
Basmati rice is ready for pulao. You can have this plain too with Rajma masala.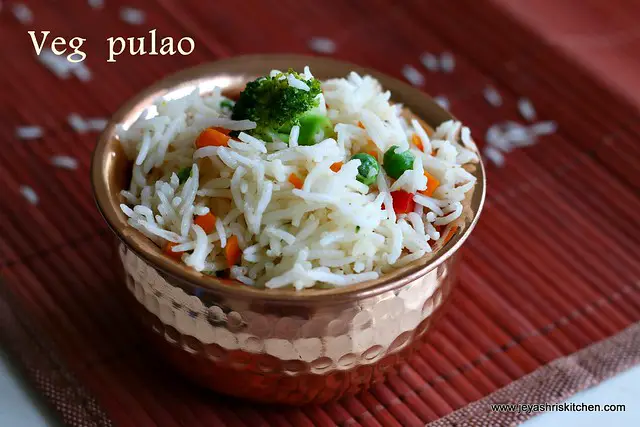 Notes:
If making in pan, always use heavy bottomed pan. Add the soaked rice in the pan and once it starts boiling put in a low flame  and cover it and keep. Leave it un disturbed. Let the flame be very very low. The water will be for 1 cup of rice in this method is 1: 1 and 1/2 cup water.
Switch off once the water evaporates.
sometimes if you are in a hurry and don't have time to soak, just wash it 3 times and add 1 and 3/4 cup of water and cook in pressure cooker by adding salt, lemon juice and oil.
Lemon juice gives nice white colour to the rice and will not taste bitter at all.
Washing rice 2-3 times helps to remove the extra starch from the rice and make it fluffy and grainy.