Dosai or Dosa is widely popular as a staple South Indian breakfast or snack. It can
also be had at times for dinner. Dosas are basically thin, crispy crepes made of rice and
lentils. It can be accompanied with varieties of chutney or sambar. We also make it a
point to always have it with molaga podi (a spicy powder made using roasted lentils
and dry chilles and mixed with generous amounts of sesame oil). Some like soft, thick
dosas while most love it to be restaurant style crispy. My dosais became a hit
amongst my friends when I recently made them for her kids and there was a demand
from them for dosai batter recipe. This recipe gives detailed instructions on making the
dosa batter in a mixer/grinder and tips on getting fail proof mouthwatering crispy
dosas every time. You can also try making delicious dosais with Idli batter after slightly
diluting the batter. There are a many options for side dish for dosa to make it even
more interesting.
Scroll down till the end of the post to see the tips i have given to make a perfect dosa batter.
Ingredients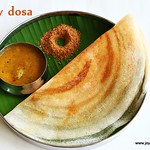 Preparation Time
: 4
hrs soaking+10 Hours fermentation
|
Cooking Time
: 2-3 Mins for each dosa|
Yields
: 12-14
Raw Rice 1 cup
Idli rice 1 cup
Urad dal 1/2 cup
Channa dal 2 tblsp
Methi seeds |vendayam 1 tsp
Salt as needed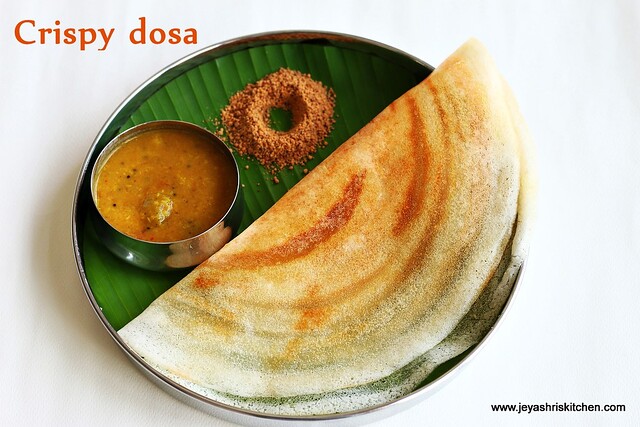 Method:
Soak the raw rice, idli rice, urad dal, channa dal and methi seeds together for 4 hours.
Grind this into a smooth batter adding sufficient water.
Add salt and mix well. Keep it aside for 10 to 12 hours for fermentation.
Heat a iron pan or non stick pan ,when it is hot, pour 1 and half ladle full of batter in the center of the pan and immediately make a thin circle. Pour few drops of oil around this.

Let this cook in a medium flame till it becomes golden brown. If you want you can flip the other side, when the one side is half cooked.
Else you can wait for the top portion to cook completely and fold the dosai and take it out from the pan.

Fold the dosai and serve hot immediately.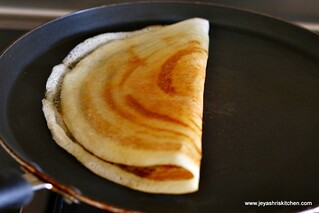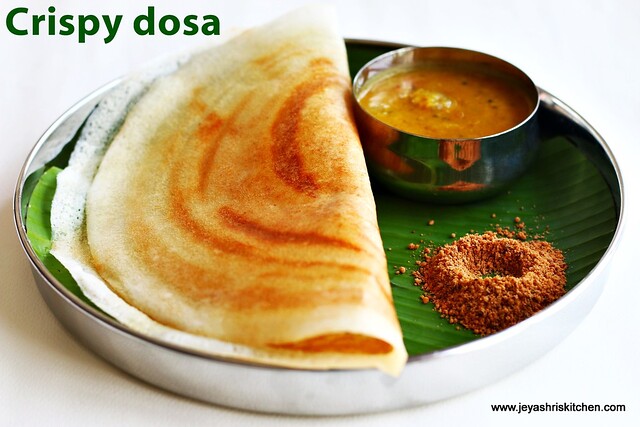 Tips to make perfect crispy dosa.
The batter should be fermented properly.If you are living in a cold county, keep the batter in a warm place or inside a oven.
Over fermented batter will make the dosai sour.
The batter while making should not be thick like a idli batter. If it is thick you add water to make it little thin. Do not make it too thin, it will make the dosa stick to the pan itself.
While making dosas, the pan tend to heat up and will make the dosa slightly cooked while pouring the batter itself. this will not make the dosa spread too. To avoid this, just sprinkle some water on the pan, if it is over heated, and wipe the pan with a clean tissue or cloth and start pouring the batter.
If using iron pan, grease it with oil evenly and start making dosa. A friend of my mom used to scrub the iron pan with raw onion and make the dosa.
Always keep a separate pan for dosai and roti. Never make dosai in the pan which we make chapathi.
Keep the dosa batter outside the refrigerator before 10 minutes and then start making dosai.
If making dosai batter for 3-4 days, store it in a separate containers. Take out the portion which you want to use. This will not make the entire batter sour.
You can add ghee or butter to dosa instead of oil, while making it.
If you keep it covered with a lid while making the dosa, it will come out so easily while fliping.
Adding sesame oil while making dosa makes it little good for health.