Valentines day is around the corner. For me Valentine's day is more special as my little one Varun is born on that day too. He is celebrating his 10th birthday this year. As always i have so many things in mind to make for the Valentines day post. Finally ended up in making these molten lava cake. This recipe can be made in microwave. I wanted to make it as a red velvet mug cake so adapted the recipe from
here 
. Try this out for the valentines day and let me know how it turned out.
Molten Lava cake
  Preparation Time : 5 mins | Cooking Time : 1 Min |Serves: 2
     All purpose flour    4 tblsp
     Cocoa powder    1 tsp
     Baking powder   1/4 tsp
     Milk    3 tblsp
     Lemon juice    1/2 tsp
    Oil     1 and 1/2 tblsp
    Sugar   1 and 1/2 tblsp
    Vanilla essence  1/4 tsp
    Red food colour   few drops 
    Chocolate   2 small chunks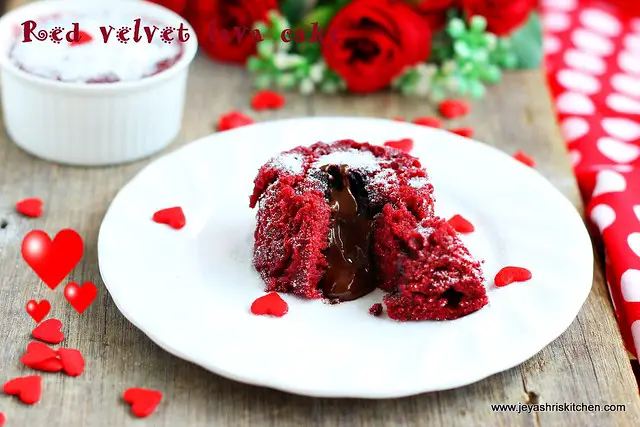 Method:
In a bowl add the milk and lemon juice , mix well and keep it for 2 minutes.

Add the baking powder to this and mix well. Now add the flour to this.

Add the cocoa powder and sugar to this.

Add the vanilla essence and the red food colour.

Add the oil and mix this well without any lumps.

Grease 2 microwave safe ramekins with oil. Add half of the batter to both the ramekins.

Now put the chocolate chunk into the center of the ramekin. I used the cooking chocolate. You can add even the dairy milk chocolate too.
Pour the remaining batter to cover the chocolate. Ensure the chocolate is fully covered. Take care that the chocolate chunk is fully covered with batter.

Place the ramekin in the microwave and cook for 1 minute. Time varies from oven to oven. Mine i kept in high for 1 minute. Insert a tooth pick in the center of the ramekin to see whether it is completely cooked. If it comes out clean, then it is cooked.
Take it out from the oven and allow this to cool.

If you want you can sprinkle with some powdered sugar. Using a knife scrape the edges and  invert the cake in a plate.

Slowly cut the cake in the front so that the chocolate in the center comes out like a lava.

Red velvet chocolate lava cake is ready to eat now.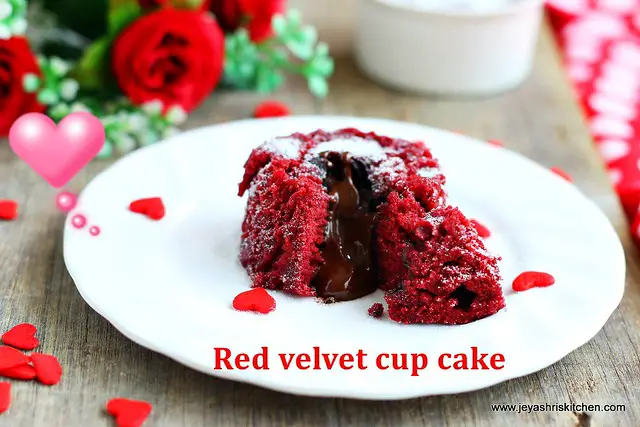 Check out my other valentines day recipes. Click on the picture for recipes.
Notes:
Ensure that the chocolate chunk is inserted into the center of the ramekin.
You can make this in a single large mug too.
Even you can use chocolate chips too instead of chocolate. In that case add little more and put everything in the center.
Allow the cake to completely cool and then invert the cake. If it is hot it will not come out evenly.