I have been searching for a Vanilla muffin recipe and finally my search ended after trying out fantastic muffins from Sharmis passion. This muffin i made for my daughter's teacher's farewell and though i was very busy on that day i made with great enthusiasm, as she is my most favorite among all teachers and even for my daughter. Her teacher enjoyed this a lot and my Varsha's friends also liked this very much. Here comes the recipe of eggless vanilla muffin recipe:
For original recipe click
HERE
.
Check out my
UPDATE: I have made this same recipe replacing butter with 1/4 cup of oil and added few tutti fruity bits also. The texture was so well.
This recipe yields 7 large muffins of the size you can see in the picture.
Picture updated on 12|9|12
| | |
| --- | --- |
| ALL PURPOSE FLOUR | 1 AND 1/2 CUP |
| CORN FLOUR | 1 TSP |
| SUGAR | 3/4 CUP |
| BAKING POWDER | 1 TSP |
| MILK | 3/4 CUP |
| VANILA ESSENCE | 3/4 TSP |
| BUTTER or OIL | 1/4 CUP |
| CHOCO CHIPS | 1 AND 1/2 TSP |
| SALT | A PINCH(IF USING UNSALTED BUTTER) |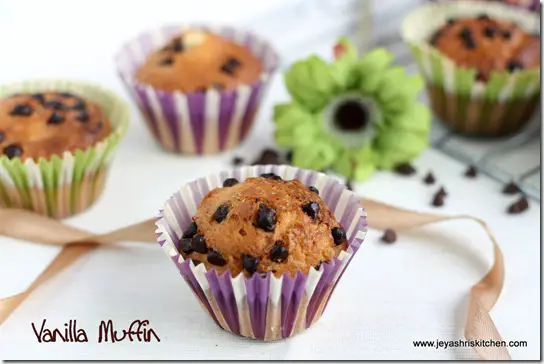 METHOD:
Sieve the all purpose flour, corn flour, and baking powder to ensure even mixing.
In a wide bowl add the sugar and butter together till it becomes creamy.
Since i don't have have the electric beater this part made my hands a very good exercise.
Add the milk and vanilla essence to this and creamy mixture and beat well.
Add the sieved flour to this mixture slowly.
Gently mix this .the batter will be little thick.
Add 1 tblsp of choco chips to this and pour it in the muffin liners.
Fill 3/4 portion of the liner.
Garnish with few choco chips.
Pre heat the oven to 160 degrees.
Bake this for 20-25 mins.
Mine got done in 22 mins. Insert a tooth pick to check out whether it is done. If it comes out clean then take it out and cool it in a wire rack.
I made this on a sunday morning and my daughter took this to school on monday. I didn't keep it in the fridge.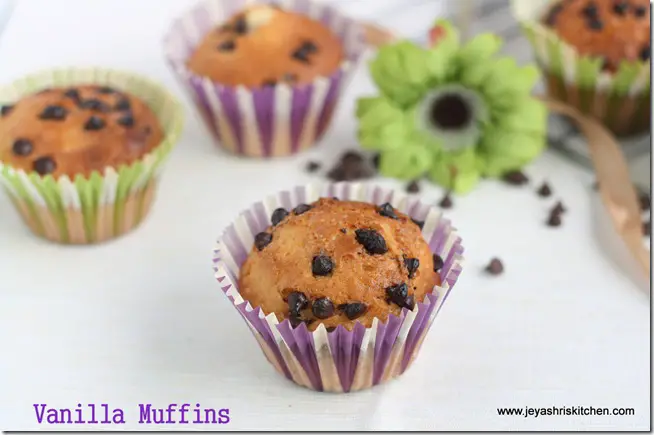 While writing this post i remembered today a very good friend of mine is celebrating her birthday and she has recently started a blog. Wish you a very happy birthday Rajeni and you can visit her at Rajdeepscookery.
Will meet you all soon with diwali recipes.