Fried
modakam
| fried
modhagam
we generally do for Chaturthis which comes every month also called as "Sankatahara Chaturthi or Sankashti". We also make this during Ganapathi homam at house and also during house warming ceremony,seemanthan(baby shower) and other auspicious homams we make at home. This
fried modakam
is made along with nei appam on the previous day night. This will stay perfect for 1-2 days even if we keep at room temperature. After i got married, in the nearby ganesha temple to our house , during chaturthis the priest will come and give prashadam before he leaves home. 4 fried modakam along with coconut, betal leaves, flowers and all he will give. Those
modaks
will be very small and look cute too. So whenever i make at home i make miniature modakams only.
This time while i was making , while  frying one by mistake one modak got opened and the jaggery poornam came out and messed up the oil. Though immediately i took the others and changed to a different pan with oil and fried, you could see some spots of jaggery on the modak. This deep fried modakam is totally addictive and will be crispy too.
INGREDIENTS: MAKES 12- 13 MODAK
| | |
| --- | --- |
| COCONUT(scrapped) | 1/4 CUP |
| JAGGERY | 1/4 CUP |
| CARDAMOM POWDER | A PINCH |
| MAIDA | ALL PURPOSE FLOUR | 1/4 CUP |
| SALT | A PINCH |
| GHEE | 1/4 TSP |
| WATER | TO KNEAD DOUGH |
| OIL | FOR DEEP FRYING |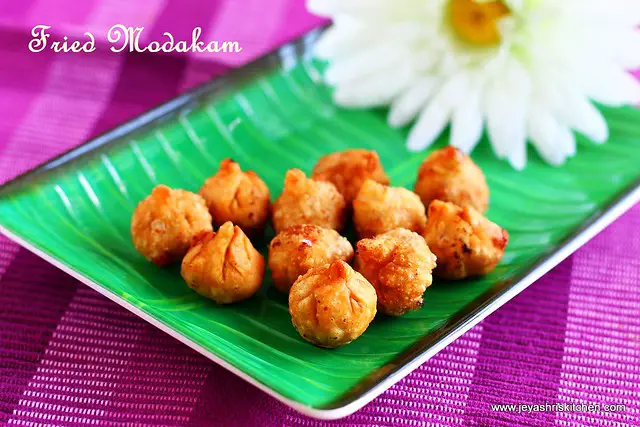 METHOD:
Ina bowl put maida and add salt. Knead it into a smooth dough and grease this with ghee  keep it covered aside.
Make the poornam as we do for the normal Thengai poornam kozhukattai.
Combine the jaggery and coconut and cardamom powder. Saute this till it comes into a whole mass. Put off the flame.
When it is cool, make this into small equal sized ball.
Do not make it too thin, else the poornam will come out while frying.
Cut this into small roundels using a sharp lid.

Place the poornam into this and seal this carefully and make it as a modak shape.

Repeat the same for the rest of the dough and poornam.

Heat oil for deep frying, When it is hot, bring the flame to low.
Deep fry the modakams till the out cover turns a golden brown colour.
Do not fry in high heat, as it tends to burn very fast. And even it will not turn crispy too.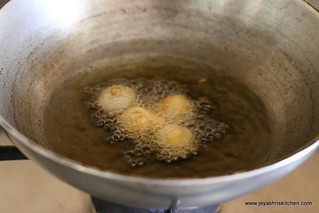 Drain them in a kitchen towel.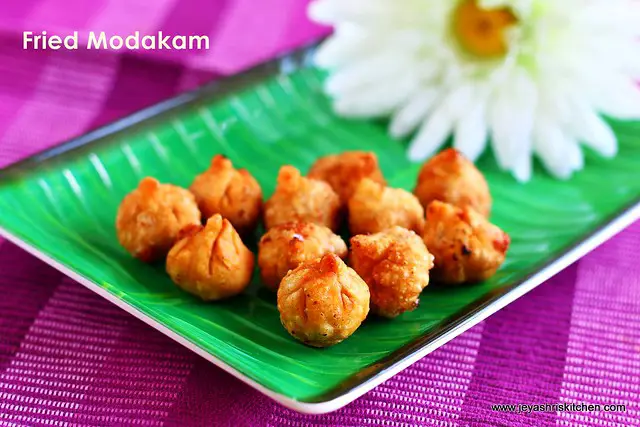 NOTE:
I have tried with whole wheat flour too, but it was not too not crispy.
Seal the modakams carefully, else it will open up while frying and mess up the oil.