Rainbow
gujiya – Without Khoya
Holi the festival of colours is round the corner. I have posted many
easy holi recipes
so far. Gujiya is the authentic one made during holi. Traditionally
khoya
is used for stuffing inside the gujiya. I have posted
sweet somas recipe
, which we traditionally make during diwali. It is similar to that but i stuffed with dry fruits and nuts in this recipe. Even if you do not have time to shape gujiyas you can make it as
kachoris.
Check my
Lavan latika recipe
for khoya filling.
Celebrate holi with delicious sweets and chaat items from Jeyashri's kitchen
Gujiya recipe
  Preparation Time : 25 mins | Cooking Time : 45 Mins |Makes: 15
For outer cover
     All purpose flour | Maida    1 cup + 1 tblsp
     Ghee   2 tblsp
     Sooji |Rava  1 tblsp 
     Salt   2 pinches
     Food colour  few drops (red + green + green)
For the filling
   Dry coconut  1/2 cup
   Badam | almonds   10
   Pistachio   10
   Sugar   2 tblsp
   Cardamom   2
Oil    for deep frying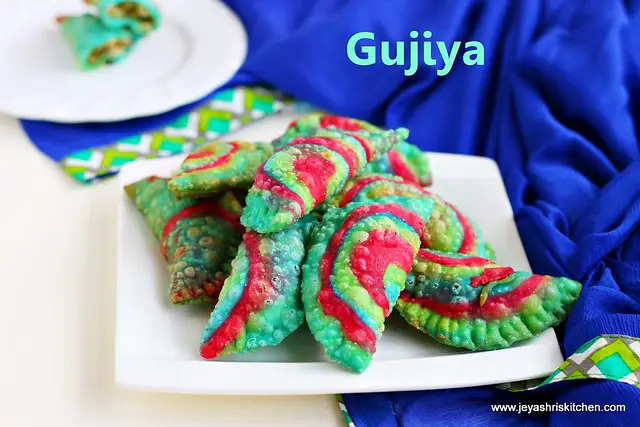 Method:
In a wide bowl add the 1 cup of  flour sooji and add hot ghee and salt to this.
Mix it well and when you hold the flour it should and when u leave it should break. Keep it aside for 5 minutes.

Put the dry coconut, cardamom, pistachio, badam and sugar in a mixer and pulse them into a coarse powder. This will yield little more than 1/2 cup

Divide the dough into 3 portions and few drops of food colour in each bowl. I added green, red and blue colour.

Add little water to this and make it into a stiff dough.  Cover it always, else it will become dry.
Place one portion of the dough in a rolling board.

Roll the dough into a thin round chapathi. I cut it using a round lid to get even size.

Repeat the same for the rest of the dough.

Place one portion of the rolled dough in the board. Make a thick paste of  1 tblsp of maida flour and slightly spread it on the rolled dough.
Place one  more rolled portion on this.

Do it for all the three portions of the rolled dough.

Roll this into a tight roll.

Cut this into a small portions.

Take one portion of the dough and roll this into a thin circle. If needed you can make a perfect circle with a lid.

Place 1 tblsp of the filling in the center of the rolled dough. You can apply little water on the sides to make it seal nicely.

Cover the gujiya  and seal it perfectly. Use a fork or a somasi cutter or a pizza cutter. I used the fork to make the designs. If you are patient enough you can make swirls too.

Make this for the remaining dough.
Heat oil for deep frying.
Once the oil is hot keep it to a medium low flame adn carefully place the gujiyas into the oil.

Fry on both sides and drain them in a kitchen towel.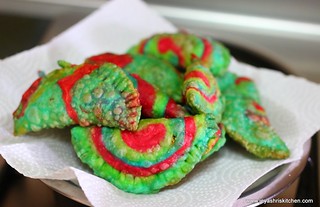 Gujiyas are ready to eat now.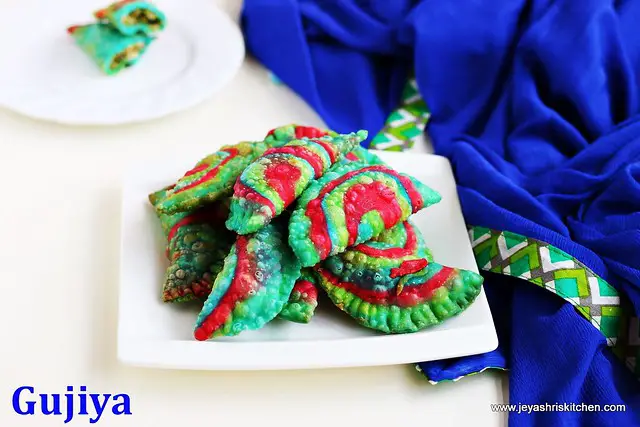 Notes:
While rolling the dough ensure let it be thin, else the somas will not be crispy. 

Make the edges sealed properly, else it may open up in the oil while frying.

 Let the dough be stiff. 

The filling was perfect for the dough. 2 tblsp was left over.